"A fiction can change a destiny"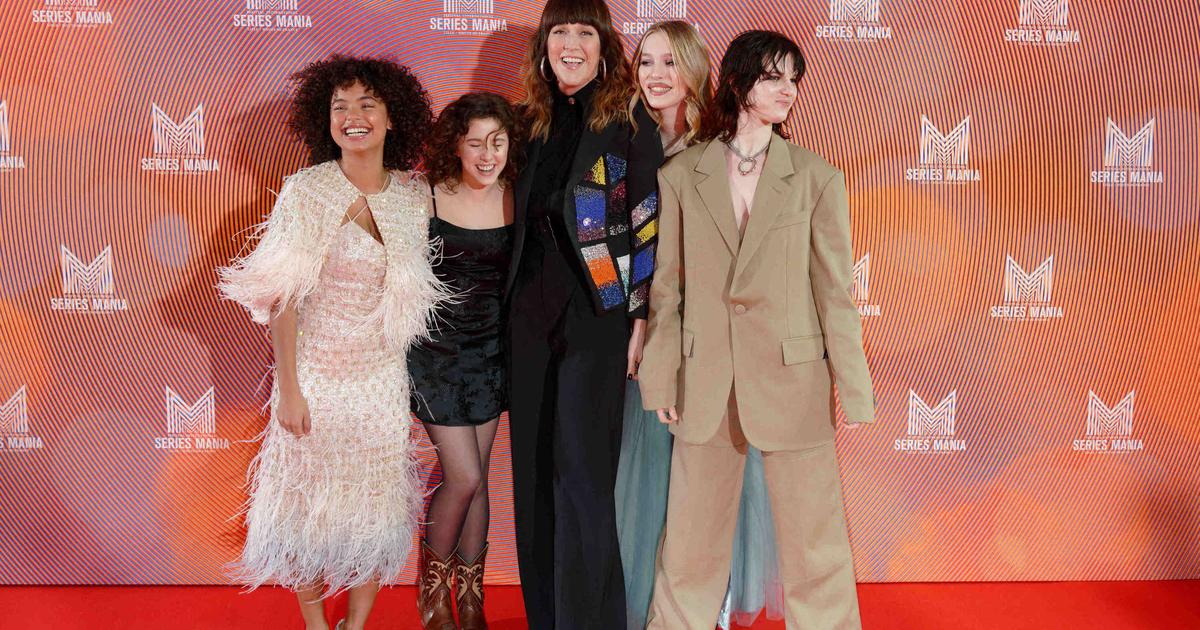 The host of CultureBox the show and Drag Race France plays intersex teen mom in tender flesha great series, available on France 5 and France.tv/Slash.
She had had small roles in two days to kill by Jean Becker or A Happy Event by Rémi Bezançon but, too busy with her activities as a journalist and presenter, had not persevered. Between CultureBox the show and Drag Race France enthusiastic about the project, Daphne Burki still managed to find the time to play Sasha's mother, an intersex teenager, in tender flesha sensitive, funny and touching fiction, voted best French series at Séries Mania in the spring and available today on France.tv/Slash from 6 p.m. and on France 5 at 9 p.m.
TV MAGAZINE. - Yaël Langmann, creator of the series, says she chose you because she wanted toa hypercool mother, rock'n'roll, who exudes kindness, intelligence, who is not lamenting, someone infinitely modern". It's you ?
Daphné BURKI.- You never know what you are planning. That's why it upset me at first! Yaël Langmann sent me an SMS asking me to play Sasha's mother. I thought it was for essays, but no, indeed, she told me that she knew from the beginning that it was me. It's super motivating. Then she gave me the script before an eight-hour plane trip. I felt in my head and in my body all the emotions. This is a subject that I had covered in my job as a journalist, it is not well known and it seemed important to me to talk about it.
It's great to work with big teens, to be in their energy, teens hold the truth

Daphne Burki
Did you still feel the need to prepare yourself?
I simply did a reading with a person in the business, a coach, to ask if I was fair, if I had integrated the character well, if I had the right intentions, in order to comfort myself. I may have my hair, my tattoos, it's not me, I wouldn't have reacted the same way. But I'm actually rather returned frank! Especially since there were three catches max, four on the big days. And it's great to work with great teenagers, to be in their energy. For me, teenagers hold the truth. There was a lot of improvisation in the scenes between them but less in the one with the adults.
Being the mother of a teenager - Hedda, 15 - does it help?
I don't realize, she's younger, different. Even if she has existential questions like all teenagers about her identity. By the experience of Drag Race Francewe also discussed a lot of all these subjects.
This work is educational, by the emotion that it also distills, without being moralizing and can open doors

Daphne Burki
About the show I love you etc, you said you had a visceral need to be at the service of people. Accept tender fleshalso falls under this approach?
Yes, I am convinced, every day also with CultureBox, that a song, a book, a film can greatly help, change someone's destiny, carry it. This work is educational, by the emotion that it also distills, without being moralizing and can open doors. And it certainly speaks of intersex but a lot of adolescence in general.
A word about the success of Drag Race France?
I suspected a little. Quite simply because I have been following this format for years. It's great that France has welcomed it like this, that it has become a family program. I am happy that we have been able to professionalize this marginalized, mistreated profession, bringing joy to people. A serious subject can work very well with smiles and glitter. The tour is full!