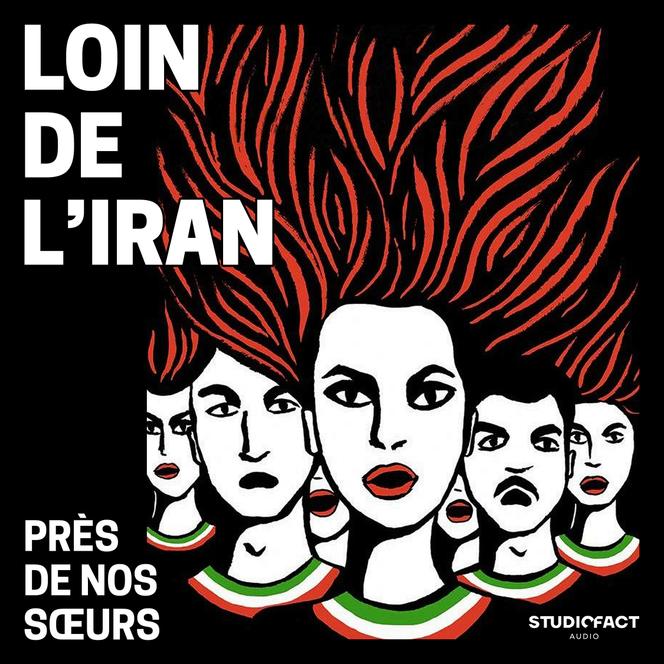 ALL PLATFORMS − ON DEMAND − DOCUMENTARY SERIES
From the outset say how much this podcast, Far from Iran, near our sisters, is successful, both in substance and in form. Salute for this the StudioFact team who produces it, Solène Moulin who signs the realization and the artist Marjane Satrapi (Persepolis) who lent his voice to tell the scenes and pages in Persian. To say above all how courageous, precious and essential it is. Courageous because two young women, Anahid Djalali and Juliette Pierron-Rauwel, left for Iran to record what must have been banal and everyday life but who, in this country, where everything is political, took an inevitable risk.
Precious because while it is so difficult for journalists to be able to do their job, it gives voice to a people and a youth eager for freedom. Necessary because through these words – and it is remarkable to have left room for Persian – it is their imprisoned and threatened life that shines through, as does their determination to fight the Islamic regime.
But let's start again: it's the story of two friends. Anahid Djalali, 24, asks Juliette Pierron-Rauwel, a young journalist (mainly for France Bleu), to accompany him to Iran to discover the country of his parents, exiled in France. We are in the spring of 2022. And, from one party and one meal to another, from Tehran to Isfahan, from Yazd to Chimeh, the village where Anahid's father grew up (his mother died there three years), they record the sounds of the country, like a souvenir album. But six months after their return, on September 22, 2022, the death of Mahsa Aminiarrested and murdered by the morality police in Tehran because she was wearing her veil badly, sets the country ablaze.
This is the beginning of an unprecedented feminist revolution. "From that moment on, writing only about my story was not enough"explains Anahid. "We had to make people hear what we had experienced and document the revolution from the outside. I was a journalist: I could do it", adds Juliet. They then resume their recordings. Make phone calls there. Here, they interview journalists Ava Djamshidi (She) and Sonia Delesalle-Stolper (Release). And Anahid's father, who we hear from episode 1, in which the country's recent history is briefly but clearly recalled: establishment of the Islamic Republic in 1979 and, with it, Sharia; deprivation of liberty – especially for women; censorship, imprisonments and inations.
"A great sacrifice"
Episode 2: first evening in Iran. The alcohol bought on the black market, the young people who lead a double life, rap as a political instrument and which has caused Toomaj, a figure of the opposition, to be imprisoned since October 30, 2022. In the next episode, he is much about Anahid's father, Mohammad, a man fond of literature and theater, "poetic refugee" In France. A proud and worried father (episode 5) to see his daughter embark on this path. "Be omide azadi" ("hoping for freedom") is the title of this last episode.
In the meantime, Anahid is convinced, we must hear and speak. The most possible. By deciding to do this podcast, signed with her name – people in Iran have been "anonymized" – she knows that she will not be able to see her country or her family again as long as the regime is in place. "It's a big sacrifice, but the decision wasn't hard to make. It was not possible otherwise. »
Marjane Satrapishe is sure that "freedom will come". "Democracy is already culturally established, she believes. For young people. Among women who go out without a veil, this symbol of the Islamic Republic and oppression. So, of course, in the short term, I'm very worried. But I know that the Islamic Republic will not celebrate its 50th anniversary, that it is going to crash. I even think that she is already dead, that the current power knows it, I think that is why it is stepping up its violence. » Will she ever return to her country? "Of course I want to go home!, she says. In my will, I wrote that I wanted to be buried where I was born. Now I know I'm going to tuck my head, not my feet, in front! »
Far from Iran, near our sisters, podcast by Anahid Djalali and Juliette Pierron-Rauwel, directed by Solène Moulin (Fr., 2023, 5 x 25 min). Available on demand on all listening platforms. Episodes 4 and 5 will be uploaded on May 25 and May 1er June.