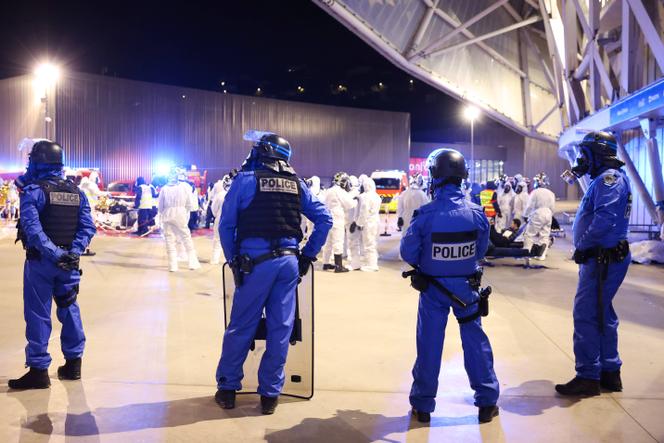 In terms of security, this is the ultimate life-size test before the Olympic Games (OG) in Paris in the summer of 2024. Is France ready for the Rugby World Cup, the kick-off of which will be given on Friday September 8, at 9.15 p.m., at the Stade de France (Seine-Saint-Denis)? " We are confidentanswers Jacques Rivoal, president of France 2023, the public interest group (GIP) which organizes the event. There are regular meetings with the State services. The subject is being followed very, very seriously. »
The Champions League final fiasco between Liverpool and Real Madrid is still on everyone's mind. On May 28, 2022, the errors of the law enforcement system, in particular, had caused terrible chaos. Several measures have been taken to prevent such a disaster from happening again. The number of CCTV cameras around the Stade de France, for example, has been increased. And, before the deputies, on April 5, Michel Cadot, interministerial delegate for the 2024 Olympic and Paralympic Games and major sporting events, wanted to be reuring. There is now a "much more closely monitored flow management" arrivals of spectators to the site, he explained.
Finally, the missed spring 2022 may have served the interests of the organizers of the Rugby World Cup. "What happened allowed us to make feedback. The inter-ministerial department for major sporting events and the parliamentary commission have learned lessons from this, which have confirmed certain strategic choices made well in advance, in particular the choice of a dematerialized ticketing service"argues Mr. Rivoal.
Avoid fraud and scams
In accordance with the new directives in force, the 2.2 million tickets sold for the competition are nominative, dematerialized and tamper-proof. In addition, an official ticket resale platform was launched in January, with the aim of avoiding fraud, a black market with prohibitive prices and scams.
The Stade de France plays a central role in this World Cup, hosting the opening match of the tournament, between France and New Zealand, but also two quarter-finals, the two semi-finals, the final and the clification match for third place. Still, it is also necessary to secure eight other enclosures, in Bordeaux, Lille, Lyon, Marseille, Nantes, Nice, Saint-Etienne and Toulouse.
For each is planned a specific device, flexible according to the poster of the day and the risk profile presented by the supporters of the teams concerned. The number of security guards mobilized, likely to rise to 1,000 in Seine-Saint-Denis, could thus reach 300 around the Beaujoire stadium in Nantes.
You have 51.15% of this article left to read. The following is for subscribers only.