A self-portrait of Max Beckmann in the running to break records at auction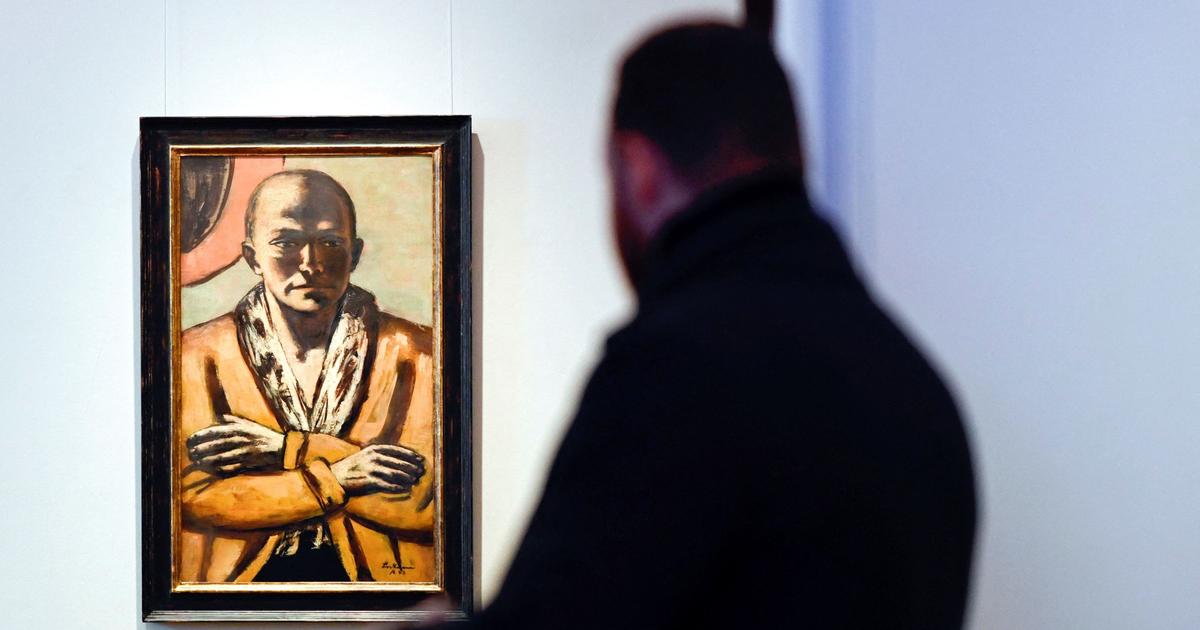 This is the first time that this painting, unique in the production of the expressionist artist, has been offered for sale since the Second World War.
A self-portrait of Max Beckmann, one of the great figures of German expressionism, is auctioned on Thursday December 1 in Berlin and its price could climb to a record amount for the country: 30 million euros. Selbstbildnis gelb-rosa (Yellow-pink self-portrait), privately owned since its creation in 1943, depicts the artist during his exile in the Netherlands after fleeing Nazi Germany. Given to his wife Mathilde, nicknamed Quappi, who kept it until her death in 1986, this painting remained for decades in a private Swiss collection and has not been shown to the public since the mid-1990s.
"No comparable work of art has been auctioned in Germany since 1945", explains Micaela Kapitzky, director and partner of the Maison Grisebach, based in Berlin and in charge of the sale. It could go for between 20 and 30 million euros ($21 and 31 million), the highest estimate made so far for a painting sold in Germany, according to Grisebach. This week, the painting was the subject of a presentation, protected behind glass from any act of vandalism.
Read also85 million dollars for a Warhol at auction in New York
Private collectors, museums and other institutions around the world have expressed interest in acquiring it, in a booming art market in Germany. For Beckmann, the Dutch exile was marked both by the relief of having escaped the Nazis but also by frustration, which is reflected in his works, analyzes Micaela Kapitzky, interviewed by AFP. "He fled the Nazis, then finds himself surrounded by them and yet he manages to find a surprising inner peace.", she adds, emphasizing that he was "aware of his value as a painter".
According to her, this self-portrait is also a testament to the love story between Beckmann and Quappi against the backdrop of this terrible period of history. "Quappi kept it until her death, she never parted with it"recalls Micaela Kapitzky. "Max Beckmann was a very confident man but he needed her by his side".
Silent death and conflagration around me. And yet I'm still alive

Max Beckmann in his diary after the Germans invaded the Netherlands in 1940
During his lifetime, Max Beckmann (1884-1950) enjoyed success in Germany, until the Nazis called his art "degenerateand removed it from German museums in 1937. Increasingly threatened, Beckmann left his homeland for exile in Amsterdam where he lived for a decade before moving to the United States. "Silent death and conflagration around me. And yet I'm still alivewrote Beckmann in his diary after the Germans invaded the Netherlands in 1940.
In Amsterdam, Beckmann did not experience poverty, unlike some 20,000 other German refugees in the Netherlands. Nor did he risk being deported to a camp, unlike his Jewish friends. Unlike many of his Dutch paintings, which are dominated by dark tones, his self-portrait is tinged with warmer colors. What emerges is an impression of tenacity mixed with defiance.
"When it arrived, I thought: oh, it's incredible the power that emanates from this painting", told AFP Markus Krause, the auctioneer, in charge of the auction. Beckmann died aged 66 of a heart attack on his way to the Metropolitan Museum of Art in New York, where his self-portrait in a blue jacket is on display. The works of Beckmann, now considered one of the most important artists of the XXe century, have seen their values ​​explode in recent decades.
His painting "The Ehell of birds(Hölle der Vögel), ferocious allegory of the IIIe Reich, was sold in 2017 at 36 million pounds (41 million euros at the time), a record amount then for German Expressionism during auctions. The estimated price at the time was much lower than that set for the yellow-pink self-portrait, noted Micalea Kapitzky.