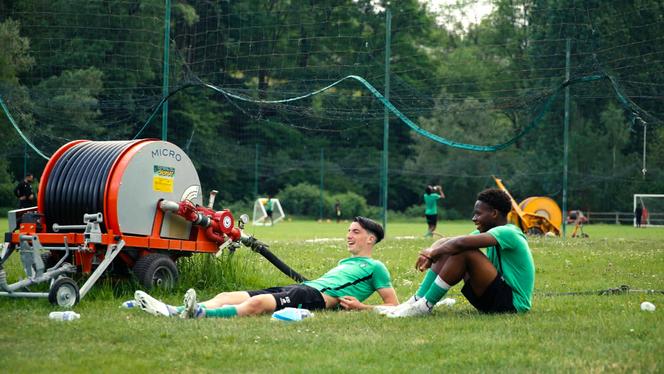 LCP – SATURDAY SEPTEMBER 9 AT 9:10 P.M. – DOCUMENTARY
Of the 1,361 professional football players playing in France (for 1.5 million licensees), only 5% benefit from a certain reputation and the high salary that goes with it. For the others… The median salary of a Ligue 2 player is 7,525 euros per month, during a career which lasts, on average, four to five years. Becoming a professional, however, remains the dream of every young person who joins one of the forty training centers in France.
The directors Raphaël Rivière (former amateur goalkeeper) and Alexandre Donot chose to follow the fifty 15-19 year olds from the third best center in France, according to the French Football Federation, that of the Saint-Etienne Sports ociation, during the 2021-2022 season. After having matured for a long time – six years – their project, the time to build bonds of trust with all the members of the center. Time, also, to establish numerous rules: no direct interviews with young people, no information or voice-over comments, no explanations and few names displayed on the screen.
The poetry loses, but the viewer's understanding gains: the surnames of the staff members were finally added. Furthermore, a duo presentation exercise allows us to situate certain young players (before seeing the fifty-two names in the credits). Among them, Noah Raveyre, young goalkeeper who has already received offers from Chelsea and AC Milan; Mathis Amougou, midfielder already called up to the French team.
Focus on the issue
Clean and natural, the slices of life thus captured overlap. Starting with the arrival speech of one of the coaches: "Let me introduce myself, Kévin De Jésus, I'm annoying as hell, but I'm nice. » The atmosphere appears rather joyful, both during the celebration of a victory and during an evening that we ume to be Christmas. The absence or lack of families is not mentioned. Only the visit of a few parents will be briefly filmed.
The emphasis is placed on the issue: with the comments of the coaches in the locker room, during half-time, the reframing by Jean-Luc Dogon, former professional player and coach of the under-19s. Then his encouragement before the derby in the first round of the Gambardella Cup, which pits the juniors of AS Saint-Etienne against those of OL, Olympique Lyonnais.
Pitchside atmosphere, indoor training, dietary advice, written expression lessons, card games – without turning off the phone broadcasting a match… The film becomes more and more endearing. Halfway through, near the Aimé Jacquet field, the extension of contracts is mentioned for the first time. Before gaining importance. "Go get the tickets", says Kévin De Jésus to his young people. At the end of the season, three players from the center will join the professional team, and around twenty will leave.
The centerby Alexandre Donot and Raphaël Rivière (Fr., 2022, 52 minutes).