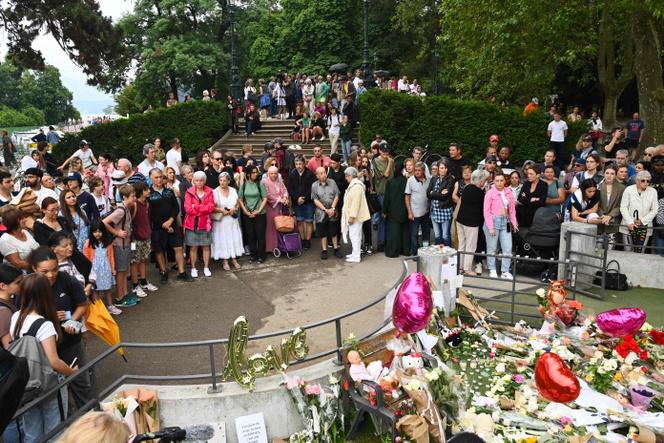 While his police custody ended on Saturday June 10, two days after the knife attack against young children in Annecy, the suspect Abdelmasih H. was indicted for "attempted murders" and "rebellion with weapons "After being brought before two investigating judges, announced the public prosecutor, Line Bonnet-Mathis. The man, who was also brought before a liberty and detention judge on Saturday morning, has been remanded in custody. He did not wish to speak in front of the judges, according to the prosecutor.
Thursday, the magistrate felt that her motives seemed devoid of "apparent terrorist motive"adding cannot "exclude at this stage an insane act". Since his arrest, the 31-year-old ailant has given no explanation and "obstructing custody"especially in "rolling on the ground". It is, moreover, "totally mute"sources close to the investigation told Agence France-Presse (AFP).
Homeless
"Madness is too easy an excuse, it's important to know that he is auditioned and that he is not considered simply as someone delusional"commented Friday evening the Minister of the Interior, Gérald Darmanin. "He probably has a motivation that the investigators will try to understand"he said on BFM-TV. "Even if there is no hearing, the investigations are continuing"notably "to establish his personality, his career, what he has done since he has been in France"said a source close to the investigation.
Born in 1991, Abdelmasih H. left Syria after the outbreak of civil war, which broke out in his country in March 2011. Mobilized in the army, he had deserted to go to Turkey, according to his mother, where he had met his future wife, Syrian like him. The couple reportedly left for Sweden in 2013, where they were granted political asylum in November of that year.
If he received a "subsidiary protection" in Sweden since November 2013 and had a residence permit valid until 2025, Abdelmasih H. failed several times to be naturalized Swedish, unlike his wife. He left Sweden before receiving the answer to his last application for naturalization, "eight months ago"according to his wife, whom he divorced and with whom he had a child, now 3 years old.
According to the French authorities, he was traveling in a regular situation in France. Reason why the police let him go after checking him on Sunday because he was washing in the waters of Lake Annecy, according to the Minister of the Interior.
The man had filed asylum applications in Switzerland, Italy and France, where his case was recently rejected. "Notification was made to him that he could not have asylum in France, because he had it in Sweden", detailed the minister on Thursday. Asked about the link between the refusal of the asylum application and the acting out of the attacker four days later, Mr. Darmanin mentioned a "disturbing coincidence".
During a rare exchange with his ex-wife after his departure, Abdelmasih H. explained to her that he was living "in a church" In France. It was four months ago. In Annecy, he was homeless. According to the Director General of the French Office for Immigration and Integration (OFII), Didier Leschi, "he had been receiving asylum seeker's allowance since he registered as such"but, for lack of space, it "has never been covered for accommodation in the national reception system".
An employee of the pontoons of Lake Annecy told the regional daily The liberated Dauphiné having seen him on a bench by the lake, "every day from morning to evening whether the weather is good or bad", about two months ago. It describes a man "who muttered under his breath"with no apparent aggressiveness.
According to his mother, Abdelmasih H. suffered from "serious depression" and his failures to obtain a Swedish pport worsened his condition. "My daughter-in-law told me that"she told AFP. "She said he was never well, always depressed, with dark thoughts, he didn't want to leave the house, he didn't want to work…" At the time of the tragedy, he was not "neither under the influence of narcotics nor under the influence of alcohol"according to the Annecy prosecutor.
Abdelmasih H. wore a Christian cross and said in English the phrase "In the name of Jesus Christ" at the time of the attack. In his application to the Ofpra, he presented himself as a "Syrian Christian", according to a police source. The National Anti-Terrorist Prosecutor's Office (PNAT) did not take up the case, an essment of the attack being still in progress.
Dutch girl 'out of danger'
Shortly after 9:30 a.m. Thursday near the Jardins de l'Europe, a busy park on the shores of Lake Annecy, the man attacked a group of children with a knife on a playground. According to various testimonies, he then tried to flee, injuring a man in his flight, before being arrested by the police, who opened fire, hitting on this occasion an adult already injured by the attacker.
The four children, aged 22 months to 3 years, remain hospitalized, none are in life-threatening emergencies, detailed the prosecutor on Saturday morning. The Dutch girl is " out of danger "according to the Minister of Foreign Affairs of the Netherlands.
The attack, which occurred in public and in broad daylight, deeply traumatized Annecy, a usually peaceful town. Shocked, hundreds of people marched all day Friday and Saturday morning in front of the small playground, the site of the attack, to gather and lay flowers.