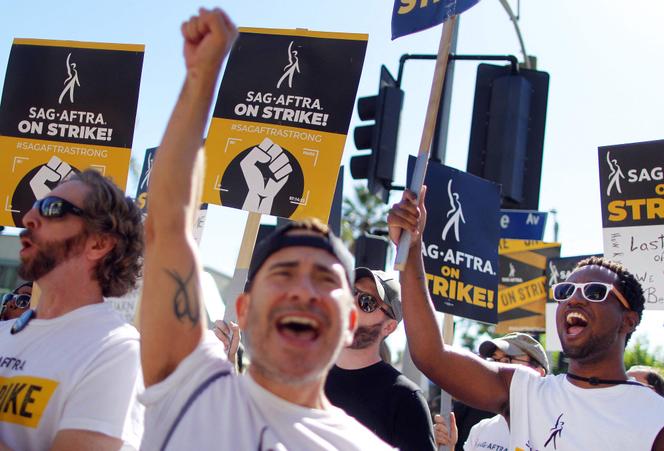 Six weeks after the writers, the actors reached an agreement with the major production studios on their working conditions. Hollywood should return to peace, after a stormy period of several months of strikes by actors and screenwriters such as the entertainment industry had not seen in more than sixty years.
It took one hundred and forty-eight days for the writers at the Writers Guild of America (WGA) to obtain concessions from the studios. It took the actors (who had joined the social movement in July) one hundred and eighteen to reach a compromise, ending their longest strike in Hollywood history. "Persistence pays off!" », exclaimed actress and producer Jamie Lee Curtis on Instagram. In 1980, the actors' strike against television networks and movie studios lasted ninety-five days.
The national office of the actors' union (Sag-Aftra, Screen Actors Guild – American Federation of Television and Radio Artists), was to ratify, Friday, November 10, the agreement reached two days earlier on the new three-year collective agreement. The text will have to be ratified by the approximately 160,000 members of the union, actors working in cinema, television and radio.
Remuneration for streaming
" It's a mive victory » for the union, exulted Ben Whitehair, one of the negotiators. In the hours following the announcement of the agreement, more than 150 actors gathered in a bar in Los Angeles to celebrate the end of a strike which had paralyzed the production of films and series since July 14. " When we fight, we win » ("When we fight, we win"), they sang, a slogan that became the rallying cry of strikers fighting for better wages in the United States, from the automobile sector to that of the hotel industry.
The union said the deal represented $1 billion in benefits, including 7% wage increases, 2% more than unions in other professions – screenwriters and directors – got this year. . To which is added a new system for calculating bonuses for streaming rebroadcasts, and regulation of the use of artificial intelligence – which will require the consent of the actor. The revaluation of remuneration for streaming – which until then was remunerated by a lump sum payment regardless of the audience – was one of the thorniest points of the negotiations, but the union had made it a fundamental demand, taking note of the paradigm shift in the distribution of films and series.
You have 50% of this article left to read. The rest is reserved for subscribers.