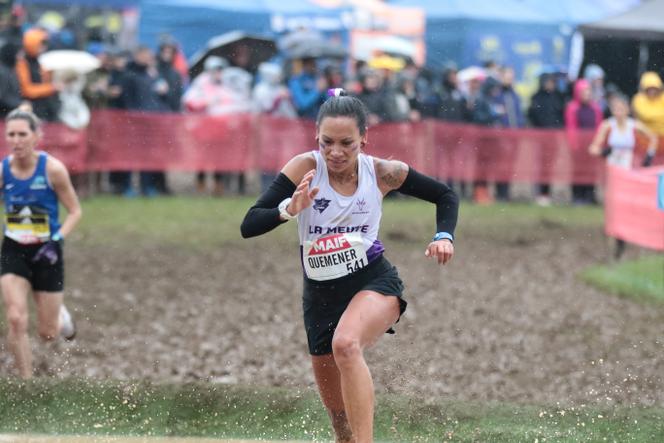 Sunday September 24, Anaïs Quemener will start the Berlin marathon. The 32-year-old athlete has one goal: to swallow "less than two hours and thirty minutes" the 42.195 km of the flat route, rolling and protected from the wind, crisscrossing the streets of the German capital. Not so long ago, however, she had to run another race, "that of [s]to survive ».
In 2014, at the age of 23, the young woman felt "something weird" in the left breast. She goes to her gynecologist, who at the end of the consultation invites her to come back in eight months. A year later, the diagnosis fell: " The radiologist realizes that it is not a cyst but a very advanced cancer, stage 3 out of 4 [présence d'une tumeur ayant envahi les muscles de la paroi thoracique ou de la peau]with presence of lymph node metastases »recalls the person concerned.
The young woman then experienced a turning point in her career. "The moment I was told, sport came first", she explains. She tells her oncologist that she must prepare for the French athletics championships at the end of the season. "He fell from the clouds, ures Anaïs Quemener, whose infectious smile remains on her lips. I denied the illness. I didn't know what I was going to be told but it didn't smell very good. »
"The revenge was all the more beautiful"
After surgery, treatment is based on hormonal therapy combined with chemotherapy. Despite her reluctance, the sportswoman cannot escape it. For a while, running must take second place. Co-founder with her father – and personal trainer – of the Meute Running athletics club in Mitry-Mory (Seine-et-Marne), caregiver in the evening at the Jean-Verdier hospital in Bondy (Seine-Saint-Denis) , she adapts her schedule and reduces her training loads. "I encouraged her to run on the track, so that I could always have an eye on her in case she felt unwell"remembers his father, Jean-Yves.
But for Anaïs Quemener, who started hitting the slopes at 7 years old, "doing sport was real therapy" : "I would give myself an hour where I would be outside and do sports. I was with my club, I saw my friends. The time I went out allowed me to clear my head. » Due to a lack of sufficient immune defenses, she is forced to leave the hospital environment and dreads moments of solitude, alone at home on her sofa. "I just wanted to be seen as a normal person"she insists.
Hair loss, wasting of muscles, chronic fatigue. The cross-country skier, hyperactive and cheeky during training, takes her troubles patiently. For eight months, she underwent chemotherapy treatments, spaced twenty-one days apart, and blood transfusions. In February 2016, Anaïs Quemener obtained an exemption to resume competitions. A few months later, she became French marathon champion: "When I was having a hard time, I thought about all those difficult times. It meant that I was back at my old level, the revenge was all the more beautiful. »
On her Instagram page, the woman who dreams of being a socio-beautician – to provide help to people weakened by an attack on their physical integrity – encourages women to be screened before the age of 45, to avoid delays in diagnosis which are often harmful. "I share my experience and encourage these women to play sports according to their abilities. I receive messages from people who find my story inspiring, but I don't necessarily realize this status. »
In 2022, she won a second national title in Deauville (Calvados). In April of this year, she finished best Frenchwoman in the Paris marathon, in 2 h 32 min 12 s, beating her personal best by more than five minutes (she is 12e in general). Sunday morning, Anaïs Quemener will compete on the 15the marathon of his career. If she succeeds in the objective she has set for herself, she will be able to see the doors of the French team open. A dream less than a year before the Paris 2024 Olympic Games. Even if, she slips, the main thing is elsewhere: "I just want to keep running. »