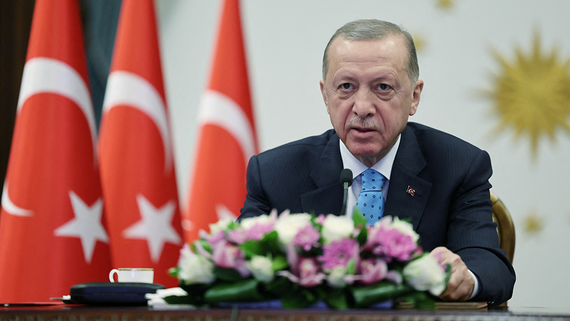 According to unofficial data, after processing 95.4% of the ballots in the presidential elections in Turkey, the current head of state Recep Tayyip Erdogan is leading with 49.73% of the vote, Anadolu agency reports.
The leader of the Republican People's Party, Kemal Kılıçdaroğlu, received 44.51%, the candidate from the Nationalist Alliance, Sinan Ogan, 5.31%.
51.09 million voters participated in the elections, the turnout is 88.67%. If none of the candidates receives 50% of the votes, the second round of the presidential elections will take place on May 28.
The Erdogan-led Justice and Development Party is also leading in parliamentary elections, with 35.81% of the vote and 269 seats in parliament after processing 87.53% of the ballots, according to preliminary data. The Republican People's Party (CHP), led by Kılıçdaroğlu, gets 24.81% and 168 seats. The Nationalist Movement Party (MHP) receives 10.45% of the vote and can take 51 seats in parliament. In the parliamentary elections, the turnout is 87.93%.
According to RIA Novosti, supporters of Erdogan's main opponent, Kilicdaroglu, are gathering for a rally near his headquarters in Ankara.
Turkey's Supreme Electoral Council (YSK) plans to publish the preliminary election results at night. The final results will be published on May 19 in the official newspaper.
Earlier, on May 11, the leader of the Turkish Fatherland Party, Muharrem Ince, announced his decision not to participate in the presidential elections on May 14. According to him, he "resisted" for 45 days, during which he survived more than in 45 years. Ince accused opponents of trying to destroy his reputation. Erdogan later said that he was saddened by this decision of the politician.