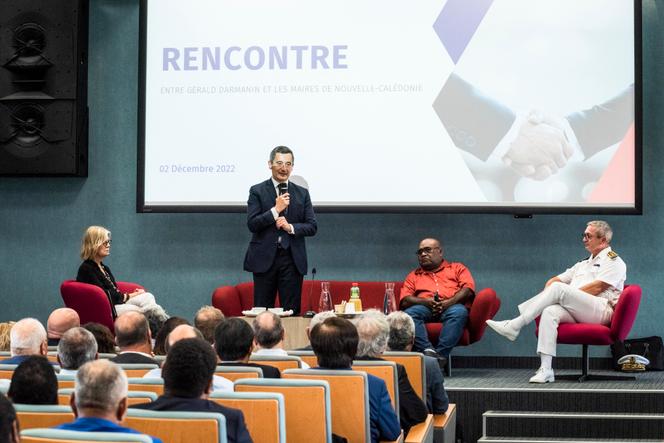 September 24 is a very important date for the Caledonian separatists and they could not fail to mark its significance in 2023, at a time when the State hopes to write in the Constitution, by the end of the year, a new status of New Caledonia. This next September 24 will be the date of 170e anniversary of the taking possession of Kanak territory by France, in 1853. This day will also be that of a vote – the senatorial elections – usually very secondary for local politics but which, for the first time, could lead an independentist to the Luxembourg Palace.
In a press release published Thursday, the Caledonian Union (UC), the main component of a very divided Kanak and Socialist National Liberation Front (FLNKS), announcement "suspend all meetings with state representativesincluding technical meetings, until the holding of the annual congress of the movement which will meet from November 9 to 12 in Kwenyii ». She calls on her troops to mobilize, Sunday September 24, on colonial memory, and the voters to support Robert Xowie, her candidate for the Senate.
A week after the Paris discussions, during which the executive managed to bring together loyalist and independence political leaders before it, this is bad news, even if it was somewhat expected. The State had indicated that it would respect the FLNKS timetable. He nevertheless hoped that meetings would be held between all the players in Nouméa, until the arrival, at the end of October, of the Minister of the Interior, Gérald Darmanin, on the Caillou. "The Macron State method is still as vague, hazardous and meaningless"decides the independence party.
At the end of a week of discussions, Emmanuel Macron received, Friday September 8, all the stakeholders to mark the investment at the highest level of the State in the file. Prime Minister Elisabeth Borne captured, on Wednesday September 6, the first family photo since 2019. And Gérald Darmanin, pilot of countless preparatory discussions for ten months, was thanked for his listening. Government and loyalists therefore welcomed the first meetings "trilateral" decisive in imagining, finally, the planned continuation of the Nouméa agreement of 1998.
"Thirty years ago"
The secretary general of the UC, Pierre-Chanel Tutugoro, recalls that his constituents "did not engage in any debate with non-independence supporters or any negotiations with the ministers present." The posture remains that of before the negotiation: hard.
You have 43.92% of this article left to read. The rest is reserved for subscribers.