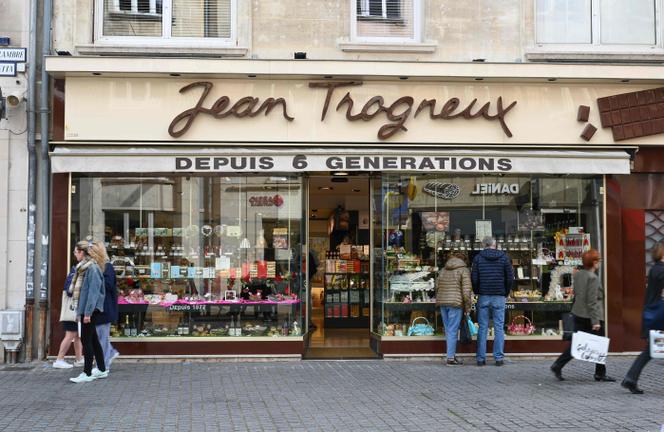 A logistical question occupies a few minutes the staff of the court of Amiens, Wednesday May 17 at the beginning of the afternoon: should the hearing of immediate appearance of the three men tried for the aggression be moved to the large courtroom? by Jean-Baptiste Trogneux? Finally, the crowd is not as huge as the media coverage of the case could have let it be expected, and the clic "room 105" will suffice.
They are three on the bench of the defendants, judged for "violence in meeting followed by incapacity not exceeding eight days", all in recidivism. They are accused of having beaten up Mr. Trogneux, the great-nephew of Brigitte Macronherself the wife of the Head of State, on May 15 in Amiens as part of an undeclared demonstration.
Boss of a famous chocolate factory, the victim, 30, suffers in particular "one or two broken ribs"of "sprained fingers" And "showed a hematoma on the CT scan", according to his father Jean-Alexandre – who was present at the hearing – quoted by Agence France-Presse. According to him, the attackers insulted "the president, his wife and [sa] family ". The facts took place shortly after Emmanuel Macron's interview at TF1's "20 heures"on the sidelines of a "cerolade" against the pension reform, and sparked a wave of indignation among politicians.
"Thoroughly beaten simply because of the name it bears"
In the court of Amiens, Wednesday, the debates were cut short, the defendants having asked for the dismissal of their trial the time to prepare their defense. The public prosecutor requested and obtained that they be placed in pre-trial detention by then. None of them spoke about the facts. All three are unfavorably known to the courts, in particular Yoan L., 35, for home invasion, violence against a spouse or ex-spouse, death threats; and Florian C., 20, for threats as well as for and ault on a 15-year-old minor.
"Affair of Shame" attacks prosecutor Jean-Philippe Vicentini, for whom "in a democracy you have to talk, you can't knock". It evokes "a business leader beaten just because of the name he bears"confronted with "about thirty individuals who had not had their adrenaline quota". And to evoke the knife of "twenty-one centimeters" one of the defendants was wearing.
The magistrate extends his diatribe to the commentators who have mocked the placement of Mr. Trogneux's business under police protection: the facts, according to him, have justified this precaution – and to hope that "those who criticized her are having trouble sleeping". Incidentally, the prosecutor, installed since January only, takes advantage of the hearing to mark his territory, hammering that with him "the law will apply in this department everywhere and for everyone".
You have 41.73% of this article left to read. The following is for subscribers only.