After the points record, what goals, what challenges, what desires for LeBron James?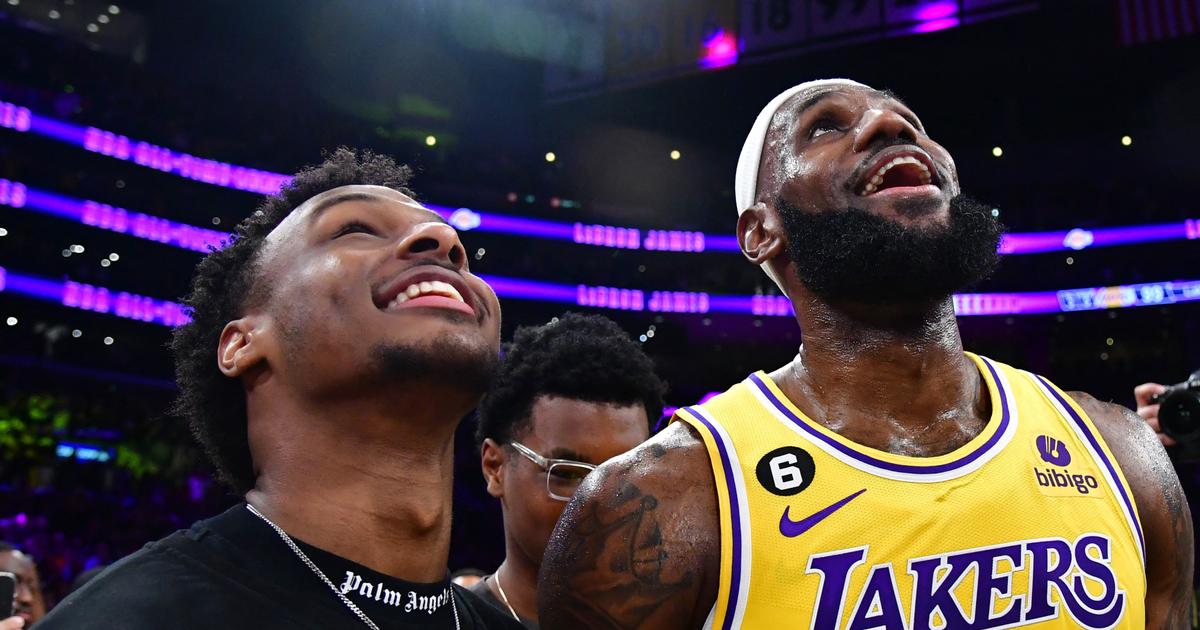 ANALYSIS – Failing to be eternal, LeBron James defies the laws of nature over the years. Enough to aim for other exploits by the end of his career.
That's done. At 37 (soon to be 38), LeBron James broke the regular season points record on Tuesday night. Giant. After doubling Michael Jordan (32,292 points), Kobe Bryant (33,643) and another Karl Malone (36,928), the native of Akron erased Kareem Abdul-Jabbar and his 38,387 points from the shelves. A record that has stood since 1984, when the one we once called Lew Alcindor passed Wilt Chamberlain (31.419). It was also under the jersey of the Lakers. The inventor of the "sky-hook" was present in the bays of the Crypto.com Arena, even if his relations with "LBJare described as cool. "There is no relationshipLeBron recently said.
In any case, history will remember that LeBron James, born in 1984 and drafted in 2003, broke this prestigious record on January 7, 2023, pushing the limits of time and shooting more than 30 points, 8 rebounds and 7 assists per game in his 20th NBA season. It remains to be seen what are the goals, records and other honors that the quadruple MVP and quadruple champion can still hunt by the end of his (already) glorious career. We go around.
The first player to 40,000 points and repel the pursuers?
Except surprise, LeBron James still has a few years ahead of him. So he's not just going to beat Kareem Abdul-Jabbar's scoring record, he's going to smash it. The youngest player to reach the 1000, 5000, 10,000, 15,000, 20,000, 25,000, 30,00 and 35,000 points mark in his career, he could be… the only one to break the 40,000 mark. Under these conditions, Luka Doncic and the other young stars of the moment in the NBA could always hang on to get him…"If his record will be beaten one day? It's always a possibility, but it's going to be really difficult… If you're implying that it could be me, I tell you there's no chance because I won't be playing as muchloose the 23-year-old Slovenian. 20 years is a long time to play basketball… I prefer to go back to my farm in Slovenia.One thing is certain: James is already the only player to appear in the Top 5 in scoring and passing in NBA history.
A fifth (or even sixth) title
Obviously, it's not the most likely this season, but LeBron James won't stop dreaming of a new ring as long as he walks the NBA floors. He already has four to his credit, including two titles with Miami (2012, 2013), one with Cleveland (2016) and another with the Lakers (2020), in 10 Finals appearances. James will never catch up with Bill Russell and his 11 coronations, but he would hook boys like Magic Johnson, Dennis Rodman, Kobe Bryant and Tim Duncan with a fifth title. The club of six-title players is made up only of Bob Cousy, Kareem Abdul-Jabbar, Scottie Pippen and a certain Michael Jordan. In front, there is therefore the untouchable Bill Russell (11) and several of his former school friends in Boston (10 for Sam Jones, 8 for Tom Heinsohn, KC Jones, Satch Sanders and John Havlicek, 7 for Jim Loscutoff and Frank Ramsey ), without forgetting Robert Horry (7, including 2 with Houston, 3 at the Lakers, 2 at Antonio).
Add one or more MVP titles to your collection
With four MVP titles (best player of the regular season) to his credit (2019, 2010, 2012, 2013), LeBron James is already part of the gratin. That's as much as Wilt Chamberlain (1960, 1966, 1967, 1968). He is in fact second only to record holder Kareem Abdul-Jabbar (1971, 1972, 1974, 1976, 1977, 1980) and one less than Bill Russell (1958, 1961, 1962, 1963, 1965) and Michael Jordan ( 1988, 1991, 1992, 1996, 1998). The competition is tough, with boys like Nikola Jokic (Denver), Joal Embiid (Philadelphia), Giannis Antetokounmpo (Milwaukee), Jayson Tatum (Boston), Luka Doncic (Dallas) or Ja Morant (Memphis) all in their best years , not to mention Kevin Durant (Brooklyn) and Stephen Curry (Golden State), always dashing. With the average results (to put it mildly) of "his" Lakers, "LBJ" is in any case not in the running this season. Next ? Note that the oldest MVP in history is called Karl Malone, awarded at 35 in 1999. And if LeBron James was aiming for a title of best passer? It would suit him well. He has only had one season with more than 10 assists so far (2019-20).
Some records still within reach
In addition to the most points scored in the regular season, LeBron James has already carried his name at the top of several statistical categories. Non-exhaustive list: greatest number of points (7631) and victories (174) in play-offs, greatest number of consecutive matches in the regular season with at least 10 points (1097), greatest number of Player of the League titles week (67) and month (40)… On January 19, the "King" will equal Kareem Abdul-Jabbar with a 19th selection at the All Star Game. He is already the record holder in terms of number of appearances in an All-NBA team (18, including 13 in the best five of the season).
Read alsoNBA: giant, LeBron James erases Kareem Abdul-Jabbar and becomes the best scorer in history
James will not touch the records of John Stockton in assists (15.806) and interceptions (3265), no more than that of Hakeem Olajuwon in blocks (3830), Karl Malone in throws (9787), Wilt Chamberlain in rebounds (23,924) or Stephen Curry in three points (3,302). On the other hand, he is already in the lead… in bullet losses (4922). Not easy to imagine beating Kareem in number of minutes (57.446) or baskets converted (15.837). Possible ?
Playing with her son, Bronny
This may be the last real big challenge for LeBron James. The number 1 of the Draft 2003 does not hide that he dreams of playing with his eldest son, Bronny, 18 years old and currently in high school. A priori, the interested party is expected in the NBA in 2024.I will be playing with my son in my senior year. Wherever Bronny is, that's where I'll be. I would do whatever it takes to play with my son for a year. It's not about the money at this point", he told The Athletic Last year. Remember that James will still have two years of contract after the current season, $53.4 million in 2023-24 and $57.7 million in 2024-25, this last campaign being accompanied by a player option. "Spending a full year with him in the same uniform would be the icing on the cake.", he confirmed in January, on ESPN.
We could have talked about a final LeBron James campaign with Team USA, during the 2023 World Cup or at the Paris Olympics in 2024, but it is not a priori in the plans of the interested party, already double champion Olympic (2008, 2012).