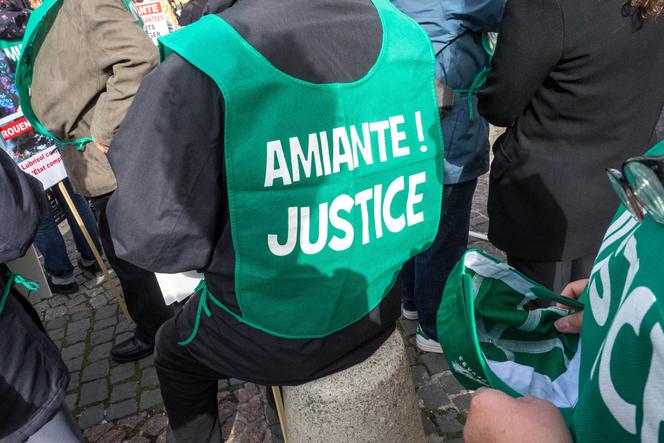 Once again, justice has refused a criminal trial to the victims and beneficiaries of the asbestos health scandal, who immediately announced their intention to continue this legal battle, the first complaint of which dates back to 1996.
The 31e chamber of the Paris Criminal Court, specializing in litigation related to damage to the environment and public health, ruled inadmissible, Friday, May 19, the direct summons filed by more than 1,800 plaintiffs, in November 2021. This was intended to see judged 14 people having exercised responsibilities at the national level in this old file of twenty-seven years.
The court declared the procedure null and void due to its "imprecision"explaining that the summons did not allow each of the defendants to "to connect what is reproached to him" to specific victims. A victory for the defense lawyers who, during a procedural hearing devoted to nullity exceptions, on March 9, had pointed a " vague " legal, emphasizing that the facts prosecuted, the legal texts which repress them or the period of exposure of the plaintiffs to asbestos were not clearly stated.
"There will be no trial at this stage but, apart from the 'vagueness' that we have against us, there is no other reason for inadmissibility, so very clearly, it is continuing and we will redo a citation that corrects any inaccuracies"said Michel Parigot, president of the National ociation of Victims of Asbestos and Other Pollutants (AVA), which federates the plaintiffs.
About forty files and as many dismissals
According to Michel Parigot, the imprecision invoked by the court for the rejection of the summons "is due to the fact that justice has not done its job". "There was no education (…) for 26 years, and (…) they did not look for the documents whereas we found a lot of them"he hammered.
While some forty asbestos cases investigated by the Paris Judicial Center ended in dismissals, the some 1,800 victims federated by the AVA, hoping to reverse the trend, opted for the legal strategy of direct quote. This procedure, in matters of misdemeanour, allows any presumed victim to have the alleged perpetrator of the damage caused to him appear, without going through the investigation phase; it is up to her to provide evidence of this offence.
The citation targeted fourteen directors of central administrations, senior civil servants, industrialists and doctors, aged 62 to 88, suspected of having had a role or links with the Asbestos Standing Committee (CPA). A lobbying structure financed between 1982 and 1995 by asbestos manufacturers, the CPA is suspected of having knowingly organized the dissemination of false information on the risks ociated with the use of asbestos, and of having worked deliberately to delay the national and European ban on this material, recognized as carcinogenic in the mid-1970s, but banned in France only in 1997.
You have 42.53% of this article left to read. The following is for subscribers only.