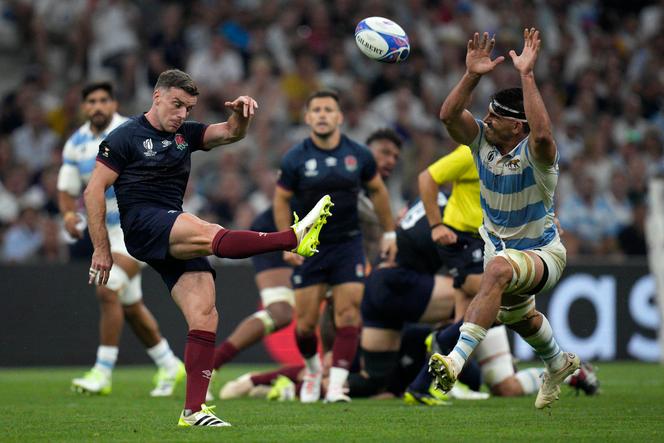 After the big victory of their team, Saturday September 9, against Argentina, the English supporters had only one name on their lips, that of the opener of the XV de la Rose, George Ford, a hell of a scorer, he must say. "God Save George Ford!" » shouted, beer in hand, the most euphoric of them gathered around the Stade-Vélodrome in Marseille where the night meeting had just taken place. With his magic foot, the English number 10, elevated to the rank of idol, scored all 27 points for his selection, leaving the Argentine Pumas far behind who only scored 10.
So everything was played out on foot and, in rugby, where we rather like to enjoy skipped pes and beautiful attacks launched from the back lines, obviously it's quite funny. But wasn't that the best strategy to adopt to ensure victory? Because everything started badly for the English team, reduced to 14 against 15 at the start of the match after the exclusion of third row Tom Curry guilty of a tackle deemed dangerous on Argentine fullback Juan Cruz Mallia. Rumblings then resounded in the Marseille stadium, as if to remind us that the English now had a dirty reputation as collectors of red cards. This summer, two other players had already been sanctioned for bad gestures: flyhalf and captain Owen Farrell as well as third-row center Billy Vunipola.
The exit of Tom Curry could have destabilized a team under pressure for several months largely punctuated by humiliating defeats, against France on March 11, during the Six Nations Tournament (10-53), or against Fiji on August 26 ( 22-30). A few days ago, wasn't the British press talking about the future? "shipwreck" English rugby? The pink team really couldn't afford to miss its entry into the competition and lose this first match which pitted it against the other favorite of Group D of the Rugby World Cup. To be beaten ? It was a sure shame. Earn ? It was giving yourself a new chance, even a possible path to join the clan of the best.
The revolt of the 14 was well launched by George Ford who electrified his teammates by ping a drop of more than 40 meters, in the thirtieth minute of play. A drop? Yes, a drop like in the good old days of Jonny Wilkinson, the former English number 10, 44 years old today, who must have shuddered with pleasure if he watched the match in front of his television screen. Two other drop-goals followed before the end of the first half, enough to stun Argentina despite having a numerical superiority. The English were also the first to return to the Vélodrome pitch to begin the last 40 minutes of play, a clear indication.
You have 41.2% of this article left to read. The rest is reserved for subscribers.