against all odds, Koulibaly's Senegal wants to "believe" in it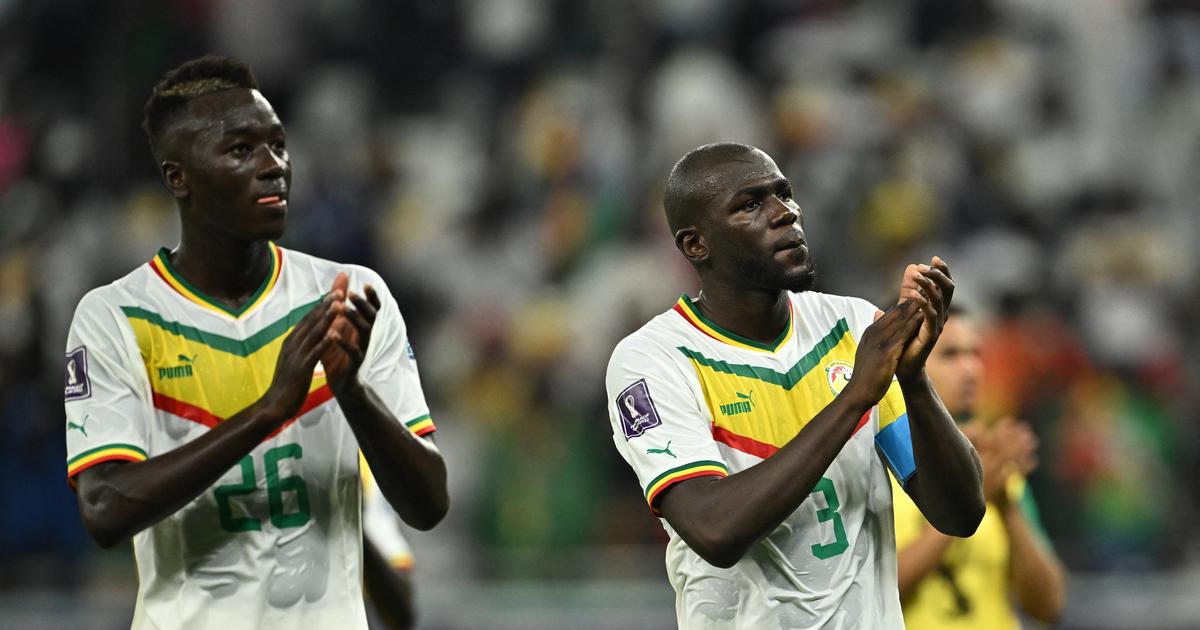 Beaten on the wire by the Netherlands but not defeated despite the headwinds, the Senegalese captain was positive before a first "final" against Qatar.
Special Envoy to Doha
Fate is hounding Senegal. Already deprived of their masterpiece, Sadio Mané, injured just before the World Cup with Bayern, the Teranga Lions lost Abdou Diallo and Cheikhou Kouyaté on Monday, in a game they have long looked set to win. 0-2 defeat against the Netherlands on arrival, with goals in the 84th and 98th minutes. When it doesn't want…"Any news of the injured? No not yet. For both, it seems a bit serious. We'll see after the exams, tomorrow (Tuesday)… It's still difficult to lose two more players. We were already missing Sadio, now Abdou and Cheikhou… We will try to manage this well"Blows the captain of the African champions, Kalidou Koulibaly, agreeing that the absence of Mané was felt at Al-Thumama. "It's normal… This will be the debate on all of Senegal's matches. It's up to us to prove that we can play without him. In fact we play for him, it's very importanthe hammers. He would have liked to be with us, it's really a shame he's not here…»
What a shame. With the second on the list of the last Ballon d'Or, who knows what Senegal could have been aiming for in Qatar! "We must not start looking for excuses, we must continue to work, to show good things. We showed very good things today (Monday). It's a shame we didn't at least draw… We believe in it, we'll do everything to win the next match against Qatar", assures the Chelsea player, already turned to this"final" versus the host country, beaten by Ecuador in opening (0-2) sunday. "It will be complicated but that's the beauty of football. Nothing is easy. When we were African champion, we went to get it ourselveshe recalls. We started with difficulties and we did it. There, we start with difficulties too. I believe in it, everyone believes in it, the locker room believes in it, the coach, and I believe that Senegal also believes in it. It is the most important. Now, we will have to put everything on our side to win against Qatar. It will be a final for them too."Woe to the loser in this meeting which will take place in the same stadium as Tuesday (2 p.m.), Al-Thumama.
We were relevant in what we did, in the plan we had.

Kalidou Koulibaly
Aliou Cissé's men will hope that, this time, this 40,000-seat enclosure will not be the scene of new hard knocks. They will be able to remember that this match against the Netherlands actually allowed them to see a high-level team on time, made up of several well-known faces in Ligue 1 (Diatta, Gueye, Dia, etc.). Moreover, the Dutch did not show off when they left the field, like the ex-Lyonnais Memphis, replacing at kick-off and who paved the way for his team's second goal, after additional time. . "It was a complicated match, we didn't play very well but we managed to score two goals against the African champions. We cannot say that we are satisfied. But we have to", he squeaks, he, who has an appointment with Ecuador with his family.
Read alsoHot Senegalese fans, ridiculous air conditioning … favorites / claw after Senegal-Netherlands
Winners on points if not in fact, the Senegalese can therefore be proud of having made "a good game" Monday evening. "We were relevant in what we did, in the plan we had. It's a shame we conceded this goal at the end (Gakpo's header in the 84th minute) because we really had the chances to score before. It's a shame… It's the law of the World Cup, we know that matches are decided on details. But we believe in it, we all believe in it! We know it will be difficult, there will be two finals and the first against Qatar. We will do everything to win this match. Then we will see against Ecuador. You have to take game after game. We will analyze this match because there were a lot of good things"Notes Koulibaly, the former Messin not hiding that the lack of realism hurt the Lions. "Do not point the finger at anyone in particular. We can only say that we can score more and it's a shame we didn't because we really had the chances… We have to keep working. We believe in us. We know we can do it. Inshallah we will", he launches. From Friday?