against Chelsea, Giroud reunites with his ex-London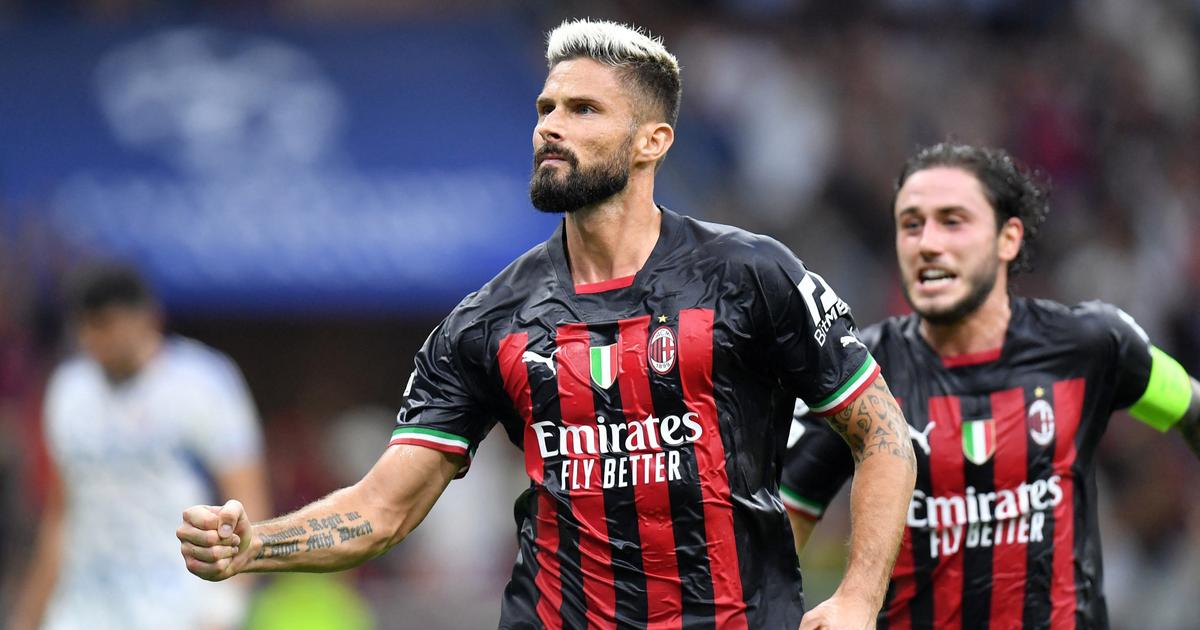 Olivier Giroud has spent three and a half years of very ups and downs at Chelsea, which hosts AC Milan this Wednesday in the Champions League.
The blue jerseys do not come with gifts for Olivier Giroud. Whether at Chelsea or in the France team, the striker, who has just celebrated his 36th birthday, has been on a roller coaster. Among the Blues, we know the story: contested almost always, compared to ex-ban Karim Benzema and not sure of being invited to the World Cup in a month and a half, when he misses two goals for equal the record holder Thierry Henry (51 achievements). At Chelsea, Giroud will perhaps rewind the film in his head when he walks on the cold and wet lawn of Stamford Bridge this Wednesday (9 p.m.).
It was nothing of an upheaval, on January 31, 2018 when, on the gong of the winter transfer window, Giroud signed for Chelsea. He didn't even need to move as he was moving from neighboring London, Arsenal. A transfer to which the coach, Didier Deschamps, was not innocent. "A week before the end of the transfer window, I needed to have his opinion, revealed Giroud at the microphone of Telefoot a few days later. He didn't encourage me to join Chelsea. But he encouraged me to change clubs.»
SEE ALSO – Giroud's top 5 goals at Chelsea (2018-2021)
In search of a titular status, in order to compost his ticket for the 2018 World Cup, Giroud arrives at the Blues. In 13 matches and 611 minutes of the Premier League, he scored only 3 goals. Chelsea miss qualification for the next Champions League. The ex-Montpellier consoles himself with an exceptional goal, a slalom in the FA Cup semi-final against Southampton (2-0), a trophy that Antonio Conte's players will lift. First bittersweet steps at Stamford Bridge.
On cloud nine in the Europa League 2019
The two-faced dimension will be even more marked in 2018-19. In the league, Giroud only has the right to crumbs. He does not suffer from competition from Alvaro Morata or Gonzalo Higuain, disoriented, but does not impose himself. Even winger Eden Hazard is preferred to them at the forefront of the attack. "Perseverance, pugnacity are important values ​​for an attackergrowls Giroud in September. "I'm not happy to play a supporting role", he gets annoyed in April, applying himself to transform his "frustration" in "positive energy". With brio.
Read alsoLeague of Nations: "The World Cup? I do not project myself that far", promises Giroud
His trainer, Maurizio Sarri, finds him a role. Giroud's competition is the Europa League. In C3, the former Tourangeau walks on water: 14 matches, 11 goals and 4 assists. He makes miseries in Malmö, at Dynamo kyiv and at… Arsenal, that Chelsea beat in the final (4-1) with 2 goals and an assist from the ex-Gunner. "It is often undervalued at the start of the season, analyzes Gianfranco Zola, former Italian international and assistant to Sarri at the time, for the weekly Sportweek. He's not quick, he doesn't catch the eye with spectacular moves and he doesn't score 30 league goals. But he is very intelligent and in this very useful to the team.»
Our young people must take Olivier Giroud as an example.

Frank Lampard, Chelsea manager in December 2020
His performances in the Europa League do not guarantee him anything at the start of the 2019-20 season. Hampered by injuries, Giroud is barred by the revelation Tammy Abraham, darling of new coach Frank Lampard. But like a phoenix, the N.9, silent until February, scored 8 goals in the last 12 Premier League matches. Again, his perseverance pays off. On December 2, 2020, he scored a quadruple with Sevilla FC, in the Champions League (0-4). "Our young people must take Olivier Giroud as an example, congratulates Lampard. He is so professional. I can't ask for more. He's not always in the team, but what he shows every day in training helps make the team better.»
From the rest of his season, there was nothing to remember for Giroud. He who had extended a season in May 2019, then another a year later. Always putting on the overalls to prove its value. At AC Milan, it only took him one season to become a legend: 11 goals in Serie A, including a double for the title in Sassuolo on the last day (0-3). The first scudetto rossonero for ten years. This season, Giroud is already at 5 goals in 10 matches. He is doing very well. And today, it no longer helps the affairs of the Blues.