Alain Delon will speak directly to Volodymyr Zelenski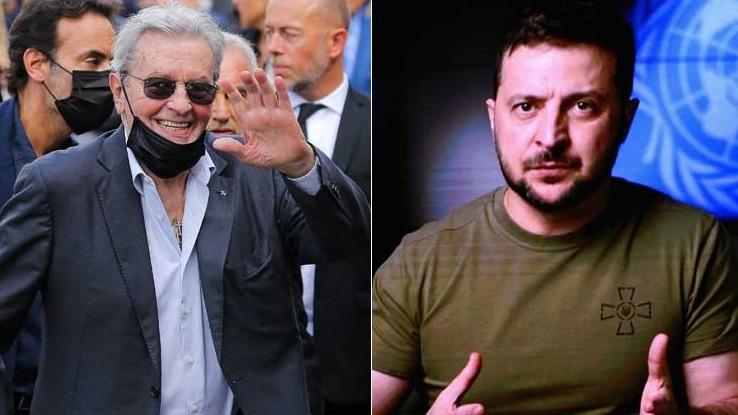 On September 23, at 1:30 p.m., as part of a special TV5 Monde program presented by Cyril Viguier, the French actor will publicly declare his support for the Ukrainian president.
"What we're doing to Ukraine saddened me deeply, that's why I'm fighting for them. Long live Ukraine!Alain Delon expresses his support for the Ukrainian cause in a report that will be broadcast on TV5 monde Friday. A few days away from his 87e anniversary, on November 8, the Samurai will speak directly to President Volodymyr Zelensky, a former actor himself, who must certainly admire the career of Delon, a claimed autodidact who will have worked, among others, for masters of the seventh art like Luchino Visconti, Jean-Pierre Melville and René Clément.
Contacted by Le FigaroCyril Viguier gave some details on this Delon-Zelensky meeting: "This exchange between the two men will be broadcast after the interview with the Ukrainian president on the program Facing the Territories.» For the TV5 journalist, this summit meeting is the result of a long process that mobilized all the employees of his channel: "It was thanks to Yves Bigot, CEO of TV5 Monde, that everything was able to happen. Everything could be technically mounted by satellite".
Read alsoVolodymyr Zelensky will give an interview on French television on Friday
For Cyril Viguier, Alain Delon wanted to do something for Ukraine and peace because he was above all "overwhelmed by the images of children, families, animals all these horrors of war". He therefore chose a poem by Taras Shevchenko (1814-1861) to convey his revolt and what he thought of the invasion of Ukraine by the Russian armies. The Ukrainian humanist is considered his country's greatest romantic poet. In his memory the Kyiv National University bears his name.
Alain Delon reads the greatest Ukrainian poet
These few verses by Shevchenko, which Delon read for the future TV5 Monde report, somehow mixes the dark destinies of the actor and Ukraine:
"When I am dead, put me / In the earth that serves as a grave / In the middle of the immense plain / In my beloved Ukraine / So that I see the endless fields / The Dnieper and its steep banks / And that I hear it roar / When the Dnieper will carry / Towards the blue sea, far from Ukraine / The blood of the enemy (...)".
Touched by the actor's commitment, the Ukrainian ambassador to France, Vadym Omelchenko, invited him to the Ukrainian Cultural Center 22, avenue de Messine, a mansion where once lived Romy Schneider and Alain Delon. To thank him for this gesture, the actor read another poem, signed this time by Paul Éluard: "And by the power of a word / I restart my life / I was born to know you / To name you / Freedom.»
An extract from the report on Alain Delon's support for Ukraine, broadcast on TV5 Monde at the end of September 2022