Alcaraz, Tsitsipas, Djokovic, three-way battle for the place of N.1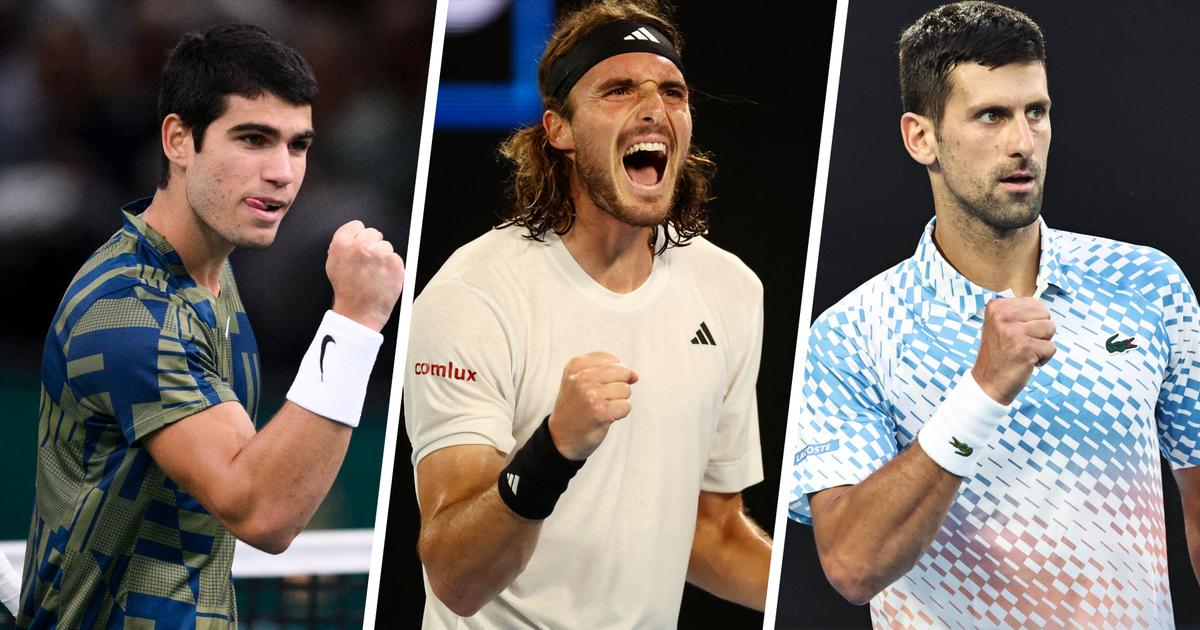 Still in contention in Melbourne, Stefanos Tsitsipas and Novak Djokovic can claim the chair of world No.1, and Carlos Alcaraz still has a chance to keep it.
We now know the names of the four semi-finalists of the Australian Open 2023. On the one hand, Stefanos Tsitsipas and Karen Khachanov will face off, on the other. Novak Djokovic and Tommy Paul. Among them, only the Greek (current N.4) and the Serbian (N.5) can become world N.1 at the end of the tournament. Another player could have claimed it if he had reached the final, but he was eliminated in the second round: the Norwegian Casper Ruud. For his part, Rafael Nadal, defending champion and also eliminated in the second round, could in no way hope to regain the throne. On the other hand, there is still a possibility that the current N.1, Carlos Alcaraz, retains his crown. Overview of the different scenarios.
Carlos Alcaraz
The young Spaniard (19), package for this Australian Open, is the current world No.1. He can remain so if and only if the winner of the tournament is neither Novak Djokovic nor Stefanos Tsitsipas. It will therefore be necessary to count on an exploit by Karen Khachanov or Tommy Paul in Melbourne to keep the throne. As a reminder, when Alcaraz climbed to the top of the rankings in September after his victory at the US Open, he had become the youngest world number 1 in history, at 19 years, 4 months and 7 days. The previous record belonged to Australian Lleyton Hewitt, who broke it at 20 years, 8 months and 23 days in 2001.
Stefanos Tsitsipas
The equation is simple for the Greek, who currently occupies the 4e global place. He must glean the title to be propelled world N.1. It would be a first for him at 24. His best ranking so far is 3e. It would also be her first Grand Slam victory, but not her first final, since he had reached – and lost – that of Roland-Garros in 2021.
Novak Djokovic
Same case for the Serb: only a victory in Melbourne can allow him to sit down again on the chair of world N.1. He has already occupied it for 373 weeks, an absolute record. Far ahead of Roger Federer (310), Pete Sampras (286), Ivan Lendl (270), Jimmy Connors (268) and Rafael Nadal (209).
SEE ALSO – Australian Open: Rafael Nadal, defending champion but injured, eliminated in the 2nd round