Alexis Pinturault returns to the podium as a giant behind the untouchable Marco Odermatt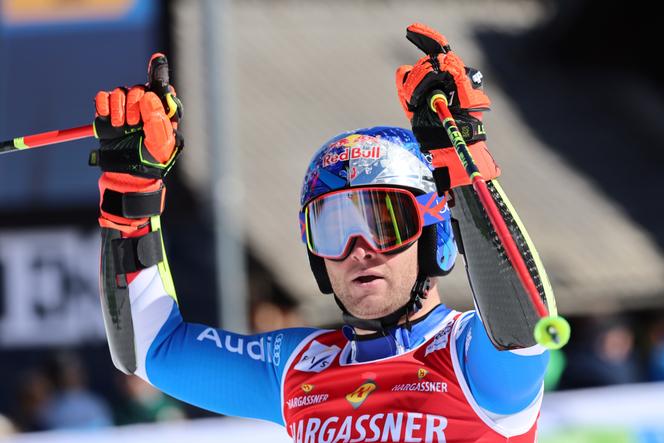 Alexis Pinturault is back. After to have won the title of world champion in the combined, in February in Courchevel (Savoie), the Frenchman finished second in the giant slalom in Kranjska Gora (Slovenia), on Saturday March 11. Only Marco Odermatt managed to beat him in this event counting for the World Cup. The Swiss thus confirms that he is indeed the flagship skier of this season by winning his tenth win of the winter. He is already mathematically assured of finishing at the top of the general classification for the second consecutive season.
Far behind (seventh in the general classification), Alexis Pinturault could not hope for a long time to win a new big crystal globe after that obtained in 2021. Above all, the podiums have been denied him since the start of the season in giant slalom, his favorite discipline. On the Slovenian track he loves – and where he raised his arms in 2015 and 2016 – the Courchevel skier has corrected the situation. Starting with bib seven on his back, Pinturault first signed a solid first run (fifth, 80 hundredths from Odermatt), before dropping his skis during his second pass between the gates.
🇬🇧 Alexis Pinturault superb 2nd from the giant of Kranjska Gora! The extraterrestrial Marco Odermatt deprives the French of the… https://t.co/4NClOSBizj
beaten on the wire
Ultra-precise and never overwhelmed by changes of pace, the Frenchman crossed the line in the lead and only had to wait, installed in the provisional leader's chair, to see his last four rivals pass by. One by one, they all finished behind him, like the Norwegian Henrik Kristoffersen – ultimately third – or the Slovenian Zan Kranjec, who failed to string together two high-level runs in front of his home crowd.
Pinturault even saw the victory from very close when Marco Odermatt passed late during the last intermediate. But the Swiss found the resources in the final bends of the final wall to recover some time and win, thus relegating the Frenchman to the second step of the podium. He will have the opportunity to take his revenge tomorrow, Sunday March 12, during the second giant slalom scheduled for Kranjska Gora.
Mikaela Shiffrin wins the Are slalom and takes an 87th victory in the Ski World Cup
And 87 for Mikaela Shiffrin! The American didn't wait long before overtaking Ingemar Stenmark. Twenty-four hours after equaling the Swede's World Cup winning record (86), the American added another to her list on Saturday, March 11, by winning the slalom in Are (Sweden). With this 13e success of the winter, the native of Colorado is guaranteed to pocket the big globe, which rewards the best skier of the season, and the two small giant and slalom globes.
"I still don't realizeshe reacted to the microphone of the organizers of the competition. My brother is there, I didn't know he would make the trip, it's still a very special day for me. I was in the lead after the first run, I had to be smart but I also had to ski fast, I did what I wanted to do. Thanks to all the team who helped me this season, [et] to all those who have helped me throughout my career, a big thank you. »