Ali Cobby Eckermann suspends the disaster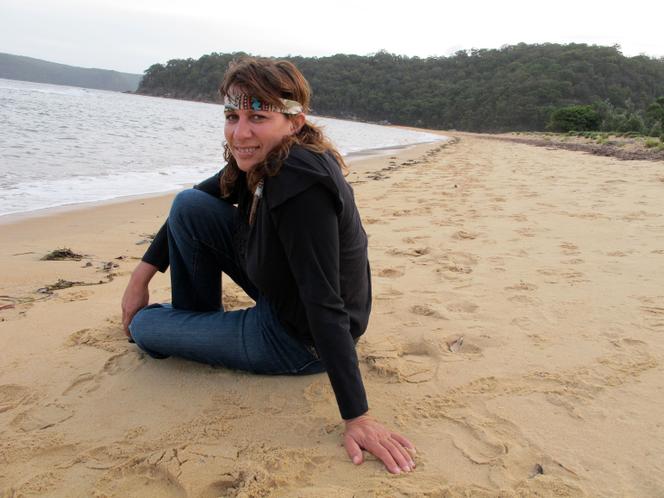 "Ruby Moonlight", by Ali Cobby Eckermann, translated from English (Australia) by Mireille Vignol, Au vent des îles, 86 p., €10.
Men suffer from blindness in Ruby Moonlight. Blinded by the glow of a woman's black skin in the moonlight or the shine of a precious stone, they move towards their end, convinced that the world is orchestrated according to their desires. However, all they need to do to feel the wind turn is to "trusting nature", as the author, Ali Cobby Eckermann, an Australian writer born in 1963, in the land of Kaurna, South Australia, says. If the warning is stated in only one chapter, it shines through in each image of this beautiful verse novel, published in Australia in 2012 and now superbly translated by Mireille Vignol.
So from the first page, where the sentence "nature can swirl / like a dead leaf / sometimes / turn into a butterfly / or mourn on the ground / turn into dust" draws a whirlwind movement, twirling then descending until it touches the ground. In a few words, Ali Cobby Eckermann pushes us to contemplate an ambiguous spectacle where life and death, hope and failure, mourning and the possibility of renewal coexist. In doing so, the author imposes her precise, subtle and powerfully evocative style.
In the beginning, therefore, there is nature, which here plays the role of the chorus of Greek tragedy. She is both the witness and the mirror of the sufferings and actions of the characters, in the forefront of which is Ruby, a young 16-year-old Aborigine. At the beginning of the novel, she finds, with her clan of hunter-gatherers, the familiar landscapes of southern Australia. Ali Cobby Eckermann portrayed the harmony that prevails then. Until this osmosis is brutally broken by the intrusion of"foreign animals and [d']pale men ». The clan waits for the elders to give the "la" to know how to react – too long perhaps. They are massacred.
sole survivor
Time is no longer in their hands in this Australia of 1880, where the hunt for "black prowlers" is launched, where European settlers are encouraged to "to exterminate these contagious vermin". The sole survivor, Ruby, will have the mission of bringing back time, in this novel which shows how this kind of massacre, putting human beings to death, is also the destruction of a tribal code and, beyond that, of a way of look and name the world. As well as an attack on the "dreamtime", this central theme of Aboriginal culture which explains the formation of the world.
You have 53.07% of this article left to read. The following is for subscribers only.