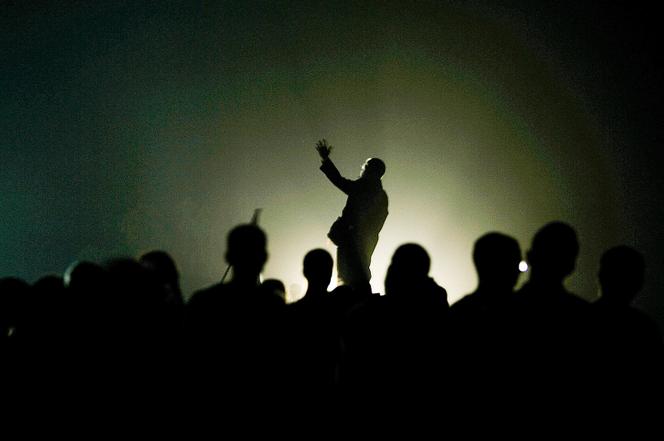 "All people", by Raphaël Meltz, Stock, 144 p., €18.50, digital €13.
At the end of EveryoneRaphaël Meltz indicated four dates corresponding to the three periods of work on the manuscript: "December 2020/October 2021-February 2022/October 2022." The authors thus ending their book are rarely so precise. It is this detailed and unusual way of proceeding that made us want to ask him about the progress of his sixth novel, very successful, centered on three characters who have put humor at the heart of their lives.
In Marseille, where he lives and where " Le Monde des livres" contacted him by telephone, the writer plunged back into the notebook he was holding on his "Writing issues and comments on current projects". This leads him to go back two years before the dates that appear today in his book. "In the summer of 2018, after finishing new game [Le Tripode, 2018], I jot down a series of ideas. One evokes the question of generations and cinema, it will become 24 times the truth [Le Tripode, 2021]. Another simply says "humor". » At that time, he remembers, he had no precise vision of what it could be about, but he knew that, without his having any particular taste for comics, the question of laughter To "always pionate"even more, perhaps, since a friend of his had the job of inventing the jokes of the magazine Astrapiaimed at 7-11 year olds. "According to him, children have no problem laughing alone, which is why children's books are often funny, while adults need to come together to laugh, and the loneliness ociated with reading does not is not so conducive to it. » In addition to conversations with his friend, he mentions reading a "big serious work", The Civilization of Laughterby Alain Vaillant (CNRS Editions, 2016).
Spring lockdown
Going forward a few pages in his notebook, Raphael Meltz arrives in the fall of 2018 and a handful of sentences in which the idea of ​​a successful comedian character arises "who, embarking on a love story, wonders about his need to make people laugh". To which is added the possibility of writing in three parts, "one to the I, the other to the you, the third to the he"but all centered on the same man.
The novelist does not question a comedian directly: "As a writer, I find the materiality of people intrusive, I'm afraid of being absorbed"
For months, Raphaël Meltz does not return to it, all occupied by 24 times the truth. Once this is finished, at the beginning of 2020, he opens a file, in which he specifies that in addition to his contemporary comedian there will be one living in the past, and that a university woman, memory of reading Alain Valiant, "will make the link between the two". He stabilizes his idea of ​​a structure " I you he "notes that the project"extremely exciting"… But, when the spring confinement arrives, it becomes " blocked " and move on – in this case, the man of undoubtedly varied interests turns his attention to astrophysics.
You have 61.97% of this article left to read. The following is for subscribers only.