An ephemeral creation covers a portrait deemed too coquettish and reductive of Empress Sissi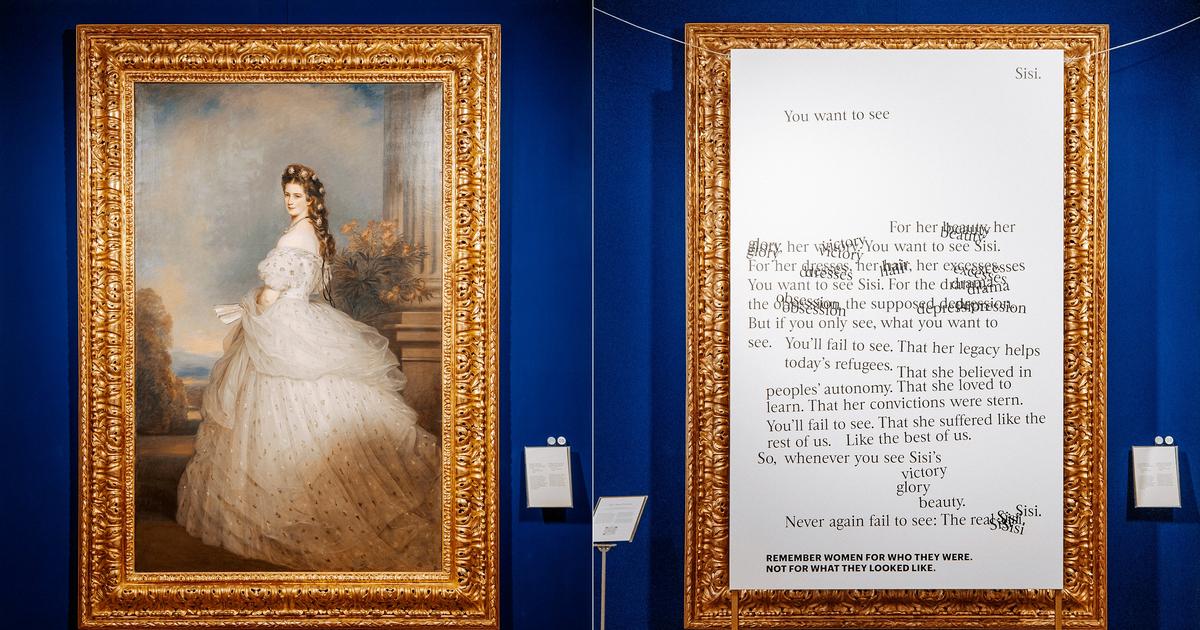 The installation, commissioned by three Vienna museums on the occasion of International Women's Day, will end on March 31.
Was Sisi ? A Austrian empress assassinated ; a charming princess; an unlikely namesake of the current Egyptian president. The tragic soul mate by Romy Schneider, maybe also ? The image that remains today of the sovereign is that of a woman of great beauty, set in gold dresses spangled with diamonds and muslins with pearly pearls. But, according to the Vienna tourist office, this was not Sissi. An initiative thus flourished on the occasion of International Women's Day, March 8 : put square to the simplistic prejudices which surround this historical personality… by making it disappear from a few paintings exhibited in Vienna.
For their demonstration, the Vienna Tourist Office and the Sissi Museum have set their sights on the portrait of the Empress painted in 1865 by Franz Xaver Winterhalter. The empress, her real name Elisabeth, appears sideways, her bare shoulders, adorned in a sumptuous, milky dress, all in satin, tulle, jewels and a crinoline. On March 7, the original of this painting kept in the Sissi Museum, in a wing of the Hofburg imperial palace, in Viennawas masked by a panel decorated with a free poem, a "minimalist portrait" in words, titled Sisi's New Portrait ("The new portrait of Sissi").
Deconstruct Sisi
The portrait in questiondeconstructs the memory of Empress Elisabeth of Austria to focus on facts rather than appearance", Indicates on its social networks the German agency Jung von Matt, which developed this installation. We read, in English, references to her taste for learning, for the autonomy of peoples and for what she still brings to refugees today. Sissi had indeed wanted the royalties from his newspaper to be used to help them.
Read alsoThe Little Mermaid in Copenhagen vandalized, a Russian flag painted on its base
"For the young Sissi, the notion of beauty did not even exist, Sissi Museum curator Michael Wohlfart said in a statement on Tuesday.. His appearance was instrumentalized". "Sissi was ahead of her time in many ways. She was a very strategically intelligent woman – and although her voice didn't officially count, she knew exactly what effect her actions had on the public.", added Elfriede Iby, head of the scientific department of the Schönbrunn group, which administers former imperial domains on behalf of the Austrian State.
The two copies of the painting by Franz Xaver Winterhalter kept in the Imperial Furniture Museum and the Hotel Imperial were also masked by this "new portrait". These three installations will be presented in place of the works until March 31.
SEE ALSO – "In his paintings, Vermeer evacuates all that is anecdotal", admires Nicolas Chaudun