Antoine de Caunes recounts his naturist experience on Canal+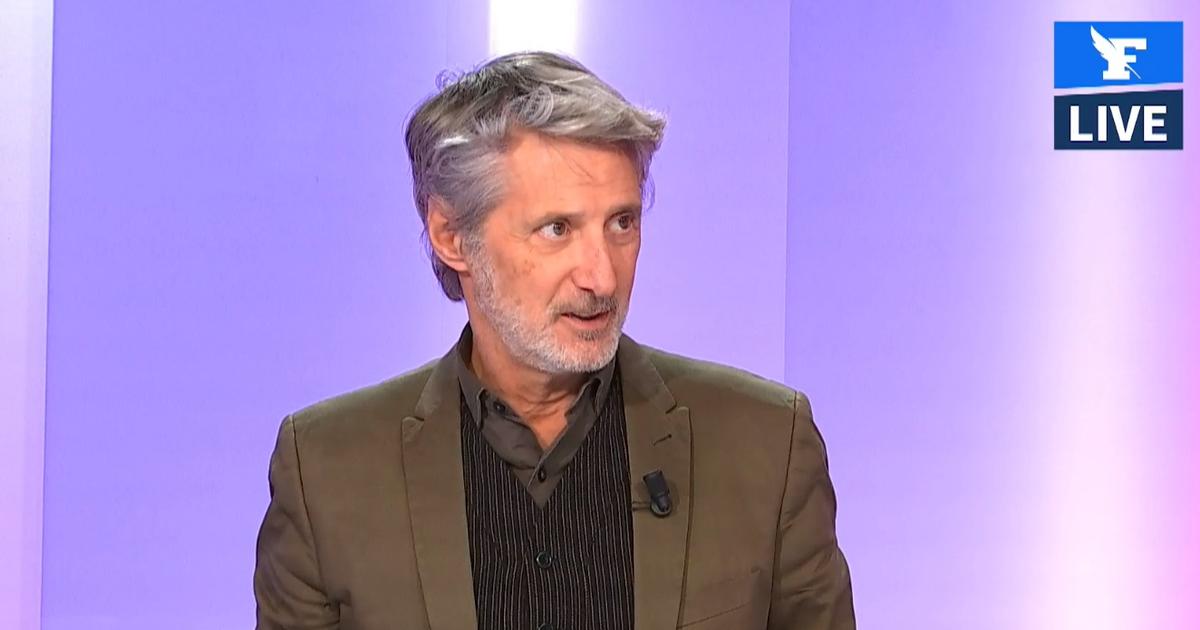 FIGARO LIVE – With his touch of legendary madness, the host highlights ecological initiatives in "La Gaule Verte", this Wednesday, November 23, at 9 p.m. on the encrypted channel. Guest of "Buzz TV", he reveals behind the scenes of the shooting.
TV MAGAZINE. Is "La Gaule verte" just another show in which you're going to harp on that human beings are all dreadful polar bear killers?
Antoine DECAUNES. – It's not the angle of attack at all. It is not a question of making you feel guilty but of talking about ecology because it is the essential theme of the time, which is absolutely inevitable. In "La Gaule d'Antoine", of which this program is a variation, we like to talk about serious things with lightness. We will apply this principle to the letter! It's a way of stepping aside and having an amused look at things that concern us all.
Read alsoFlorence Foresti, Jonathan Cohen, Antoine de Caunes… Canal + offers a star-studded comeback
How do you get a Green Gaul?
It is not easy. It takes daily effort, attention, and maintenance. Small gestures count, even if they do not replace the big strategic choices that must be made today.
You have multiplied the meetings during your show. Which personality surprised you the most?
I have a hard time answering this question because all the interviews are amazing. For example, this woman who makes cardboard coffins has taken a very happy initiative. When you add up what a wooden chest costs, the cardboard and biodegradable solution is essential, even if it comes up against certain taboos. This lady is brilliant and obeys the wishes of her husband, who was very attached to it.
Visit a wooden sex toy factory
You even visit a wooden sex toy factory. How did you find this address?
Don't look at me with that inquisitive look, it's not me! It's my team of journalists… It was a funny subject. Even if it means making sex toys, why not make it out of wood from the Vosges. It's better than a plastic device… Go talk to the dolphins!
At the end of this investigation, you walk with the members of a naturist association. You took off your clothes. How did you live this experience?
It was quite painful because I am very modest. These are people who like to walk around naked because they have the feeling of being in harmony with nature but they are used to it. It's less my case… Before taking off my clothes, we got to know each other better. But what's a bit tricky about this no-clothes hike is that you always have someone ahead of you and someone following you.
"I don't want to watch the FIFA World Cup at all"

Antoine de Caunes, guest of "Buzz TV".
In the show, you present yourself as a man with little sensitivity to ecology. Has this show changed your outlook on environmental protection?
It is necessary to differentiate the man from the artist. In "La Gaule d'Antoine", I play this character who is always a bit stupid, Parisian and arrogant. With his little hat, he takes the door every time. In reality, and because my wife is very concerned with the history of ecology in the broad sense, I am quite aware and alarmed. I never take a car in Paris, and prefer public transport. I make a mistake by sorting, and other small gestures. But I don't set myself up as an example!
Do the ecological aberrations of the World Cup in Qatar annoy you?
It annoys me deeply. I don't watch football very much, but I don't feel like watching it at all.
Read alsoAntoine de Caunes: "I want the cinema to be put back in the middle of the village"
The defense of the environment sometimes takes surprising forms. Some are throwing soup at works of art to proclaim that the planet is in danger. What do you think of this initiative?
You do big marches for the climate and nobody cares. You throw something on a world-famous canvas and, all of a sudden, everyone is talking about it. The process is quite disastrous because it's very stupid to go and type works of art. There are perhaps other more immediate symbols. But the fact that we bring the planet back on the table to justify these actions, I don't completely oppose it.
"I am not a candidate to host the next Cesar ceremony"

Antoine de Caunes, guest of "Buzz TV".
What memory do you have of the last Cesar ceremony, which you presented?
Rather a good memory, even if it was too long, as always. There are too many tributes, awards, thanks. It would be necessary to make a shorter and more collected ceremony to be able to keep the tempo. It would be nice to have two parts to punctuate the evening: the first on the making of the film, and the second on what the general public sees.
Do you want to host the next one?
I am not applying! Ten times is good, it's a round number…
Read alsoAntoine de Caunes: "We cannot compare Caesar and Oscars"
In January, you will pay homage to cinema in a collection of shows…
It will be called "Genre genre". I will host one every month and each of them will be devoted to a particular genre. We'll start with the zombie movies. I will give my point of view on what amuses me and interests me with guests concerned by the subject. It will be very documented!
You were host of the Grand Journal from 2013 to 2015 on Canal+. On the set of "Buzz TV", Sébastien Thoen, who was part of the talk show, recently said that you do not like your band. What do you answer him?
Nothing… I didn't know he had written a book! I got along very well with the people on the team. This "Grand Journal" was a special moment because we inherited a program that had been set up by Michel Denisot. He had had successful seasons. And I tried to transform this show with the constraints of this crossroads, where everything was timed and framed. It was sometimes difficult to find your bearings. Nevertheless, I have no bad memories of Sébastien. I'm sorry he keeps a bad one…
When do you return your sidekick José Garcia?
We'll see… I'm not saying yes, I'm not saying no. Maybe something is cooking…