Apolline de Malherbe looks back on her tough interview with the Minister of the Interior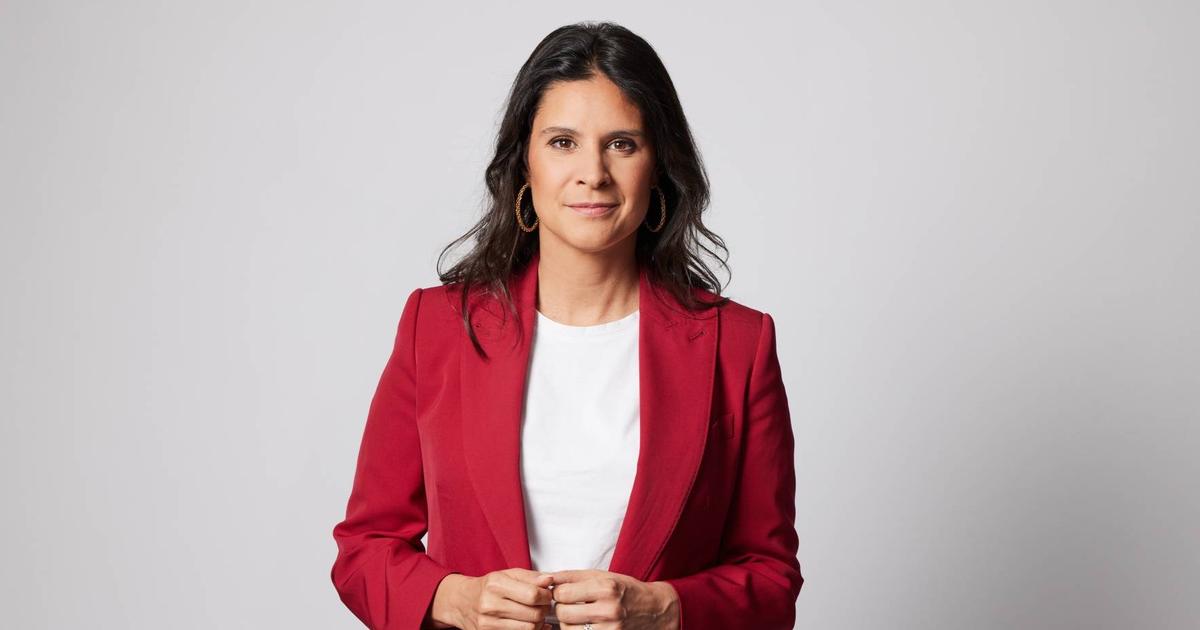 INTERVIEW - The journalist presents "Apolline Matin" every day, on RMC and RMC Story.
Her warm and delicate voice gently wakes up hundreds of thousands of French people every morning. In her morning broadcast at 6:30 a.m. on RMC and RMC Story, Apolline de Malherbe arms herself with a communicative good humor and unwavering optimism. A challenge at a time of war in Ukraine, global warming and the energy crisis.
TV MAGAZINE. - Before going on air, do you have to take anxiolytics to support the news?
Apolline DE MALHERBE. - It is true that, since the Covid-19 epidemic, we are all living with greater anxiety than before. During confinement, I crossed the capital, which was deserted and gloomy, to reach my workplace, where I commented on the number of daily deaths. I was cashing… But, one evening, I came home and burst into tears.
Read alsoApolline de Malherbe awakens France on RMC and RMC Découverte
Do you have difficulty taking a step back from the news?
I don't want to put the news at a distance. Sometimes, certain listeners affect me, like this old lady who affirmed on our antenna that she no longer had the means to heat herself. I was moved, which may have destabilized those who listen to me, but I assume it! This sincerity is also the strength of RMC. It's a radio where you don't cheat.
Does the humor of Arnaud Demanche, who joined your band, make it possible to counterbalance this bad news?
What happiness! I'm super happy he joined us this year. At 7:20 a.m., he hacks into our switchboard and puts himself in the shoes of dummy listeners. An hour later, he looks at the news. He can take me very far in laughter, and, following his column, I announce that the tone is going to change radically because we are going to tackle a tragic theme, like the war in Ukraine. As such, my morning is a reflection of French life. She oscillates between moments of anguish and relaxation.
"My interviews reflect the life of a 40-year-old mother, who is always a bit on the verge of a nervous breakdown"

Apolline de Malherbe, morning presenter on RMC.
You also lead the "Face to face»the political interview co-broadcast by BFMTV at 8:30 a.m. Is the objective of this interview to collect the sentence that will ignite social networks?
I hope it's more complex than that. It would not be credible to claim that the buzz does not interest me. Afterwards, anything can happen live, whether it's in the guest's response or my reactions. My interviews reflect the life of a 40-year-old mother, who has four children, who manages emergencies, and who is always a little on the verge of a nervous breakdown.
Do you arrive in the studio as combative as a boxer?
I would not use this image. For me, it's more a mix of dance and bullfighting. In the studio, you feel an absolute loneliness that is physically palpable, because there are only two of us: the guest and me. Even the cameras are operated remotely. It's something I'm attached to because this configuration also plays a big part in the tension of the interview.
Read also"You can go out if you wish": Apolline de Malherbe annoyed by the attitude of Jean Lassalle during her interview on BFMTV
Do you have time to exchange a few words with the guest before this confrontation?
No, because I leave the morning set at 8:28 a.m. and I have to be five minutes later in the "Face to face" set. During this short time, I take the opportunity to take off my sneakers in order to put on heels. It's my shell! When I say hello to the live guest at 8:33 a.m., that's when I speak to them for the first time.
And after the interview?
Overall, it remains courteous, because we have already met several times before in the context of an interview. I am a very cordial person, and you have to be able to accept dialogue. But the atmosphere is sometimes so icy that the guest leaves the set without saying goodbye to me. Gérald Darmanin, last February, did not greet me. He turned on his heels and stormed off.
"I don't think Gérald Darmanin wanted to apologize to me"

Apolline de Malherbe, morning presenter on RMC.
Irritated by your pugnacity, the minister told you directly: "Calm down, it will be fine. » Did he apologize?
He called me three days later but I don't think he wanted to apologize. Nevertheless, he expressed the will to speak to me and I am convinced that he regretted it. He then returned to the set several times, and it went very well.
How are you going to make the public forget Jean-Jacques Bourdin, who embodied this political interview for almost twenty years?
I'm not asking listeners to forget that. I never wanted to replace him or imitate him. I have always found him to be a very great journalist. From now on, I open a new page, with a new tone.
Did you listen to his debut on Sud Radio?
No, it's time for my nap.
Read alsoOpen war between Apolline de Malherbe and Jean-Jacques Bourdin at the editorial staff of RMC
In the morning, political interviews are carried out mainly by women. Should men demand equality?
It's fair game, but that doesn't satisfy me. I am deeply feminist because I hope to prove that a woman can have four children and exercise a job with great pressure. However, I am not at all vindictive. Men and women have different approaches, and I want there to be room for everyone.
Are you as authoritarian off the air as you are in political interviews?
I would have to ask my relatives. But I think I'm more of a cool person… The real Apolline is more like the one who talks with the listeners and journalists of the morning show. Moreover, with Nicolas Poincaré, Emmanuel Lechypre, and Charles Magnien, we laugh a lot, so much so that we sometimes end up at the bistro, where we dare to have beers at 9 am! (Laughs.)
Your four children are aged 4 to 16. How do they view their mother's career?
At the table, we talk about politics and society. I feed a lot on what they tell me. They surprise me a lot, and it has even happened that they ask me a few questions