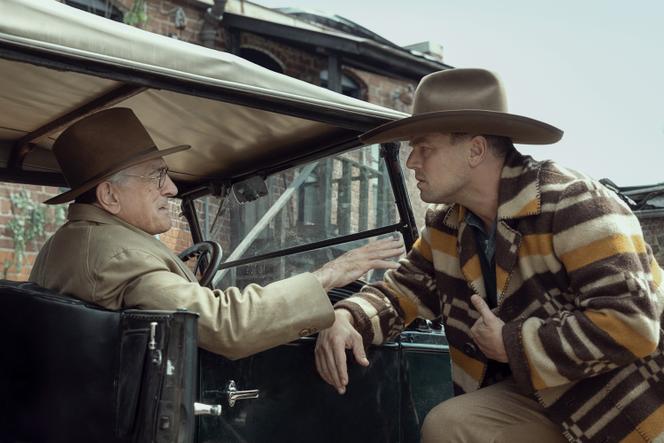 A 180 degree turn. After three years of rivalry with cinema operators, the major streaming platforms have buried the hatchet and declared their new flame in dark rooms. Produced by Apple and expected in preview Saturday May 20 at 76e Cannes film festival, Martin Scorsese's latest film, Killers of the Flower Moon, with Leonardo DiCaprio and Robert De Niro, will then be widely distributed theatrically by Paramount. In the same vein, Napoleonby Ridley Scott, also produced by Apple, will be released mively on the big screen in the United States on November 22.
It is only after worldwide theatrical release that these two films will be offered on the Apple TV+ streaming platform. Similarly, Amazon released theatrically Air, by Ben Affleck, which he produced, allowing him to garner 86 million dollars (about 79 million euros) in revenue worldwide, according to Box Office Mojo, since its release on April 5. And has been streaming it since May 12 on Prime Video.
In France, the media chronology (the order in which the films are exploited on different media after their theatrical release) will force you to wait between fifteen and seventeen months to see these three feature films on Apple TV + or on Prime Video .
Two behemoths
The Evolution of "Streamers" in Film Production is already a major shift. Apple and Amazon intend to invest 1 billion euros per year in the production of films intended first for the big screen, according to the American press. This is'"a mive entry that will shift major balances", explains Eric Marti, general manager of the analysis company Comscore Movies. The will of these two behemoths to weigh heavily in the cinema and to compete with the studios therefore begins more and more clearly.
Over the last three years, marked by the pandemic, the strategy of Apple and Amazon was to release the films they produced, directly in streaming, in order to gain ever more subscribers in video on demand service. . Sometimes, certain feature films were shown in a few American theaters, such as Codaby Sian Heder, produced by Apple, but in a very short period of time, only to be eligible to compete at the Oscars.
How can this reversal be explained? This allows to"obtain more revenue than by streaming the film alone", recalls Eric Wold, analyst at B. Riley Securities. The global rebound in attendance largely justifies this strategy. "The recovery is accelerating everywhere on the planet, except in South Koreaures Mr. Marti. Box office receipts in the United States between 1er January and April 24 are only – 13.8% compared to the same period of 2019. Thanks, among other things, to the tidal wave Super Mario Bros.. In China, the great rival of the American market, the delay compared to 2019 is only 16%.
You have 64.59% of this article left to read. The following is for subscribers only.