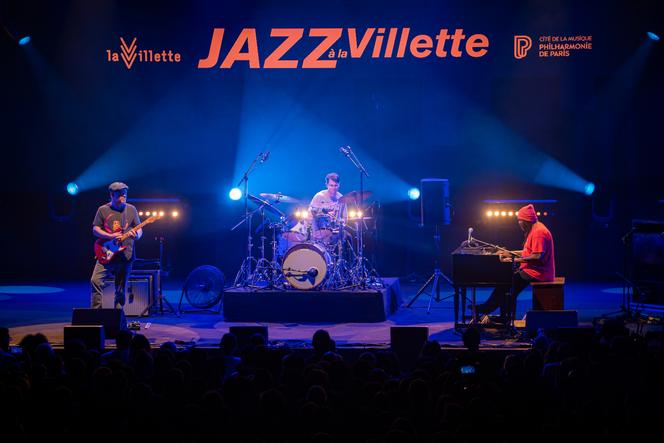 MUSIC
For several years, the Jazz à La Villette festival, in the park of the same name in Paris, has included musicians from the so-called "new British jazz scene", which appeared more or less in the mid-2010s, on its annual program. Artists who find themselves in various collectives, sometimes play in several groups, bring jazz into play with other genres, soul, electro, music from the British West Indies, pop, rap…
Thus have already come to the festival the groups Maisha, Kokoroko led by trumpeter Sheila Maurice-Grey, GoGo Penguin (who returns on Saturday September 9), saxophonist Nubya Garcia, singer Zara McFarlane, and saxophonist Shabaka Hutchings − probably the best known . On Saturday September 2, the festival hosted under the metal framework of the Grande Halle two groups, Steam Down, founded in 2017, and Ezra Collective, born in 2016.
At the heart of Steam Down, which mixes jazz improvisation with elements ofafrobeat (popularized in the 1970s by the Nigerian Fela Kuti, died in 1997) and rap, there is the saxophonist and singer Wayne Francis, known as Ahnansé. During the concert, he evokes the importance for him of the American saxophonist Wayne Shorter (1933-2023). This is sometimes heard in the construction of his solo interventions, whose lyricism can also evoke that of Pharoah Sanders (1940-2022). His phrases find a complement in the vocal strength of the singer Afronaut Zu. A move towards reggae, another towards the memory of a trip to Colombia lead the group's music towards other lands, pleasant, but without being very creative.
Afrobeat and soul jazz
This is also somewhat what emerges from the performance of the Ezra Collective quintet. At its head, drummer Femi Koleoso. Again, Afrobeat is an obvious source, with additions of Cuban music. Without really, at least during this concert, going beyond the stylistic reference, developing it. Some solo parts of the keyboardist Joe Armon-Jones and trumpeter Ife Ogunjobi revive interest. On several occasions, the momentum of this music, certainly euphoric, is cut by monologues by Femi Koleoso. "Ezra Collective wants to make you happy (…), joy is the most beautiful thing in the world. » In the room, in accordance with these declarations, we dance, we sing "lalalala" on demand.
Among the British formations, the festival hosted, for the second time, the Organ Trio of the American Delvon Lamarr, founded in Seattle in 2015. Soul jazz of the late 1950s, early 1960s, and funk dominate. At the Hammond organ, with Leslie cabinet (system of amplification and modulation of sound by rotation), playing b on the pedalboard of the organ, Delvon Lamarr does not put his virtuosity in the foreground. The current members of the trio, guitarist Josh Perdue, mainly rhythmic, subtle in the use of the wah-wah effect pedal, and drummer Sam Groveman, are precise accompanists.
You have 17.17% of this article left to read. The following is for subscribers only.