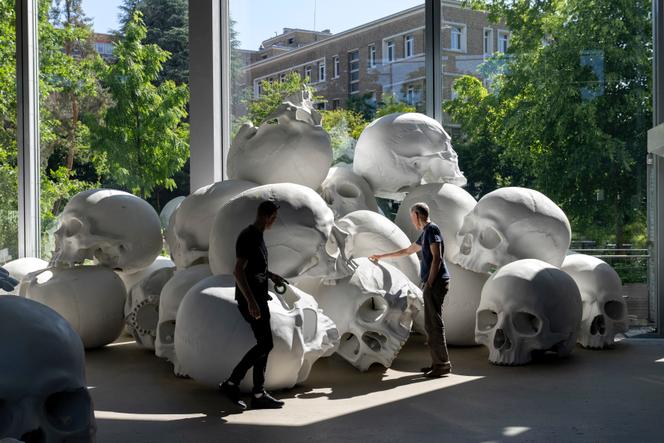 Mountains of giant human skulls and the slaughter of a miniature pig, an XXL newborn baby flat and another tiny one suspended, aggressive mastiffs and a naked little man: the list of works to discover in Ron Mueck's new exhibition at the Cartier Foundation for Contemporary Art in Paris has something of an esoteric formula. The whole, half of which is recent work, in any case offers a counterpoint to the ultra-realistic scenes and bodies presented in the artist's first two exhibitions in the premises, in 2005, then in 2013, with a noticeable detachment from exactness. flesh and an increased interest in group energy.
Ron Mueck, 65, is a secretive and silent artist, who left London for the small Isle of Wight a few years ago, rarely exhibits and produces little. The count is surprising: the artist has created only forty-eight works during his career, which began more than twenty-five years ago during a collaboration with his mother-in-law, Paula Rego, in a rate of two sculptures per year. "More than loyalty, it's a companionship between him and us, a long-term relationship of trust"emphasizes Hervé Chandès, director of the Cartier Foundation and curator of the exhibition.
We see the artist, very concentrated, when we go to the embly of the exhibition, ten days before its opening, on June 8th. Ron Mueck does not wish to give an interview or speak about his work, but greets us in the middle of the monumental skulls which accumulate in the large, entirely glazed room of the Foundation. The artist observes to what extent the immersion of his installation in the gl and green setting – that of the gardens and trees around the building – gives it a particular atmosphere, between shadows and rays of light.
funeral clearing
These hundred skulls of about one cubic meter each, he had designed them as part of the 2017 Melbourne Triennale, on the occasion of a carte blanche at the National Gallery of Victoria. They formed scattered heaps across a wing devoted to 18th-century European painting.eincluding several still lifes and memento mori. The museum, which had then acquired it, is lending the work – the largest it has ever produced – for the first time. It arises here in another context: the proximity of the Catacombs of Paris, at the end of the street.
A sort of funerary clearing in the middle of the surrounding nature, the installation has the particularity of being entirely modular in space. The arrangement of the skulls, the transport of which required twelve containers for a two-month trip between Melbourne and Le Havre, is orchestrated by a team of six fitters from a central model, a replica of the space where the skulls have the egg size, and are also stored in egg cartons.
You have 56.56% of this article left to read. The following is for subscribers only.