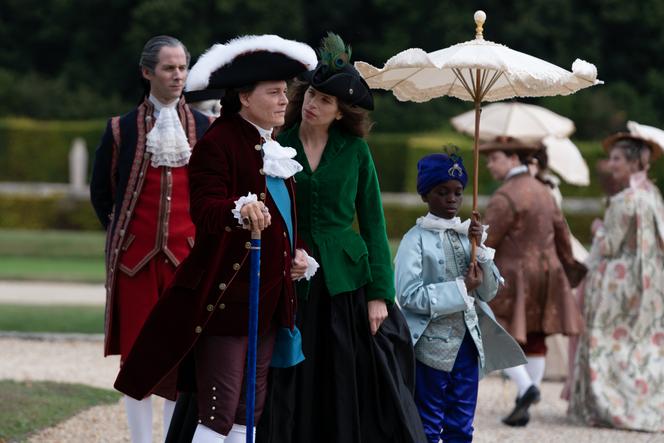 OFFICIAL SELECTION – OUT OF COMPETITION – THE OPINION OF THE "WORLD" − WHY NOT
Cannes opening film at the same time as the national release (Tuesday May 16), Jeanne du Barryby Maïwenn – devoted to the destiny of the popular courtesan and the hostility that her dealings with King Louis XV would earn her at court – confronts the delicate challenge of period film and, within it, to what could more precisely be called the "court film".
That is to say, the most formidable of all, the one whose intrinsic pomp ripolinates most of the productions devoted to the genre, with a lot of gleaming decorations, plots of alcoves, great stars powdered talking beautiful, laughing strong, spreading, otherwise, in low mes. Consider a conception of cinema applying to the media the very method by which the absolute monarchy will have domesticated and devitalized the French nobility.
Few examples emerge from this rut, except for the sparkling and irreverent one by Sacha Guitry (If Versailles were told to me…in 1954), or the realistic and anti-spectacular one by Roberto Rossellini (The takeover by Louis XIV, in 1966). Maïwenn, for her part, remains faithful to her inspiration, which consists in being able to create only from herself.
Setting her sights on Louis XV's favorite – after the highly fanciful version by Ernst Lubitsch in 1919 and the picturesque one by Christian-Jaque in 1954 – she therefore did not go so much towards du Barry as she did to her, giving, similarly, of the court of King Louis XV an image which is familiar to her, and which could evoke the world of cinema as she perceived it when, former wife of the king of French cinema Luc Besson, she sought to penetrate its mysteries. Either a film with, dare we say, Jeanne du Barry (1743-1793) in the role of Maïwenn, and Louis XV in that of Luc Besson, Johnny Depp serving in this case as an ideal conductor between these two fallen sovereignties.
Clan of enemies
The film – apart from a prologue and an epilogue narrated in voice-over which extend the destiny of the du Barry towards her childhood and her death – focuses, for the most part, on her court years (1768-1774), between the time where she will rekindle the pion of a sexagenarian king whom the death, in 1764, of the Marquise de Pompadour made inconsolable, and that where the clan of his enemies, led by the three daughters of the king, who rally in their fight the young Dauphine Marie-Antoinette, the ruthless chase from Versailles on the death of the sovereign, in 1774.
You have 32.69% of this article left to read. The following is for subscribers only.