at the Gare de l'Est, the hassle of travelers without a train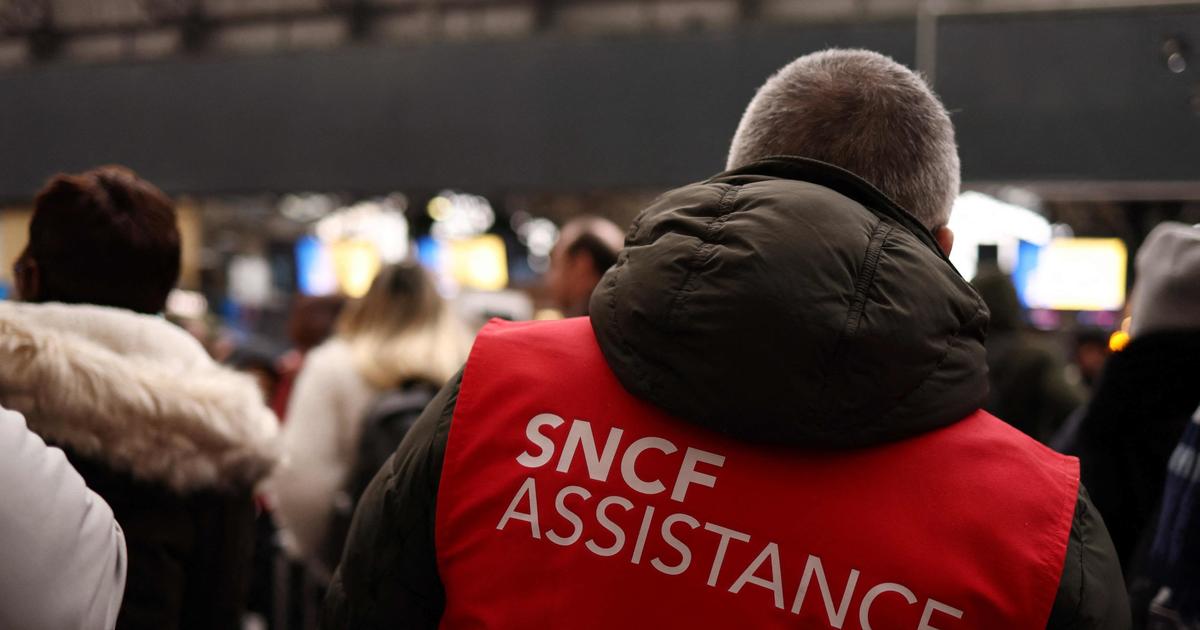 REPORTAGE – After an intentional fire on electric cables, traffic at the Parisian station is interrupted all day. Users are looking for alternatives.
Since this morning, a message has been circulating in a loop at the Gare de l'Est: "Ladies and gentlemen, your attention please, the circulation of trains is completely interrupted on departure and arrival from Paris Est […] all day this Tuesday, January 24… ". An intentional fire has indeed damaged about fifty cables intended to deliver information to signal boxes during the night of Monday to Tuesday. Traffic at Gare de l'Est was therefore interrupted all day. The SNCF denounces a "unacceptable act of vandalismand intends to file a complaint. She hopes, as well as the users, a return to normal by tomorrow. "We cannot yet guaranteeA resumption of traffic twenty-four hours later, however warned the Minister of Transport, Clément Beaune, this Tuesday noon.
In the station, travelers continue to arrive with their luggage, and stop looking disillusioned in front of the billboards. " It is not possible… says a user. He was obviously unaware that his train had been cancelled. Only the one to Belfort and serving intermediate stops remained scheduled. " We were scared because we would have been really annoyed exclaims Beatrice. She has to go, with her husband, to a birthday party in Troyes. " We are among the lucky ones she sighs with relief.
SEE ALSO – Traffic interrupted at the Gare de l'Est: travelers organize themselves
"We just hope that everything will resume tomorrow"
Seated further away, other travelers are staring at their phones, trying to find a solution, to call acquaintances. Johann, a German student, has just learned that he will not have a train today. On an Erasmus stay this year in the capital, he was to go to Germany to attend the German film festival Max-Ophüls, where a competition rewards young directors. " I have to be at the screening in five hours ", he laments. " I would like the SNCF to send us alternatives, I am lost and no one has any solutions to offer me ", he is indignant.
Read alsoGare de l'Est: traffic will remain "severely disrupted on Wednesday", only 1 out of 3 TGVs
A young Canadian tourist, who came to visit the capital, finds himself in a similar situation. He was to go today to Metz to his aunt. " I am looking for a solution to stay in Paris tonight but the prices are high. I hadn't planned to stay another night he confides. He has kept his ticket and will be able to use it normally from tomorrow, he was told at the SNCF.
To help and inform users, many volunteers dressed in red vests have been deployed throughout the station. " We simply try to inform customers as much as possible and find the formula adapted to their journey. explains one of the volunteers. " We just hope that everything will resume tomorrow under normal conditions. he concludes.
Read alsoCat crushed by a TGV: what is the rule in the event of animals on the track?
In the meantime, travelers line up at the counter to exchange their tickets and find a solution with SNCF agents. Pauline, a Frenchwoman working in Germany who came to visit her mother, had to return home to Berlin. " They gave me a ticket for tomorrow morning, but they're not even sure they'll provide travel until then. she says disappointed.
SEE ALSO – Traffic completely interrupted at Gare de l'Est: "It's an act of vandalism"