at the La Rochelle Festival, a lot of strong emotions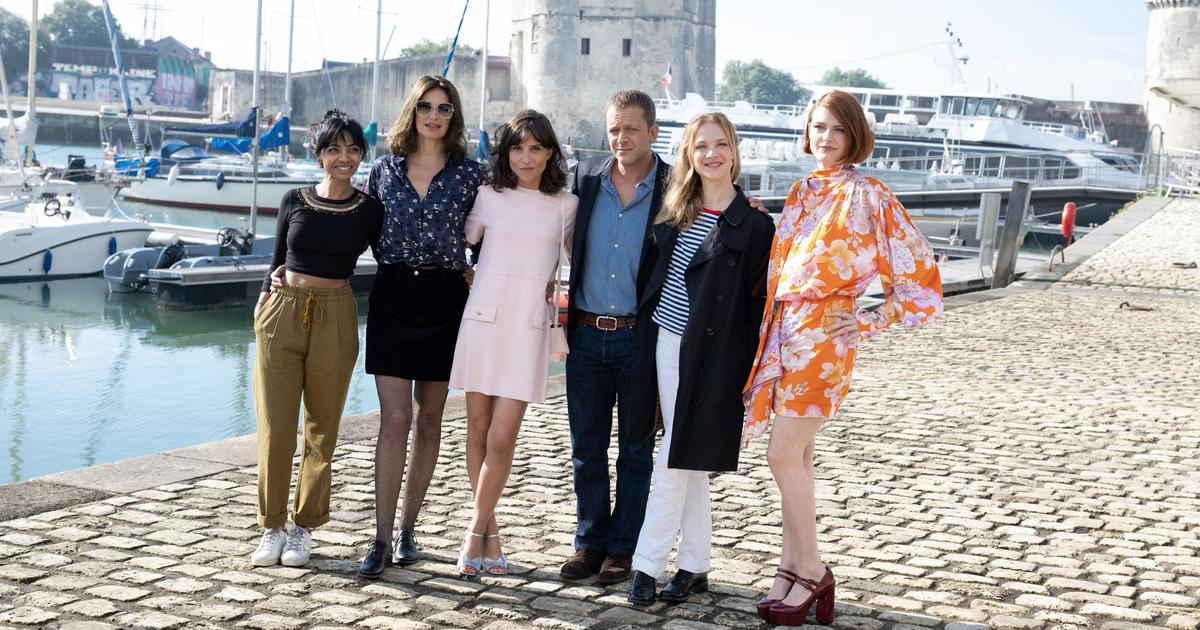 REPORTAGE - Spectacular, stunning sincerity... This edition does not do in lukewarm water and starts with some nice surprises. Inventory of our tops and our flops at the end of the screenings.
From our special correspondents in La Rochelle,
We were promised an edition and historic narrative ambitions. Here we are. On the third day of the La Rochelle Fiction Festival, spectators and critics already seem to agree on one point. No consensus or lukewarm emotions. Very good successes and an embarrassing failure.
Read alsoThe new ambitions of French fiction explode in La Rochelle
Marie Antoinette first of all. The historical fiction of Canal+ imagined by the English screenwriter nominated for the Oscars, Deborah Davis (The Favourite)in line with Versailles, dazzles from the first scenes. Director Pete Travis sets the scene and the climax, horror movie style, of a great historical narrative coupled with a fine exploration of the intimate and the dantesque portrait of an absolutely dysfunctional royal family. In the midst of a crisis of anguish after a nightmarish wedding night, the very young Dauphine, Marie-Antoinette of Austria (Emilia Schule) wanders, like a doe pursued by rabid dogs, through the corridors and the Hall of Mirrors of the Palace of kings of France.
A Marie-Antoinette who stands out from Coppola
Opulent sets and costumes. Gorgeous game. Staging at the antipodes of the academicism of fiction in costumes. Bold reinterpretation of history around the psychology of its heroine and her unfortunate husband Louis XVI, presented as being almost on the spectrum of autism. The series, whose budget for season 1 is around 28 million euros, was screened at the opening of the festival on the big screen at La Coursive. Marie Antoinette by Sofia Coppola. Its eight episodes take the opposite view of a frivolous sovereign and insist on the rebellious character of a princess ready to do anything to blast the label of Versailles. Like the other large costume frescoes in La Rochelle (Diane de Poitiers, The Fighters), Marie Antoinette is out of competition.
As The house opposite, of which, unfortunately, the same praise cannot be given. And it's a shame, because the pilot of this American psychological thriller, to be discovered on September 20 on M6, is off to a good start. On a story built around four characters that nothing predestined to live so many dramas. Ève (Julie de Bona, omnipresent and all-round heroine of French fiction), Yanis (Marc Ruchmann, transparent ex-hunk of heart map) and their baby put their suitcases in a residential area at the Desperate Housewives - French version, huh, let's not get carried away - where they quickly meet Livia (Caterina Murino) and Stéphane (Thierry Neuvic). And everything is linked and everything fits together and everything goes wrong, a little as if the authors of the plot did not manage to master a story that is too complex, too dense, too anxiety-provoking, knitted more than a double temporality.
Jonathan Zaccaï fascinating "hearthearted"
Fortunately, M6 sends in competition a more racy colt, the thriller with tasty accents of comedy The man of our lives or the charm of Jonathan Zaccaï in the skin of a heart-catcher and scammer of these ladies. Facing him, four women in love, victims of his successive manipulations, who decide to unite and take revenge. The character is so odious that he ends up being endearing. The heroines, necessarily presented as rivals, forge a beautiful sisterhood relationship. Odile Vuillemin, the vindictive biker-like. Helena Noguerra, the chic and quirky self-made woman. Flore Bonaventura, the young wife and nurse who is a little too fragile. And Élodie Frégé, sensual rock star and Achilles' heel of this Don Juan who we won't tell you if he will descend into hell or not. The craziest thing is that the screenwriters were inspired by a news item that hit the American headlines...
The tenderness and call for inclusion of Toulouse-Lautrec
The public also embraced the TF1 series Toulouse Lautrec, immersed in a unique school in France that practices "reverse inclusion". In other words, the reception of able-bodied students in a high school fully accessible to schoolchildren with reduced mobility. A teenager like the others, Victoire (Chine Thybaud) is paralyzed at the idea of ​​joining her epileptic brother on the school benches. Far from his friends and boyfriend. Looking at the world from the top of her overwhelming normality, Victoire behaves like a small plague towards her comrades who do not let themselves be done, starting with Marie-Antoinette (genial Ness Merad), in full flirtation on dating applications who does not want not show that she is in a wheelchair. Seizing "validism" by the horns, Toulouse Lautrec does not want to be a story of self-pity, nor a story of surpassing oneself. In a walker, cane or wheelchair, his heroes are teenagers like the others who love, emancipate themselves and play on adults' nerves. All under the watchful eye of Principal Stéphane De Groodt and his assistant Valérie Karsenti.
Producer and screenwriter Fanny Riedberger was inspired by her own education at Toulouse-Lautrec. And recruited among his students to find his protagonists. The series applies the diversity it preaches and, while still being a beautiful teen-drama, gives the PAF the disability fiction it so misses. The short series of France 2 Cloakrooms is finally well supported.
Audrey Fleurot in a labyrinthine fable
This singularity is a little more difficult to discern in Prometheus. Fantastic thriller from TF1 presented as a pioneer of the genre but struggling to show its cards. Knocked down by a car and yet getting up without any damage, a 17-year-old girl is struggling to explain where she comes from, who she is. She responds to the unusual first name of Prometheus, and extraordinary physical abilities worthy of her mythological alter ego. Added to this are visions of a crime scene where Léa, another young girl, lost her life. Police and family wonder: was the unknown a witness? Accomplice of the murderer still on the run? Or is there a supernatural bond between the two girls that defies the forces of spirit? The regulars of fictions on the front page (Camille Lou, Odile Vuillemin, Thomas Jouannet) met on this project,
The strange is more tangible in the tormented fable about motherhood and the creation of Arte spirit of winter, where an Audrey Fleurot shines. Blonde and far from her vibrant register, she portrays an author lacking in inspiration and in conflict with her adopted daughter. The boundaries between art, imagination and reality are quickly blurred in this labyrinthine fable. The actress, muse of the serial revolution, will reveal herself in more familiar features on Thursday evening when she will defend the romantic fresco of TF1 on the First World War The Fighters.