At the Musée des Confluences in Lyon, Ryker, the T-Rex is long overdue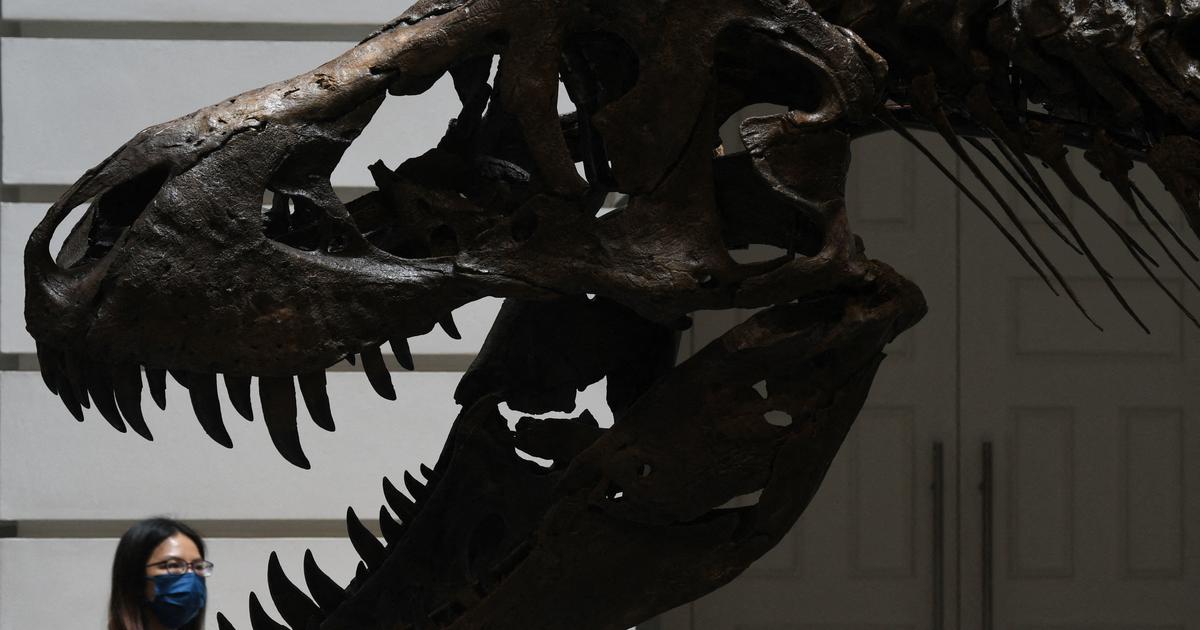 The exhibition event which was to highlight the skeleton of Tyrannosaurus rex is suspended. Additional research is indeed being carried out to verify the origins of this giant fossil.
The Confluence Museum in Lyon put his dinosaur in the closet. On November 23, through a press release, the director, Hélène Lafont-Couturier, announced the suspension of her event exhibition. The impressive skeleton of tyrannosaurus rex, named Ryker will not be shown to the public right away "out of caution" and "pending further researchwe are told. To this starving explanation, the museum adds:This delay must allow the museum to ensure that the presentation of Ryker meets the values ​​and ethics of the establishment, as well as its scientific and cultural project.
Doubt arose after the aborted sale of another T-Rex, Shen, in Hong Kong. November 20, Christie's announces the cancellation of this auction scheduled for November 30. Suspicions from the Black Hills Geological Research Institute, located in South Dakota, prompted Christie's to remove it from its catalog, reports the New York Times.
Read alsoExhibition: at the Nantes Museum, by car, please!
When reconstructed, Shen's skeleton would indeed have been supplemented with casts of another specimen, Stan, the Tyrannosaurus star – sold for more than $31 million at auction in New York in October 2020. According to Iacopo Briano, expert in fossils, the problem lies in the intellectual property rights of these casts. These are held by the Black Hills Geological Research Institute, which specializes in dinosaurs.
The T-Rex of the museum of Lyon, him, was to be shown to the public from December 16 for one year. Ryker was only the second of his kind to be exhibited in France. But, the establishment refuses to expand further on the reasons for this delay. Is its origin also questionable? "The museum will be likely to provide information later", we are content to answer. For Iacopo Briano, "this report is quite mysterious. I inquired about the dinosaur and found nothing.". The specialist wonders if "the museum was not a bit rushed when organizing the event".
A not-so-exceptional T-Rex?
"I think they got scared because of the Hong Kong fiasco. Their display must be beyond reproach so they want to be sure that there is not a similar problem on the T-Rexbelieves Iacopo Briano. And, as in an art collection, you can own a very beautiful painting provided it does not deserve to be in the Louvre. For dinosaur fossils, it's the same thing. So, does Ryker really belong in a museum?
The beast is 3.7 meters high and 11 meters long. "This is the average size for this species, there is nothing exceptionalcommented Iacopo Briano. According to Confluences, the T-Rex, 66 million years old, has in any case not had the most restful life. On his skeleton would appear signs of his "traumatic life". "Damaged bones, sometimes broken and then scarred, and bite marks indicate a constant struggle for survival"argued the museum in early November. Tyrannosaurs fascinate the public. "There is too much attention on this species"laments Iacopo Briano. To the point of adding with a laugh:the T-Rex are a bit like the da Vinci of the fossil world.»
SEE ALSO – Zephyr: the dinosaur skeleton soon to be auctioned