Benzema, Messi, Neymar… The ten stars to follow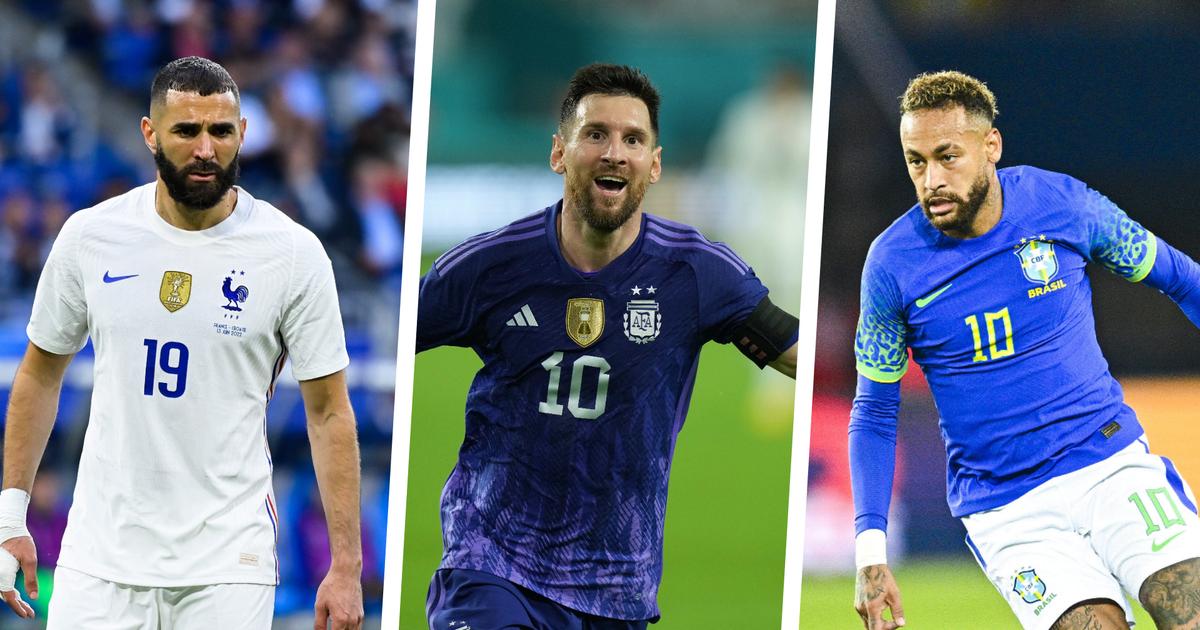 Karim Benzema, Lionel Messi, Neymar… Find the key players to follow during this 2022 World Cup in Qatar.
Karim Benzema, a Blue in Gold
(France, 34, 97 caps)
How not to mention it? Ballon d'Or 2021-2022, Karim Benzema (34) will be one of the great attractions of this 2022 World Cup in Qatar. Despite a start to the season marked by injuries, the Madrid center-forward will have the task – with his friend Kylian Mbappé – of leading the attacking sector of the France team in order to allow him to snatch a second consecutive title. A mission certainly difficult, especially given the sporting context which surrounds the Blues, but which seems to be up to the "Nueve".
Read alsoWorld Cup: France is "never better than in adversity", says Youri Djorkaeff
Kevin De Bruyne, the Belgian magician
(Belgium, 31, 93 caps)
Always good with Manchester City, it is as Belgium's main technical leader that Kevin De Bruyne is set to play in the 2022 World Cup in Qatar – four years ago he shared these responsibilities with Eden Hazard. He should definitely be one of the sensations of the competition, especially through his millimeter passes and his long shots.
Read alsoWorld Cup: the King of the Belgians turns into the coach of the Red Devils
Harry Kane, to conquer a (highly) expected coronation
(England, 29, 75 caps)
Top scorer at the 2018 World Cup in Russia with six goals, Harry Kane is undoubtedly one of the stars of this 2022 World Cup in Qatar. The Tottenham Hotspur centre-forward, author of a remarkable first part of the season with eleven goals and an assist in the Premier League, will carry the national team of England with the objective of offering him a new planetary title fifty-six years after his first and only coronation. A beautiful but difficult ambition.
Read alsoWorld Cup: Kane "dreams" of the coronation with England
Kylian Mbappé, new responsibilities
(France, 23, 59 caps)
After revealing himself to the eyes of the whole world in Russia, Kylian Mbappé arrives in Qatar as a planetary star. And who says new status says new expectations. The Paris SG striker is now one of the leaders of the France team and must show during this 2022 World Cup that he can lead the Blues to a new title in a major competition; new responsibilities that he had struggled to assume, on and off the pitch, during Euro 2020.
Read alsoWorld Cup: what are Ligue 1 clubs doing during the break?
Lionel Messi, one last mountain to climb
(Argentina, 35, 165 caps)
He is sure to be one of the most watched players in the competition. Returning to almost his best level since the start of the season, after a previous exercise largely within, Lionel Messi will be keen to shine for what could (will be?) his last major international competition in the jersey of Argentina. With a clear ambition: to take the Albiceleste to the supreme crown, the only major trophy missing from its list; the one he caressed with his fingertips in 2014, but which he had to let slip into the hands of the Germans.
SEE ALSO – Lionel Messi arrives in great shape at the 2022 World Cup in Qatar
Luka Modric, to do better than in 2018
(Croatia, 37, 155 caps)
Passed very close to the world title four years ago, Luka Modric will be extremely motivated in Qatar for what should be his last World Cup. In great shape for many months – he won the Champions League with Real Madrid and is having a good first part of the season – we should see him at his best in the Croatia jersey. Can he bring his national team as far as four years ago?
Read alsoWorld Cup: who are the 55 Ligue 1 players present in Qatar?
Neymar, to mark (a little more) the history of the Seleção
(Brazil, 30, 121 caps)
Just like his Paris SG teammate Lionel Messi, Neymar, who has (finally) put injuries aside, is back in the fore. To the delight of the Brazilian selection, of which he is the undeniable technical leader and that he is responsible for taking to the world title. In Qatar, if he allows the Seleção to obtain their sixth star, the attacking midfielder could well become the equal of some of his illustrious predecessors. He will definitely be one of the players to follow.
Read alsoWorld Cup: "I will play as if it were my last World Cup", assures Neymar
Cristiano Ronaldo, to end in style?
(Portugal, 37, 191 caps)
In delicacy on the side of Manchester United, to put it mildly, Cristiano Ronaldo has the opportunity with this 2022 World Cup in Qatar to bounce back and show the football world that he is still one of the best in the world. And given his ability to respond to major events, there is no doubt that we should see him in his best light to carry the Portugal team. Especially for what should be the last World Cup of his career.
Read alsoPremier League: Manchester United owners 'don't care' about sporting success, says Ronaldo
Heung-min Son, the hope of an entire country
(South Korea, 30, 105 caps)
It's a whole country that was scared when he left injured against Olympique de Marseille, during the last meeting of the group stage of the Champions League. Finally, despite a fractured face, Heung-min Son is indeed present in Qatar for this 2022 World Cup. However, he said he was not sure if he could play all the matches. His situation will therefore have to be monitored very closely because with or without him, South Korea's chances of getting out of Group H – which includes Portugal, Uruguay and Ghana – and of going as far as in 2002, where they reached the semi-finals, are absolutely not the same.
Virgil van Dijk, a first
(Netherlands, 31, 49 caps)
Package for Euro 2020 played last year in various European countries, Virgil van Dijk is preparing to play his first major international competition with the Netherlands. But the defender of Liverpool FC, captain of his selection, is not going to Qatar to make up the numbers. He intends to lead his team as far as possible, and why not to their first world title after having experienced three finals in 1974, 1978 and more recently in 2010.