Bernard Le Coq in the footsteps of The Last Queen of Tahiti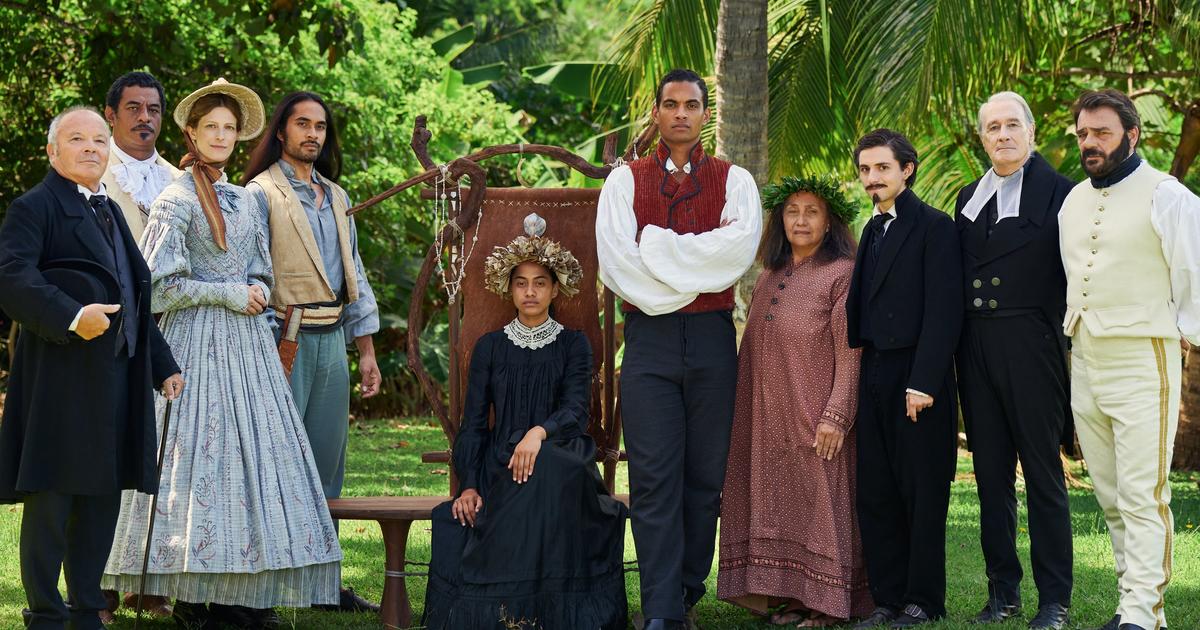 The France 2 telefilm, broadcast as part of Operation Heart Overseas, retraces the life of Pomare IV from 1828 to 1845. The hero ofA wonderful family interprets a Protestant reverend.
She was crowned Queen of Tahiti at age 14. But, while the British, who had control over the island, expected above all from it the preservation of their commercial interests, Aimata Pomare IV (Tuheï Adams) gave Westerners a hard time! More than a historical fiction, the authors and France Télévisions wanted to draw the portrait of a daring, free and independent woman, of great strength of character. An unknown woman who, first corseted, literally and figuratively, to conform to the code of the crown and become a good Protestant under the authority of Reverend Pritchard (Bernard Le Coq), will fight to have a forced marriage annulled. and preserve the traditions and rights of its people. A reign of fifty years which will continue under French protectorate.
The tone and acting of the actors were also wanted to be modern, like the heroine, in order to resonate with contemporary concerns. And fiction responds to the public service group's desire to highlight overseas territories as part of the Cœur Outre-mer program.
TVMagazine. – What attracted you to this project?
Bernard LE COQ.- The idea of ​​going to Tahiti, you have to admit, even if I'm not a big traveler! But not only. The script is amazing, really solid, it tells a little-known story even in Polynesia. The incredible journey of this young woman, married at 12 years of force, put on the throne at 14, in order to serve as a figurehead for the English to do business. And then maintained in power by the French because it guaranteed cohesion between the different clans on the island. She managed to impose hospitals, schools for her people, to preserve their traditions with an iron fist. The approach is therefore historical, coupled with a romantic dimension with two very pretty love stories. Finally, I was offered a role that was quite different from any I've had in recent years.
What was your character's relationship with the Queen?
Pastor Prichard, later named consul, is a real character. He was there to bring what the English considered a little savage girl into line. The skunk, you think, at 12 years old, had a lot of freedom on this island. He tried to teach her manners and ended up having affection for her, though it was never shown. But since she was smarter than expected, they were a little brown!
"In Tahiti, the people are really delightful, deeply kind, with a natural sense of welcome"

Bernard LeCoq
How was filming on the island?
We were on Moorea, a small island still very protected, which is 60 km long. There are few cars, the speed is limited to 60 and respected. No city, small bits of villages with a few houses by the sea. It has remained in its original state with only two or three hotels. This atmosphere made it possible to film without worrying about modernity. And the people are really delightful, deeply kind, with a natural sense of hospitality.
What are your projects ?
I'm shooting until January Everything is fine, a series for Disney +, created by Camille de Castelnau and directed by Éric Rochant (screenwriter and creator of the Legends Office), which tells the daily life of a family. The cast is incredible: Virginie Efira, Nicole Garcia, Eduardo Noriega, Mehdi Nebbou… Not to mention Sara Giraudeau, whom I knew from a high like that and who is a bit like my daughter, since she's the daughter of Anny Duperey, my wife for 25 years in A Wonderful Family !