Besançon inaugurates a giant statue in homage to Colette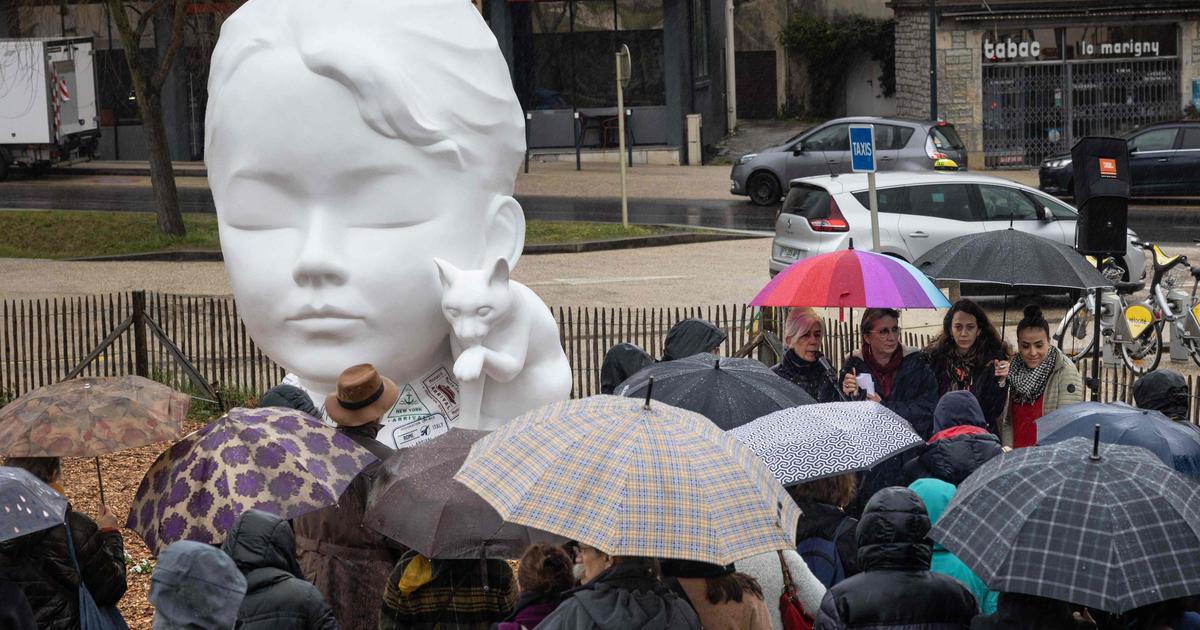 On Wednesday, the Franche-Comté city unveiled, in front of the station, the giant bust signed Nathalie Talec and erected in honor of the writer.
The city of Besancon paid tribute on Wednesday to the writer Colette (1873-1954) with a giant bust installed in front of the station, on the occasion of International Women's Rights Day. The entirely white work of the sculptress Nathalie Talecevokes the writer, through the bust of a young girl, with a cat on her shoulder and a scarf bearing passport stamps, a reference to her taste for travel.
"The matte white of the biscuit – porcelain, the material making up the sculpture – evokes travel. The figure represented, a character with closed eyes, refers to an inner journey, through dreams and imagination", declared Nathalie Talec, during an inaugural speech.
Read alsoPolanski, the Caesars and the patriarchy: in the procession of demonstrators for another cinema
The statue, 3.50 meters high, pays homage to Sidonie-Gabrielle Colette, who would have turned 150 on January 28. Although Burgundian, the writer spent a long time in Besançon between 1900 and 1905, as recalled during the inauguration by the ecologist mayor of the city, Anne Vignot. With her husband Willy, Colette had settled in a villa in the heights of Besançon, in the Monts-Boucons, where she rediscovered the pleasure of the countryside.
"A figure of the emancipation of women"
"It was very close that from Bourguignonne, I turned bisontine, or at least franc-comtoise", she will write. His separation from Willy will put an end to this little paradise. "The dispossession of his home in Monts-Boucons, during his divorce, is heartbreaking. It is a pivotal moment in her life, when she emancipates herself from her husband and when her desire to write is reinforced.", summed up Ms. Vignot.
"Her divorce will allow her to live from her pen, to gain freedom, autonomy, independence, which make her a figure of modernity and the emancipation of women.", she estimated. The mayor of Victor Hugo's hometown wanted the inauguration of the statue to coincide with March 8, International Women's Day.
Meanwhile, in Paris, the President of the Republic Emmanuel Macron paid tribute to feminist activist Gisèle Halimi. "Promoting women is a social issue. Getting them out of invisibility is a duty", she pleaded.