Brooklyn, on the shoulders of Durant, raises its head in Portland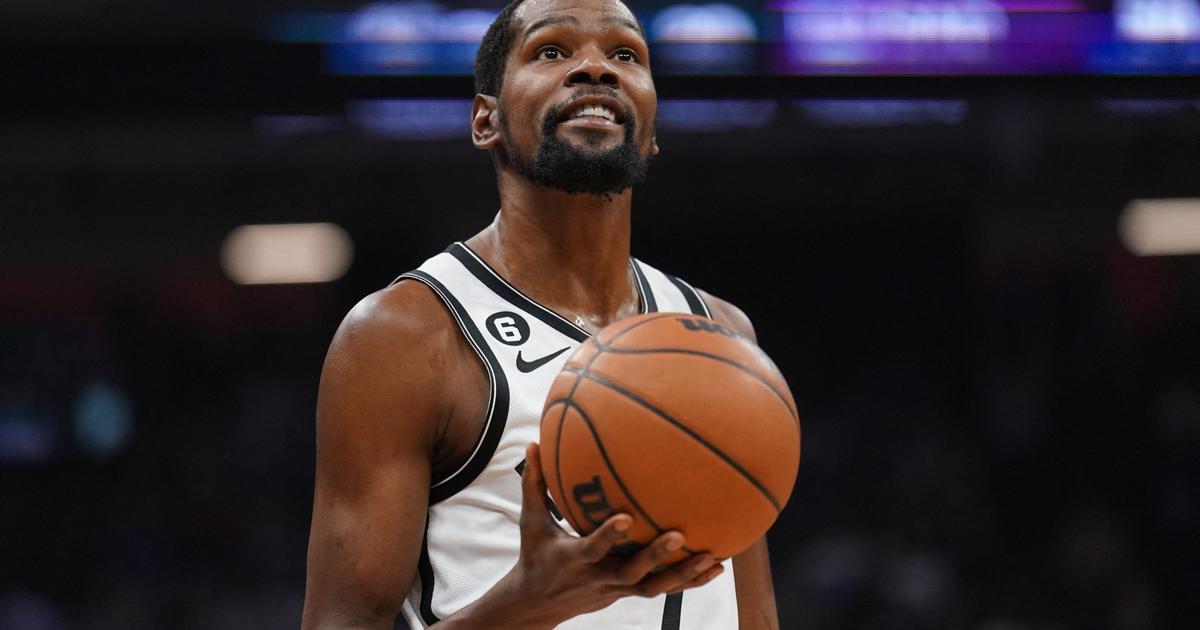 Kevin Durant, author of 35 points, guided the Nets, finally combative and serious in defense, to victory (109-107) in the snatch at the Blazers, yet leaders of the Western Conference, Thursday in the NBA.
A fingertip tap from Royce O'Neal, thus validating a triple-double (11 pts, 11 rebounds, 11 assists), gave Brooklyn two final points ahead, 7 tenths of a second from the buzzer.
"I was just going to rebound, I had to give everything, because it was the last action. I did what I had to do"Commented afterwards the 29-year-old winger, a defector from Jazz this summer.
He rose higher than the Blazers Damian Lillard (25 pts) and Anfernee Simons (24 pts) to put back in the net a shot pushed back by Durant's hoop, nevertheless author of an excellent performance at 13/22 at the shots (8 rebounds, 3 assists) and who will have been able to appreciate, two days after the rout suffered in Sacramento (153-121), to see his teammates quickly remobilized.
The Nets, in which Ben Simmons finally showed consistency and selflessness off the bench (15 pts without missing a shot, 13 rebounds, 7 assists), were able to repel a number of Blazers attacks limited to 38, 7% success. And their Japanese replacement Yuta Watanabe has been a "X-factorwelcome (20 pts at 5/7 behind the arc, 7 rebounds).
Moved up to 11th position in the East, Brooklyn, which was dominant in the pass (32/22) as in the rebound (47/39), may have found its reference match, before probably recovering Kyrie Irving, Sunday against Memphis. According to several media, his suspension for promoting an anti-Semitic film, which lasted eight matches, should be lifted by its leaders.
Leonard piano return
On the action preceding the decisive basket of Royce O'Neal, the pivot of Portland Jusuf Nurkic (17 pts) had thought to do the most difficult, by equalizing on a three-point action (fault plus basket). Because his team ran behind the score in the last quarter, after having nevertheless counted 11 units in advance in the third.
Despite this fifth defeat in fifteen matches, Portland retains the lead in the West, ahead of Phoenix and Denver.
Lower in 9th place are the Clippers, winners without shining (96-91) from Detroit, more than ever red lantern in the East, with this fifth loss in a row.
This match was above all an opportunity to witness the return, in the five major, of Kawhi Leonard, absent since October 23 and who had only played two matches this season, still feeling the scars of a rupture of the cruciate ligaments. who kept him away from the courts for a year and a half.
The MVP of the 2014 and 2019 finals, won with San Antonio and Toronto, scored only 6 points (at 2/8, 5 rebounds, 4 assists) in 24 minutes of play.
"We have to get used to (playing with) him again. He just needs rhythm"Said point guard Reggie Jackson, top scorer for LA (23 pts) ahead of Paul George (16 pts, 9 rebounds).
Finally, Sacramento (8th in the West) won a fifth straight victory (130-112) at the expense of Spurs, who are nine defeats in ten matches. Leader De'Aaron Fox (28 pts) and rear Malik Monk (26 pts) were dominant.
The results of the night:
LA Clippers-Detroit 96 – 91
Portland-brooklyn 107 – 109
Sacramento-San Antonio 130 – 112