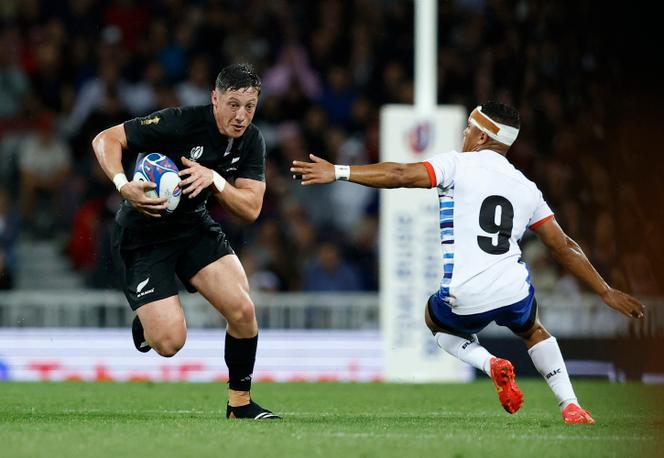 The world of rugby is a bit like a schoolyard. On the one hand, the popular, charismatic students, who run faster, jump higher and can afford fashionable clothes. They are not more interesting than the others, but they take the light better and are reluctant to mix with the less well off, the shy, the oddball. This is the case with rugby: if the elite countries compete throughout the year, the nations on the rugby periphery fight under the radar, do the best they can with not much and have to wait. the World Cup to benchmark themselves against the heavyweights of the discipline.
Some rise to the occasion, like Uruguay against France. Others are disillusioned. This is the case of Namibia, which faced the New Zealand ogre for the third time in its history and for the third World Cup in a row, Friday September 15, in Toulouse. And for eight years, the sentence has been constant for the Namibians: defeated 58 to 14 in London in 2015, swept aside 71 to 9 in Tokyo four years later, they were crushed again (71 to 3) by superior New Zealanders in all.
"A job well done"
The All Blacks were counting on this match to verify that their way of playing, the one that made them reach heights, still worked: powerful forwards putting space-devouring backs into orbit. Faced with Namibians who were overwhelmed in the fight and apathetic in defense, everything worked perfectly.
Their dominating scrum, devastating through balls and ferocious collisions gave New Zealand's attackers plenty of space to unleash their arrows. They therefore logically scored eleven tries. "A job well done" said New Zealand coach Ian Foster, barely seated in his seat, at a post-match press conference. "We came with a clear idea of ​​how we wanted to approach this meeting. Our pack allowed us to play and find opportunities," argued the technician. "The New Zealand team must be congratulated. I saw things from them that I hadn't seen in a long time. They were too strong for us," recognized, half fatalistic, half admiring, Alistair Coetzee, the coach of their evening opponents.
History will perhaps remember this match played in the French rugby capital as giving rise to the emergence at international level of young scrum half Cam Roigard. For his third selection and his first start, the former racing driver had fun in the Namibian defense and undoubtedly climbed a few steps in the order of succession to Aaron Smith, the holder of the position. His speed around the rucks, as well as the vista of Damian McKenzie, the fly-half he partnered with, turned the Namibians' heads. "He played very well. It's a thing [pour un demi de mêlée] to have balls while moving forward, it's another to make the right decisions", his coach congratulated him after the match.
You have 28% of this article left to read. The rest is reserved for subscribers.