Canal+ recounts the fabulous epic of the Cafés Joyeux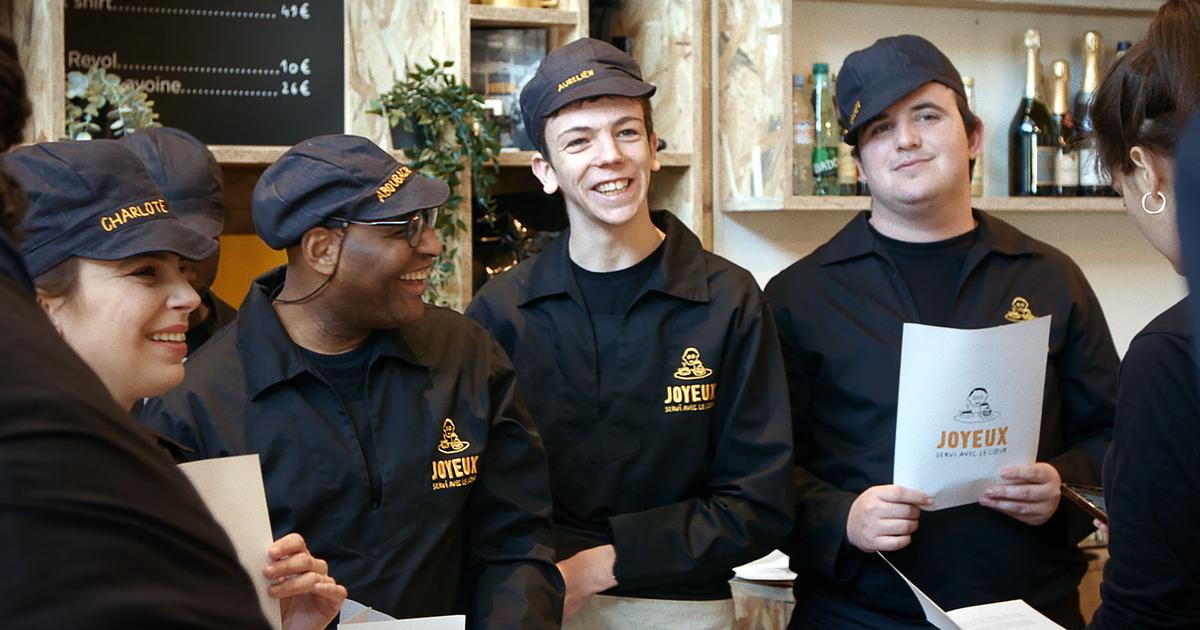 The "New scouts" box of the encrypted channel hosts a documentary series in four episodes, produced by Éric Toledano and Olivier Nakache.
Louis, 22, has lost the use of his right arm and walks with a limp following a very serious car accident when he was a baby. His mother-in-law had told him that he couldn't work in the pastry shop. Not enough to discourage this passionate cook, extremely determined, who joined the team of Happy Coffees where he makes cookies, brownies, semi-cooked..." Proof that I can do whatever I want in my life, and with one hand, you can do miracles in baking", he insists.
Change the look on the difference
In "The Joyful Epic" told by director Paul Frère from this Thursday, September 22 at 10:55 p.m. on Canal+we follow not only the team members, Stéphane, Vianney-Marie, Clémentine, Augustin, in their discovery of what their work will be, but also Yann Bucaille, the founder of these solidarity café-restaurants employing autistic or disabled employees. " We want to prove that these people have their place in the economy and society ", explains the entrepreneur, anxious to change the way people look at difference. It opened its first Café Joyeux in 2017 and today employs 90 team members in nine establishments (including one in Lisbon).
Read alsoThierry Marx, trainer at Cafés Joyeux: "They are not assisted people!"
But how was born this documentary series produced by Eric Toledano and Olivier Nakache ? In fact, the two filmmakers met Yann Bucaille after Outstanding, their film on the daily life of associations working with autistic children and adolescents. A feature film whose making-of was signed Paul Frère. The latter explains: Eric and Olivier said to themselves that there was surely a documentary subject. They decided to send me into the field to see what story we could tell. Very quickly, there was the Café Joyeux project on the Champs Élysées, then in the process, an invitation to the Élysée on the occasion of the national conference on the handicap. There is evidence that has emerged".
A first recognition
Over the course of the four episodes, the adventures of an entrepreneurial adventure are evoked, " from covid to all the galleys that an entrepreneur encounters ", as well as " the meeting between society and people who were a little sidelinedsums up the director. Of these two years of filming, it was the covid period, with the closing of bars and restaurants, which marked him the most. " It was difficult for everyone, but for them, there was something more, it was taking away their first recognition, a first place in society that the Happy Cafés were beginning to give them. There they were taken away, it was extremely brutal and I was surprised to see how many stratagems Yann Bucaille had found to maintain a thread, to ensure that there was always this little seed of hope, which meant that when the coffee shops reopened, they left with energy ".
Read alsoCafé Joyeux treats us in more than one way
Today, there is no shortage of projects. The opening of a Café Joyeux in New York is even planned for 2023.