Canelo finishes with Golovkin, but without panache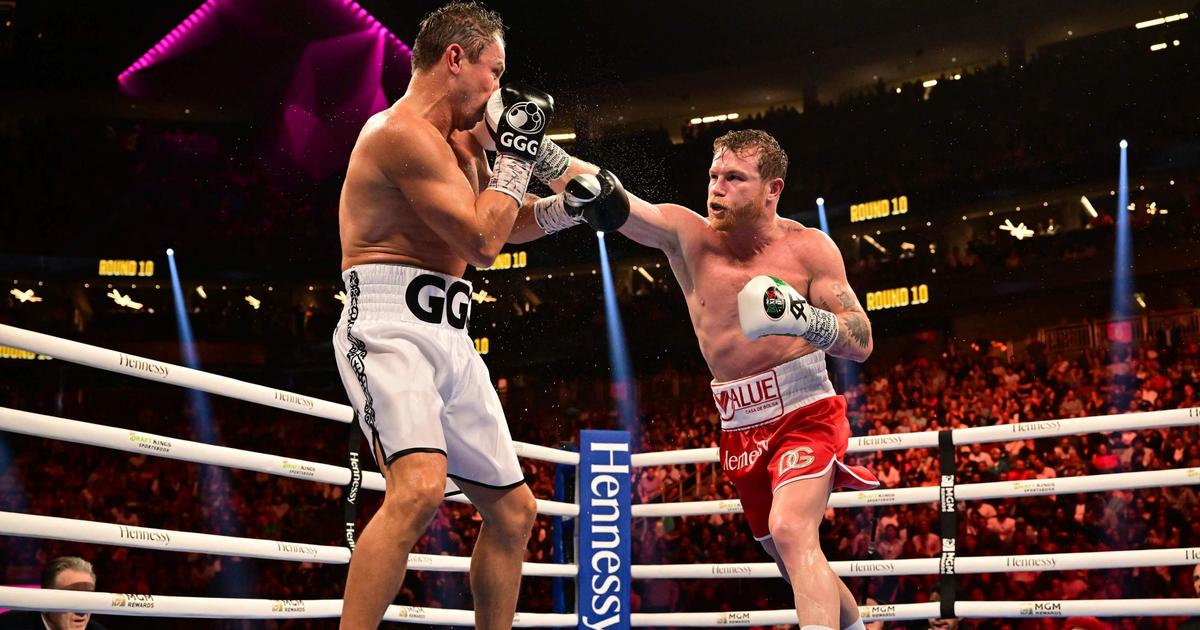 For the second time in three fights, the Mexican won against the Kazakh last night in Las Vegas.
This time it's clear: Saul "CanelloAlvarez demonstrated his superiority over his great rival Gennady Golovkin, winning their third fight by unanimous decision, Saturday in Las Vegas, after a lackluster fight compared to the previous two, classics of the genre. The 32-year-old Mexican, who retains his WBA, WBC, WBO and IBF super-middleweight titles, as well as the prestigious Ring Magazine belt, closed a trilogy long marked by controversy against the 40-year-old Kazakh. .
His first victory in September 2018, like the draw conceded a year earlier, had indeed been disputed by many observers and specialists believing at the time that he should have been designated the loser. And if these 24 rounds were ferocious, memorable, the 12 which were chained, under the eyes of stars including Stephen Curry, NBA champion with the Golden State Warriors or the actor Michael B. Jordan who embodies the boxer Creed in the cinema, will not go down in history. "I thanked him, because we offered three good fights that will go down in boxing history."Nevertheless estimated Canelo hot, after being given the winner, by the three judges (116-112, 115-113, 115-113). A tight score, very difficult to justify given its frank domination.
Golovkin's late awakening
If it has to be explained by Golovkin's late awakening from the 9th round, it would quickly be to forget how one-sided the fight was during the first eight, during which the Kazakh was then cruelly his age. He nevertheless managed to hold the shock and the distance by not going to the mat, despite some violent hooks from the Mexican, from the left in the 3rd round and from the right in the 5th, which marked, like iron, both sides of his forehead. But his resistance has for too long been matched only by his inability to let go of his own shots, he the so formidable puncher.
However, since Canelo did not seem to have the KO in the gloves, Golovkin, with a delay, fought back, managing to touch his rival with his famous right which hurt those who met it full face so much, but not enough this time. Because Canelo, like him, has never gone ashore in his career and, despite obvious fatigue coupled with a nice gash in the right arch, he knew how to control this vain last stand. "This fight was more tactical, like a game of chess. But look at his face. Look at my face. It shows that we put up a very good fight", estimated"GGG", without missing "congratulate" his opponent.
Defeats can show how great one can be, come back and be humble.

Gennady Golovkin
Enough to bury the hatchet between the two boxers, who have often insulted each other in recent years, the Kazakh having notably accused the Mexican of doping, after a positive test for clenbuterol (anabolic) which earned him six months of suspension. Their long and frank embrace also attested to this, Alvarez restoring his image with this 58th victory (including 39 before the limit, 2 draws, 2 defeats). Because he remained on a setback - the second of his career after that of 2014 against Floyd Mayweather -, during a failed return to light heavyweight, against Dmitry Bivol. More powerful, the Russian, WBC champion, beat him by unanimous decision. "I went through very difficult times. The only thing we can do is keep moving forward. Defeats can show how great you can be, come back and be humble", he said.
As for a revenge against Bivol, Canelo wants it "of course everyone knows". But "I need to rest my body", he said, specifying to have to "operate with left hand, not in good condition". If the hour of decline has not yet come for the Guadalajara fighter, has it come for Golovkin, after this second defeat in 45 fights (42 wins including 37 before the limit, 1 draw)? According to him not at all:I still have a lot of appointments. I'm still middleweight champion (WBA, IBF, editor's note). I'll be back".