chessboxing is checkmate or… KO in the ring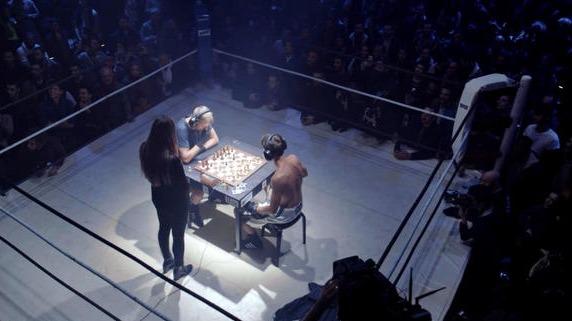 Deciphered in the documentary Mental fight, cThis new discipline places opponents between four ropes, gloves in fists on either side of a chessboard. To discover in replay.
Mohamed Ali versus Garry Kasparov… the greatest boxer against the greatest master. A dream poster, a battle of all centuries that could see the light of day. Because a new discipline was born, chessboxing, which combines the noble art and the noble game.
It's all about thinking straight and hitting hard. We start with a round of chess of four minutes then we continue with a round of English boxing. To win you have to put mat or KO your opponent.
Absolute fighter
This discipline of absolute fighter was born from the imagination, 30 years ago, of the designer Enki Bilal in his album Cold Ecuador. Since then, his pugilistic and chess fantasy has taken shape. International games have emerged. And today Canal+ offers an amazing documentary, Mind Fight which looks back on the formidable Odyssey of the French team of Chessboxing at the recent 2022 Amateur Championship in Antalya in Turkey.
Read alsoEnki Bilal: "Chessboxing is a perfectly Olympic sport"
In this 70-minute report, we first discover the will of Guillaume Salançon, the promoter in France of this hybrid art, made ofchess and of boxing. We also discover the devotion of the first chess-boxers in history. To succeed here, you need courage, intelligence and a great sense of sacrifice. Anthony Grunfelder's career is exemplary. At age 10, he started playing chess. He gleans accessits but this cerebral child suffers from overweight. Chessboxing will allow him to mix intellectual sport and combat.
As in the most beautiful legends, thirteen years later, he became world chessboxing champion after having lost 40 superfluous kg and certainly gaining millions of neurons. Between devastating uppercuts and confusing knight strikes, the chessboxers and chessboxers – the young Lara Armas is simply breathtaking – further improved Kasparov's maxim that chess was mental boxing. The entire French team now has its own motto, which in its own way modernizes the famous "mens sana in corpore sano» from the Romans (a healthy mind in a healthy body): « In chess you have to know how to sweat. When you box, you have to know how to think".