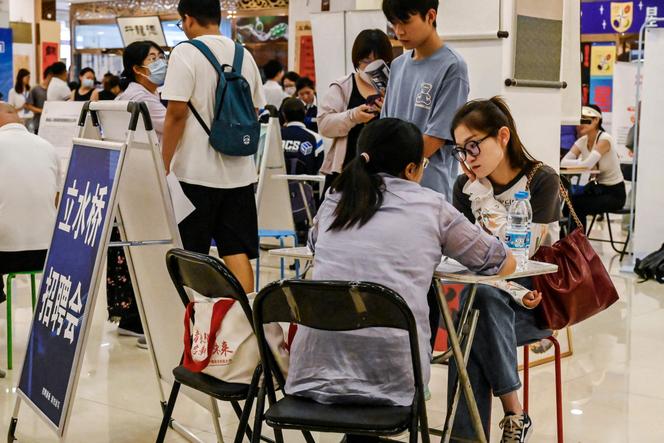 Lcan China avoid an economic crisis? Since the end of the zero Covid policy in December 2022, Chinese economic players have been hoping for measures to revive activity. For eight months, they have been disappointed. Beijing plays budgetary discipline. However, the economic indicators are increasingly alarming: the country entered deflationary territory in July, real estate continues to fall, with sales down 34% in August, and several major developers, such as Evergrande and Country Garden, are on the verge of bankruptcy, risking taking financial institutions down with them.
Exports also fell 14.5% in July, while consumption stagnated. Youth unemployment is so high that the authorities stopped publishing the figures in August, after a record reached in June, at 21.3%.
Faced with this avalanche of bad news, the strategy of Chinese decision-makers is becoming clearer. After cutting interest rates two weeks earlier, China's central bank lowered on Friday 1er September, the level of foreign currency reserve requirements for banks, in order to support the yuan, which in August reached its lowest level against the dollar since 2007.
Local governments, over-indebted after three years of zero Covid policy, and deprived of revenue from land sales to property developers, were authorized in mid-August to issue 1,000 billion yuan (127 billion euros) in new debts. The authorities also announced on Friday the possibility for banks to lower interest rates on mortgages and tax deductions for expenses related to the education of children.
Consumption is on the rise
These monetary and fiscal stimuli are far from the level reached in 2008, or even in 2015, the last real estate crisis, which had prompted Beijing to authorize the issuance of 12 trillion yuan in debt to save the finances of local governments.
If this approach had in particular made it possible to revive the real estate sector for a few years, it had contributed to aggravating the over-indebtedness of developers and local governments, whose total debt is estimated at 66,000 billion yuan by the International Monetary Fund (IMF).
Hence the current budgetary discipline. "The simplest solution would be to give the developers bail, but the Chinese leaders don't want to do that. I think we will see a distinction appear between the banks, which will be protected, and the real estate developers who have benefited enormously from the rise in prices in recent years, who will have to manage. For now, it seems they prefer to wait a few months to see if the current demand support measures are working"analyzes Michelle Lam, China specialist at Société Générale's investment bank.
You have 52.3% of this article left to read. The following is for subscribers only.