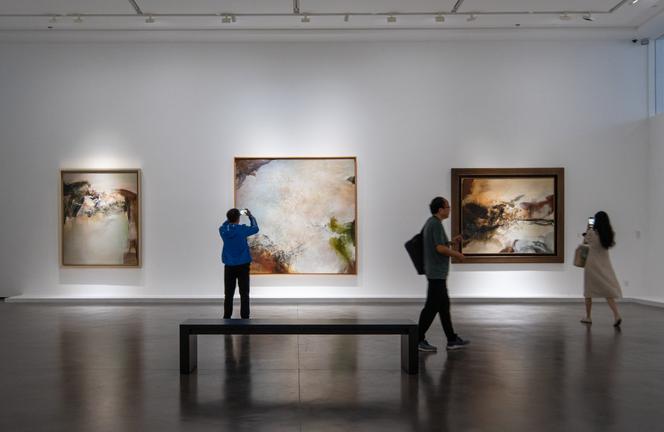 Ten years after the death of Zao Wou-ki, China pays – finally – a beautiful tribute to the most French of its painters. No fewer than 200 works, including 129 oil paintings, are on display until February 2024 at the Chinese Academy of Arts in Hangzhou, the wealthy capital of Zhejiang, where Zao Wou-ki studied. and taught, and which today has the status of a national academy. Compared to the forty works hung at the Museum of Modern Art of the City of Paris in 2018the Chinese exhibition is infinitely richer.
It is also more educational. The academy devotes an entire floor to retracing (in Chinese and English) the life of this son of a banker, born in 1920 into a family that was both old and wealthy, who began studying painting in 1935, before to leave – in principle for two years – in France in 1948, but where he remained until his death in 2013. Accompanied by several videos (including his appearance on "Apostrophes" in 1988), this introduction is of rare honesty. The numerous visitors discover that Zao was almost expelled from the academy not only because he refused the discipline that reigned there but also because, swearing only by Western art, he had, on the exam on Chinese art, rendered a simple sheet of paper with an ink stain, which had earned it a zero, in principle eliminatory.
Without the support of some of his teachers who were aware of his talent, the young rebel would have been expelled. Once he became a professor, it was his peers, but also the French emby in China, who encouraged him to go to Paris. His paintings had also preceded him since, through the cultural advisor at the emby, ​​the Cernuschi museum exhibited in Paris in 1946 around twenty paintings by the young teacher as part of an exhibition on art contemporary Chinese.
Upon his arrival in Paris, on 1er April 1948, after thirty-six days of travel, Zao Wou-ki rushed to the Louvre, impatient to discover the paintings of which he only knew reproductions. Having obtained French nationality in 1964, thanks to the support of André Malraux, Zao Wou-ki made numerous trips to Asia. Japanese, Taiwanese and Hong Kongers were much earlier sensitive to the quality of his painting than communist China. When, in 1985, the Hangzhou Academy invited Zao Wou-kki to teach there for a month, the master had the impression of not being truly understood by his students. Painting while taking into account only their "inner self" was too far from what they had been taught until then. It was only in 1998-1999, during a first traveling retrospective of his work in several cities in China, that Zao had the impression that the Chinese were finally accepting his abstract painting.
You have 50% of this article left to read. The rest is reserved for subscribers.