The annual general meeting (GA) of TotalEnergies opened on Friday, May 26, around 10 a.m., despite attempts to block it by climate activists. Dozens of activists tried, at dawn, to enter the section of street ping in front of the Salle Pleyel, where the group's GA is held, in Paris. Some of them, who had sat in front of the entrance, were dislodged by the police, giving rise to scuffles. The police also used tear gas canisters.
"We regret it, we had to take exceptional measures both in the call for the police and strict control of access to this emblydeclared the Chairman and CEO of TotalEnergies, Patrick Pouyanné, opening the meeting. A number of organizations have announced that they want to disrupt the embly and we have therefore taken measures to ensure that it can take place in the best possible conditions. »
Elisabeth Borne considered, for her part, that "climate activists" were "in their role of alerting and saying that we must speed up". "This is also what the government is doing: we all need to speed up the ecological transition"declared the head of government on the sidelines of a trip to Côte-d'Or, recognizing the oil group for having "started its transition to renewable energies". In the morning, the Minister for Energy Transition, Agnès Pannier-Runacher, also called on the group to go " faster ". "Total invests in renewable energies, but the challenge is to go faster, stronger and above all faster"said the Minister, on Franceinfocalling the energy company to "package" on renewable energies.
TotalEnergies' climate strategy still voted
Despite these pressures, shareholders voted with an 88.76% majority for the group's climate strategy. Mr. Pouyanné welcomed "wide support" and one "quality debate". This strategy foresees more investments in renewable energies and the reinforcement of the objectives of reduction of CO2 emissions.2 of its operations. The non-binding advisory climate resolution, tabled by a coalition of activist shareholders, which called on it to do more on its carbon footprint to align with the goals of the Paris agreements, was rejected, garnering 30.44% of the votes. votes cast.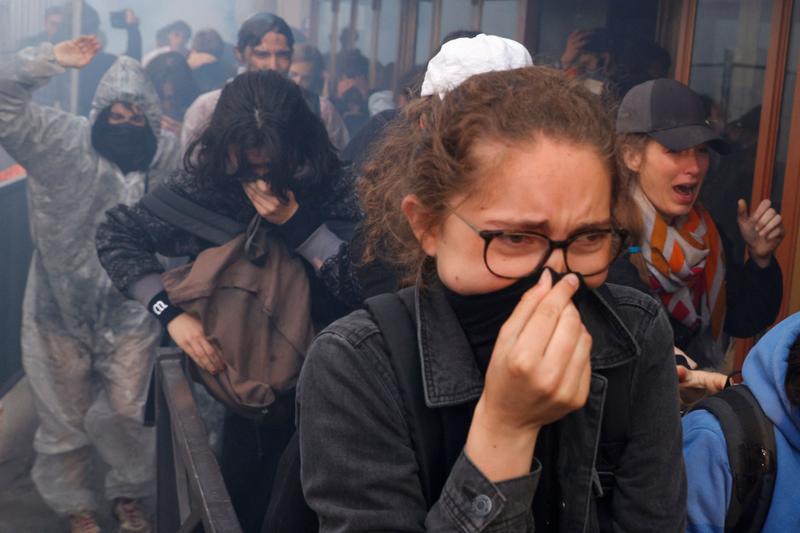 The group recommended voting against, judging the resolution "contrary to the interests" of TotalEnergies, "of its shareholders and customers". Even if TotalEnergies does not plan to drastically reduce its direct emissions during the decade, it intends to devote a third of its investments to low-carbon energies and reach 100 GW of renewable electricity capacity by 2030. "The climate is at the heart of our concern"said Mr. Pouyanné earlier in the morning, defending the "credibility of the transition plan" of his group.
"Our company was the major that invested the most to build the energy model of tomorrow, which will be based on electricity" by renewable energies, he insisted, adding that he could not reduce his oil activity. "The demand for oil at the global level is growing and if it is not TotalEnergies that meets this demand, others will do it in our place"he said again, retorting, in response to the "Grumpy people who accuse us of greenwashing"that "TotalEnergies alone will not decide on customer needs". Especially since "it is the income from hydrocarbons that allows us to invest mively and develop renewables"had already argued Mr. Pouyanné on Wednesday in an interview with the magazine Challenges.
"Peace activists"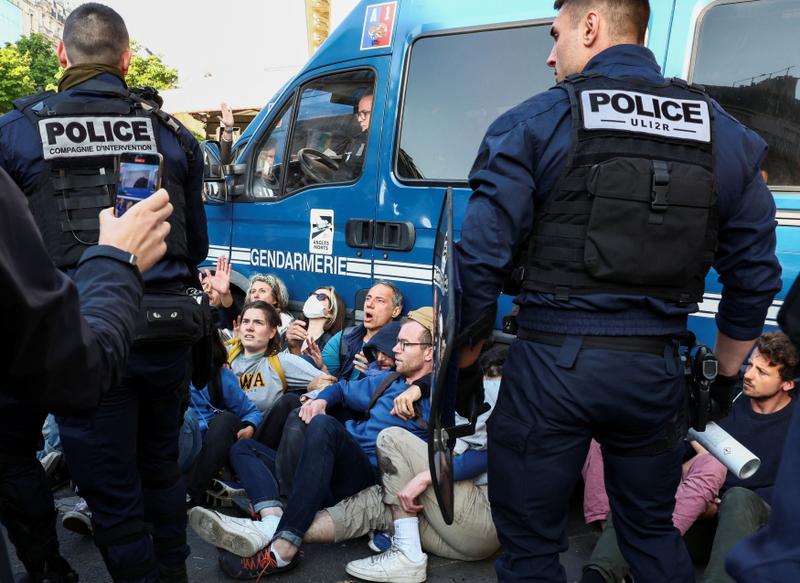 This TotalEnergies meeting comes at the end of a stormy GA season, where activists have stepped up actions against large groups, such as competitors Shell and BP or Barclays bank, accused of financing the expansion of energy projects. hydrocarbons. All against a backdrop of staggering profits: together, the majors BP, Shell, ExxonMobil, Chevron and TotalEnergies posted more than 40 billion dollars in profits this quarter, after a grandiose year 2022.
A coalition of NGOs had called for the meeting to be blocked and dozens of activists occupied the entrances to rue du Faubourg-Saint-Honoré, singing in particular "what we want is to overthrow Total" And "one, two and three degrees, it's Total that we have to thank". "As soon as we arrived at 6 a.m., there was enormous police repression, we were ged, we were walked on… Yet we are non-violent", denounced Steven Sasha Arfeuille, spokesperson for Alternatiba. The CRS fired two tear gas canisters at the militants, "one of which bounced off an activist's cap and burned another's leg", reported Alternatiba Paris activist Hélène Martinelli. She herself was violently pushed to the ground, injuring her knees.
The World Buying Guides
Reusable water bottles
The best water bottles to replace disposable bottles
Read
"We do not understand this violence by the police against peace activists to defend a private company that destroys the environment and flouts human rights", added Juliette Renaud, campaign manager for Friends of the Earth, citing the Eacop oil pipeline megaproject in Uganda and Tanzania which has displaced more than 100,000 people, not all of whom have yet been compensated. Four people were arrested " at this stage "according to the police. "We can no longer let companies destroy living things with impunity. It is legitimate to come and demonstrate in a non-violent way. The practices of the police who protect the first polluting company in France are dramatic. Legality is on our side. It is also a protection of the law"ured Marie Toussaint, ecologist MEP who came to support the action.
The group is present in numerous liquefied natural gas and oil projects in the United Arab Emirates, Iraq, Papua and Uganda. "We did not know how to anticipate"conceded Mr. Pouyanné to Challenges about this controversy, which adds to many others for the group, also criticized for its record profit of 20.5 billion dollars (19.12 billion euros) in 2022, its taxes in France or the CEO salary. A 10% increase in his compensation for 2023 is also on the agenda of the general meeting.