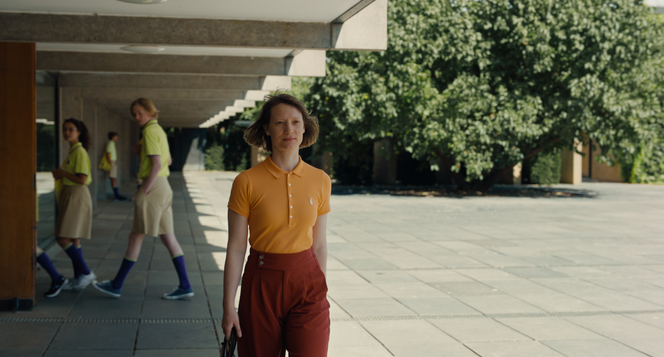 OFFICIAL SELECTION – COMPETITION
At the end of a week where the opportunities to get excited will not have been so numerous, we resume, Monday, May 22, with a little heavy eyes, the Cannes turbine, which we have never really interrupted. Divine surprise, the two starters of the day delight. Even stronger, and we see malice on the part of the chief programmer, the two films are the darkest of the competition and, at the same time, those which give the most desire to believe in them all the same. We are talking about life here. It's the symptom "pool bottom". We go down to the bottom, and we go back up to the bottom in the momentum. On your left, the Finnish school with the divine poet Aki Kaurismäki (Dead leaves). On your right, the Austrian school, with Jessica Hausner and her Club Zero, that we consider here.
A compatriot of Michael Haneke and Ulrich Seidl – just to circumscribe an aesthetic territory which is characterized by the mixture of the very hot and the even colder –, Jessica Hausner, 50, nevertheless cultivates her personal touch. Author notably of Lovely Rita (2001) and heavy (2009), the filmmaker is familiar with the Cannes Film Festival, where she ends up entering in the holy of holies of the competition in 2019 with Little Joe, a work of science fiction that evokes the insidious seizure of power over the human species, thanks to its heady scent, of a genetically modified plant. Exhausted world, zombified humans victims of their hubris, march to happiness that threatens to make us die.
Everything is there, already, of what composes Club Zero. Either a private elite institution for teenagers of the very upper middle cl. We don't know where, but the furniture is contemporary chic, black full-grain leather, angular villas, tubular structures, and English is spoken there. The main thing is not there, even though my nephew is a little bit, because the essence of the world that Jessica Hausner describes to us is to no longer know where it is. That is to say if it resembles ours. It is shared here between extremely wealthy adults who are almost disconnected from reality and their own hyperprotected children who, thinking they are refusing their world, fulfill its ultimate vocation.
We explain. On the proposal of the parents' council, which counts her among its connections, a new teacher, Mademoiselle Novak (Mia Wasikowska), a specialist in "conscious nutrition", is welcomed into the school. This young woman, with a sweet coldness, imperceptibly takes possession of the minds of the young people she teaches. All the more easily, it is supposed, that an affective bond worthy of the name is absent from their parental home and that the reasons given by the teacher find a powerful echo in the anxieties that torment them in the face of mortal dangers. threatening the planet.
You have 41.58% of this article left to read. The following is for subscribers only.