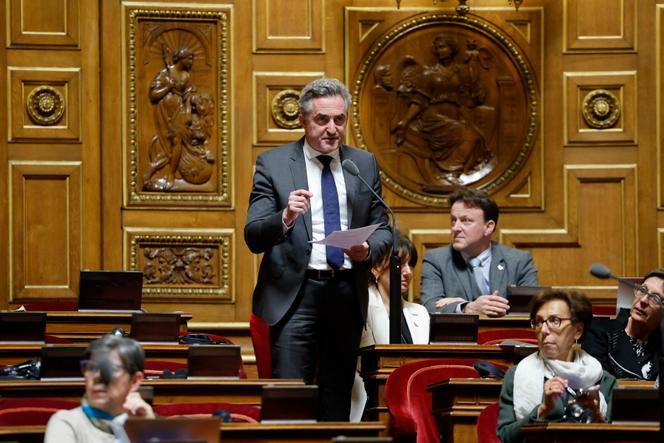 A criminal fine of 1,000 euros was required against Senator Reconquête! Bouches-du-Rhône Stéphane Ravier, tried, Friday, May 12, for "racial defamation". In July 2021, shortly after the stabbing murder of a seller of a telephone shop in Seine-et-Marne, he tweeted under the photo of the victim: "Theo, 18, murdered by a Senegalese in Claye-Souilly. Immigration kills the youth of France ». On a report from the International League against Racism and Anti-Semitism (Licra), the Marseille prosecutor's office had opened an investigation.
Faced with the criminal court which he transforms into a forum, Stéphane Ravier accepts and validates his remarks, to which he denies any racist and defamatory amalgamation. "I do not denounce a nationality, a race, a religion, but the consequences of a policy. »
The defector of the National Rally (RN) – he rallied Eric Zemmour before the presidential election of 2022 – even believes that it is " [s]we have a duty to warn about this phenomenon, faithful to [s]his beliefs, confirmed by statistics and by the conclusions drawn by the majority of French people, who want immigration policy to change in this country.. His lawyer, Mr.e Pierre-Vincent Lambert, who quotes tweets from Jordan Bardella, the president of the RN, and Bruno Retailleau, president of the Les Républicains group in the Senate, affirms that"a condemnation would be a censure of any opinion on immigration, of any negative criticism such as when some claim that immigration puts downward pressure on wages".
"Toxic Word"
Arguments brushed aside by prosecutor Alain Berthomieu: "The juxtaposition of the nationality of the alleged in [de Théo] and of the term "immigration" consists in aiming at, designating the community of immigrants to which criminal acts that undermine honor are attributed". And, since it is"a communication professional"the prosecutor does not recognize the excuse of an exaggeration induced by the necessary brevity of the expression on Twitter.
While the far-right senator wraps himself in freedom of expression, his opponents – the Licra, the Human Rights League and the Maison des Potes, who have filed civil suits – denounce the "populism" of the chosen one, his desire to play on fears. "Yes, we have to talk about immigration and the politicians don't mind it, but, esteem Me Serge Tavitian, lawyer for the Licra, the limits set by law must not be exceeded. »
You have 19.43% of this article left to read. The following is for subscribers only.