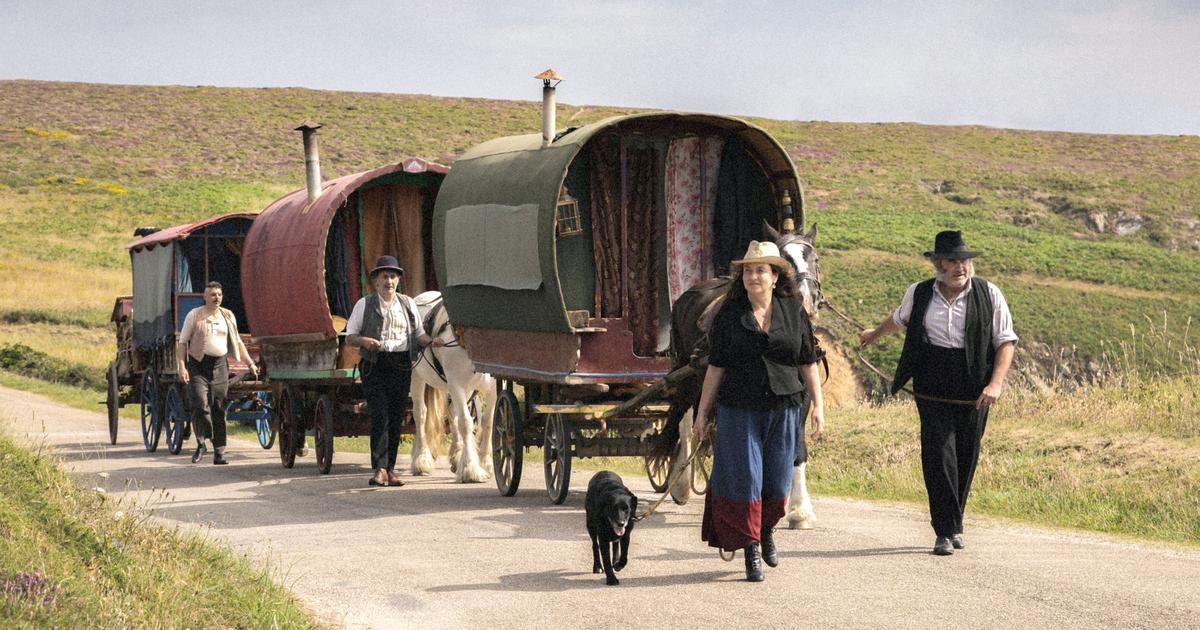 ENCOUNTER – For her eighth production, she adapts the play by Eduardo De Filippo The Great Magic. The occasion of a meeting where there is a lot of talk about sexism in the seventh art.
The movie theater, Noemie Lvovsky love him madly. She knows all the trades. "Arnaud Desplechin gave me the desire to participate in the making of a film, whatever the position. I saw him taking an interest in writing, image, music, editing… I tried my hand at casting director, co-screenwriter, script even on life of the dead, Arnaud's first medium-length film, where I was absolutely useless." Even today, she has great difficulty considering herself an actress. She prefers to say that she is an actress or that she works as an actress. Yet she does it often and very well, as evidenced by these last two roles in Flightby Pietro MarcelloAnd Youssef Salem is successfulby Baya Kasmi. Farmer or publisher Germanopratine, she can play everything.
In The Great Magicfreely adapted from the play by Eduardo De Filippo, she plays Zaïra, alongside actors mostly from the theater, but from different theatres, since the cast includes members or former residents of the Comédie-Française (Denis PodalydesLaurent Stocker, Rebecca Marder, Judith Chemla), a music hall artist (Francois Morel) or street theater (Sergi Lopez made his debut there). "I really wanted to play with them. And Zaïra may well be the magician's wife and assistant, but she actually runs the house. Like the director that I am." The Great Magic is the eighth feature film as director of Noémie Lvovsky, after notably Feelings And Camille repeats .
Read alsoOur review of For France, the honor of a brother
Because by dint of seeing it in others (SattoufJacquot, Bonello, Provost, Schoeller, Guiraudie), we forget that she is directing her first film, Forget me, long before passing in front of the camera. It was in 1994, at a time when short films were shown in theatres. His, Tell me yes, tell me nowith Valeria Bruni-Tedeschi and Emmanuelle Devos, caught the eye of a certain Jean-Luc Godard. "He said to his producer, Alain Sarde, 'You have to produce this girl.' It was a bit overwhelming." The screenplay student from La Fémis sees Sarde suggesting that she direct her first feature, with the same actresses. "The story of a young woman told by the young woman that I was." Noémie Lvovsky remembers that the far-right newspaper Minute finds it appalling because the lead actress has dirty hair and a face covered in pimples. "Valeria Bruni-
Tedeschi had absolutely no pimples. But we expected a woman to be flirtatious and make up.
"Mindsets are changing"
On set, the rookie director hears sexist remarks. "If I was unhappy with a plan, it was because I was on my period. I continued to work with the same technicians, I liked them very much. But on the next film, I told them that I didn't want to hear those kinds of comments anymore. They understood. I also heard about me, or about Valeria, that we were hysterical. Or crazy. I have also often been told: "You are already lucky to make a film." Mentalities are changing, especially since #MeToo, but there are always fewer female directors than male directors."
When we ask Noémie Lvovsky what she thinks of the absence of women nominated in the best director category at the Césars, she refuses to comment. And on her own, she slips towards the subject of violence against women. "It's tricky to talk about it in the media, where it's difficult to have a nuanced speech. There is also great violence in the denunciations. It's like a revolutionary principle that puts the cause before the individual. It works for me. I have been confronted many times with misogyny, with the flagrant inequality between men and women. We talk a lot about cases of sexual assault, which are among the most serious, but there is also a whole ordinary and economic sexism, through the differences in wages. The condition of women obviously has to change." It's hard not to hear an allusion to Sofiane Bennacerthe actor of almond treeshis friend's film Valeria Bruni Tedeschi for which Noémie Lvovsky co-wrote the screenplay. Indicted for rape, Bennacer was not selected in the category of best male hope for the Césars.
Read alsoCésar 2023: where have the directors gone?
After a long silence, she launches without ever mentioning the name of Sofiane Bennacer: "I want to talk only about the film. I find The Almond Trees magnificent and I am very proud to have collaborated on the screenplay. It is thanks to all the people who worked on it, and in the first place thanks to its main actress and its main actor. So. The Caesars don't interest me that much. I am pleased to be nominated for the screenplay with Agnès de Sacy and Valeria. But the scenario is inseparable from the staging and the actors of the film are inseparable from the staging. I consider them co-directors. Nadia Tereszkiewicz, nominated for the César for best female hope, plays well thanks to her partner. In the absence of a clear opinion on a "case", Noémie Lvovsky prefers to praise the actors. The one who, as a little girl, dreamed of being a clown, for a long time thought that the best job in the world was to express her feelings with the words of others. The compulsive reader of Molière, Musset and Chekhov became disillusioned at the age of 15. "A teacher told me that I was the age of a young first but not at all the physique, and the physique of a servant but not at all the age. I didn't have a job. I stopped dreaming of becoming an actress.
We will have to wait until 2001 and My wife is an actressYvan Attal's first film, to make Noémie Lvovsky dream again. "I told Yvan he was completely crazy. He had got it into his head that I had to play his sister. I loved. I fell well because it is a film full of charm. Since then, she seems to be making up for lost time.
Our opinion on The Great Magic
The Great Magic, a play by the Neapolitan playwright Eduardo De Filippo, dates from 1948. Noémie Lvovsky transposes it to the 1920s, in a France that is cradled in illusions. Peace, like love, will last forever. In a hotel by the sea, an illusionist, Albert, a poor magician but an excellent huckster (Sergi Lopez), invites one of the clients, Marta (Judith Chemla), to participate in a disappearance number. The young woman, unhappy wife of a jealous husband, Charles (Denis Podalydès), takes the opportunity to evaporate. This is the starting point of The Great Magica fable about our need for fiction in the face of raw and cruel reality, which allows Noémie Lvovsky to bring back to life an obsession already at the heart of Camille repeats. If a love doesn't last forever, is it really love? Does love have to be absolute and for that to resist time? Serious questions that the filmmaker asks without moping. The Great Magic is also a declaration of love to the cinema, fairground and impure art, a total show that embraces music hall, theater, dance and music. Noémie Lvovsky has a formidable troupe of actors (François Morel, Rebecca Marder, Damien Bonnard, Micha Lescot, Laurent Poitrenaux) play, dance and sing to the group's delicate pop Fire! Chatterton. A joyful and beautiful illusion
The opinion of Figaro: 3/4