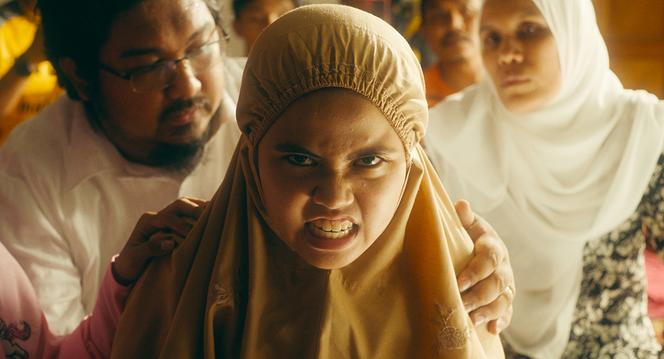 This is the first prize list of the 76e Cannes film festival. Critics' Week, which brings together first and second feature films by young authors, some of whom can be found in the official selection years later, ended on Wednesday May 24. In the running: eleven films including seven in competition, selected from a thousand from all over the world. The jury, chaired this year by screenwriter and director Audrey Diwan, apparently did not hesitate long, unanimously awarding the Grand Prize to tiger stripesMalaysian Amanda Nell Eu.
This choice openly distinguishes inventiveness, formal freedom and irreverence. Freed from the conventions of the genre, the film takes pleasure in mixing horror and humor, summons the fantastic to hold a political discourse, seizes decorum the wrong way to reveal, with savagery, the upheaval that girls undergo. when they reach puberty and how they are viewed then.
tiger-stripes tells the story of a 12-year-old girl, Zaffan, who is discovered in a girls' college in a small rural community in Malaysia. Nothing distinguishes the veiled teenager from all the others. But in her intimacy, she sees her body transforming, her first periods appearing, her relationship with others changing. A real upheaval that the director takes literally, transforming the young girl into a creature, half-tiger, half-adolescent, a monster inspired by Malaysian myths and legends, which will endow Zaffran with power and combativeness, will help her to free from the rigid rules to which we seek to submit her and, as a strong woman, will lead her to her emancipation.
Jovan Ginic, Breakthrough Prize
Created in 2022, the French Touch prize, which particularly rewards "the audacity of a cinematographic gesture" went to the first feature film by Belgian director Paloma Sermon-Daï, It's raining in the house. In the vein of the Dardenne brothers, the film follows a brother and sister left to fend for themselves in a damp, damp house on the outskirts of a small Belgian town. The sister dreams for two, wants to become a nurse, and, in the meantime, cleans in a hotel to be able to take a studio with her brother. The latter, less inclined to move, occupies his time with video games and a few strolls by the lake. Almost nothing happens. These two characters imprint the film with their warm and already somewhat disillusioned presence, to which the director pays fraternal attention, full of tenderness which brings a soft patina to its realism.
You have 29.35% of this article left to read. The following is for subscribers only.