Cyril Hanouna castigates the leaders of LCI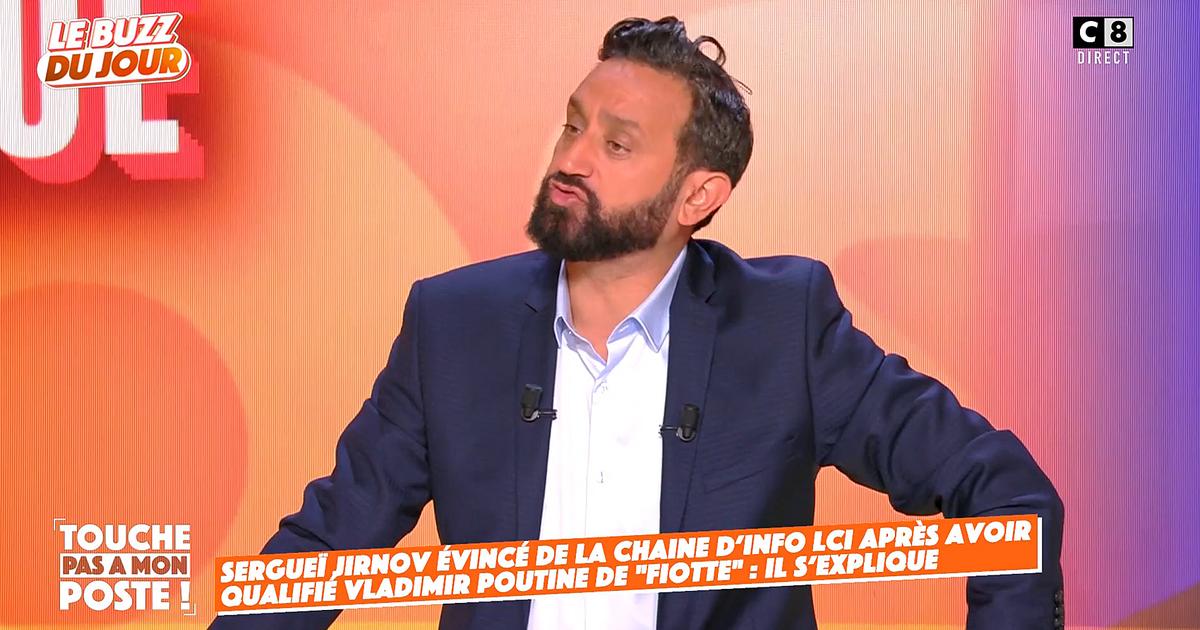 VIDEO – The host and producer of C8 is convinced that Sergei Jirnov has been ousted from the continuous news channel because he intervenes in "Touche pas à mon poste!".
Too much controversy? Wednesday, September 14, Sergei Zhirnov was on the set of "Brunet et compagnie" on LCI to talk about the war in Ukraine. During his speech, the former KGB agent said: "They say Putin is a hero. Putin is a former KGB officer, he was a colonel, but he's a bitch!. A statement immediately reprimanded by Éric Brunet: "Finally, it's not okay! You remove that".
Monday evening, the ex-spy was on the set of "Do not touch My TV !" to reveal being ousted from the streaming news channel. Sergei Jirnov admitted having had a word that escaped him. "I wanted to say that he is a coward"he added, specifying that he regretted his sentence. "I did not know the third meaning of this word. […] I am a foreigner, it is not my mother tongue. […] I started learning French when I was 18. […]But I also sometimes don't know what a word can mean and I said it on the set [de LCI, NDR]."
After being summoned to the office of LCI's editorial director, Bastien Morassi, Sergei Jirnov was then withdrawn from the channel. "They told me : "For a week you won't be on the air and you come back on the 26th [septembre, NDR]"», he assured. But more than the word "fiotte", Cyril Hanouna is convinced that it is because of the presence of the former spy on his show that caused problems for the leaders of LCI.
"Them, it's all from behind, it's just soft shots"

Cyril Hanouna on the leaders of LCI
"I will explain LCI's methods to you. There's a guy who comes here, whom we discover, who everyone is talking about, they see that it's a hit and the next day, they call him. […] Them, it's all from behind, it's just soft shots. They call him right after the show: "Do you want to come to our house?". He is going. At first, he goes there quietly and afterwards, they say to him: "You are going to come all the time". And he comes back here to talk about Putin's statement. And then they say to him: "In fact, you can't come back because you've been to Hanouna" when they discovered it in our house"swung the host and producer of C8.
Yet another pass of arms by Cyril Hanouna against the TF1 group
He continued: "Them, it's always like that. They bite everyone. […] These are people who have no courage. They are like Putin. […] As soon as they come in front of you, they bow to you. When they tell you "hello"you know they're going to fuck you but when they tell you "hello" with a pat on the back, you know they already fucked you. It's that guys like that, it's unbearable".
Read also"We ask the Canal + group not to restore the broadcasting of the TF1 group channels": Cyril Hanouna's new tackle at TF1
And to conclude: "When you go to fight with them, they say: "He attacked me". It's like the guy in class pissing you off. At one point, you put a pie in his face – that's what happened to me – and then they say: "It was Hanouna who hit me". No ! You've been breaking my balls for two hours". A new and umpteenth pass of arms from Cyril Hanouna against the TF1 group. A week ago, the host of "TPMP" was amused by the conflict between the Canal + group and the TF1 group by parodying a video made a few days earlier by the latter.
When Sergei Jirnov imitated a Chinese
This is not the first time that Sergei Jirnov has caused controversy. On August 16, still on LCI, the former KGB agent had imitated a Chinese man by stretching his eyes with his fingers and pronouncing, with a caricatural accent, "nĭ hăo"-"hello", in Chinese. Quickly, the AJCF, Association of young Chinese in France, had denounced a scene "unacceptable and inadmissible". The association had received the support and relay of SOS Racisme, which announced that it had seized Arcom.
Read alsoA columnist imitates a Chinese: LCI apologizes to viewers
Faced with the outcry caused by this gesture, the chain had been forced to apologize. "Sbe convinced that the editorial staff is more scrupulous than ever in combating stereotypes, discrimination and prejudice in its daily work", had declared Darius Rochebin.
A few hours later, Sergei Jirnov had split a message on Twitter: "It seems that my little imitation of Michel Leeb's sketch has offended some sensitivities at the AJCF, which demands an apology and the withdrawal of the video. Apologies, I offer them. For the video, they will have to stop relaying it themselves. Nobody noticed it before!".