Cyril Hanouna charges Pierre-Emmanuel Barré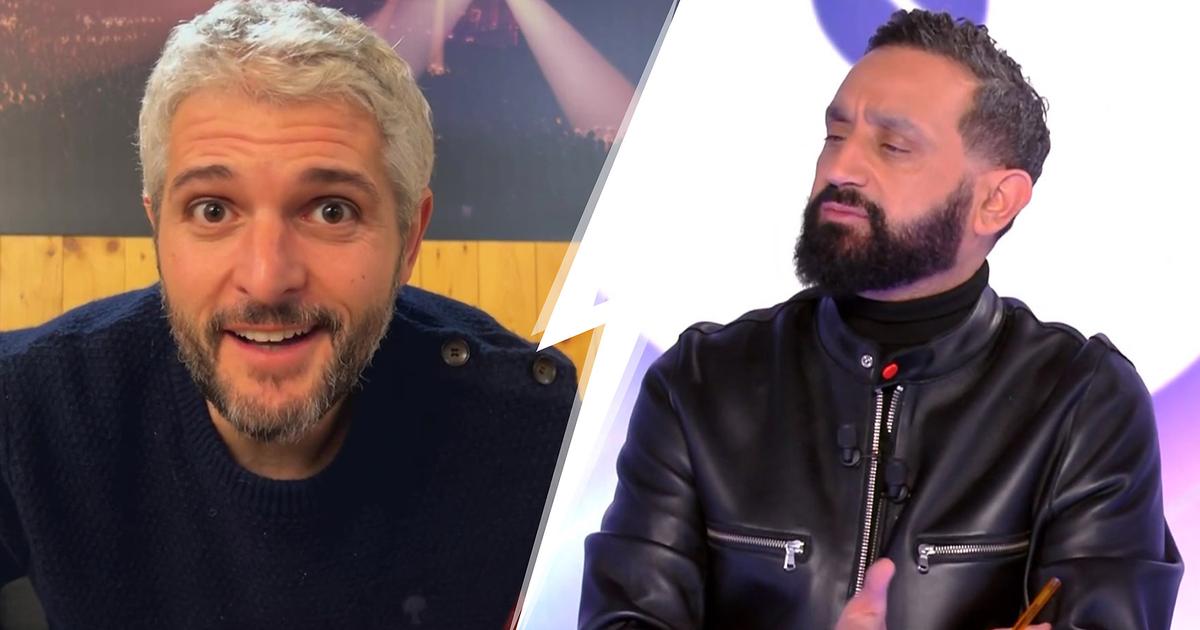 Tuesday evening in "Touche pas à mon poste!", the host of C8 reacted to the sketch broadcast last Saturday in "C l'hebdo" on France 5 where the comedian parodied him as an imbecile snorting drugs.
" After your various outings on the public service, did the management of Canal+ ask you to slow down? ". Tuesday evening live on C8, the start of " Do not touch My TV! » turned into a press conference with the columnists in the role of journalists and Cyril Hanouna in that of the interviewee. The idea came when the host and producer had just announced that the France 2 magazine, "Complément d'Enquête", was preparing an issue on him and wanted to talk to him face to face with the camera. But rather than giving interviews to the media, he prefers to speak freely every evening in "TPMP".
The question posed by Valérie Benaïm refers to the host's rant on January 16 about the "4 billion euros" paid each year by the State to France Télévisions and Radio France. Words that had provoked a wave of reactions, in particular that of Sibyle Veil, boss of Radio France. "The management of Canal+ never asks me to slow down, we have the greatest freedom hereassured Cyril Hanouna. I have no problem with my last releases. If I have to say it again, I will say it again. » And to continue: "I saw all the sores who rose up. I saw a sketch on France 5 of a dude called "P'tit con", he lives up to his name… I don't know what his real name is, he's a boloss , a clown, a puppet who made a lame sketch. »
Read also"Give him the keys to Bercy!" : wave of indignation following statements by Cyril Hanouna on France Télévisions
"Ask for ethics, dignity and above all braces…"

Pierre-Emmanuel Barré to the chroniclers of "TPMP"
The sketch in question is the work of Pierre-Emmanuel Barre in the number of "C the weekly" broadcast on January 21 on France 5. The one whose Twitter account is @His lesson carries out its "Bilan Barré" every week at the end of the program, "reviewed and corrected news". A humorous pellet which, last Saturday, was entirely devoted to the statements of Cyril Hanouna on the merits of the 3.8 billion euros paid each year by the State to France Télévisions and Radio France. To parody the host of C8 in what he renamed "Don't touch my boss!" "Pierre-Emmanuel Barré dressed in a gold sequined jacket, looked stupid and bent down several times, pretending to snort drugs.
"It's not only the fault of the public service if the programs are all rotten, it buys them directly from Banijay"he underlined the columnist of "C l'hebdo" before pointing out that Cyril Hanouna was one of the shareholders of this production company. "Well then Cyril, in fact they are also a bit for you the 4 billion of the State ", he continued, ironically on the fact that his dream was to become a columnist for "TPMP". "But I failed the oral, as I was stressed, I put my teeth. And now Hanouna has to bathe with Hexomedine three times a day. » And to conclude with a bang: "Why are they all polishing his glans at Hanouna?" They believe that if they rub enough, there's a genie who will come out and grant their three wishes? If it ever works, ask for ethics, dignity and above all suspenders, because you all have the fute on your ankles and you'll end up breaking your neck…"
A previous clash in 2015
This is not the first time that Cyril Hanouna has expressed his aversion to Pierre-Emmanuel Barré. In December 2015 in "Do not touch my post! », he had refused Frédéric Lopez's invitation to come to the program "Folie passagère" if Pierre-Emmanuel Barré was there. "It's when Hanouna starts giving journalism lessons that you feel the end of civilization is near"had reacted the one who was then a columnist on France Inter following a tweet from the host on the responsibility of the media in the rise of the National Front. "Hanouna, he's been doing a show for 5 years where he puts his finger in the ass by breaking an egg and he complains that people are stupid. »
Read also"I gave Macron a 16/20 at Sciences Po", Ali Baddou's anecdote about the President of the Republic
On December 7, 2015, in "TPMP", Cyril Hanouna's reaction was overwhelming. "I took care to call himhe revealed. Insult viewers and people who vote, I do not accept. People vote for whoever they want, there are some who are in great distress… So this Pierre-Emmanuel Barré, he may be quiet, he is living his life, […] but he doesn't have to call people jerks. It is unacceptable. He didn't make any spelling mistakes but if I meet him, there will be some in his face. »