Cyril Hanouna reacts to Jean-Luc Mélenchon's video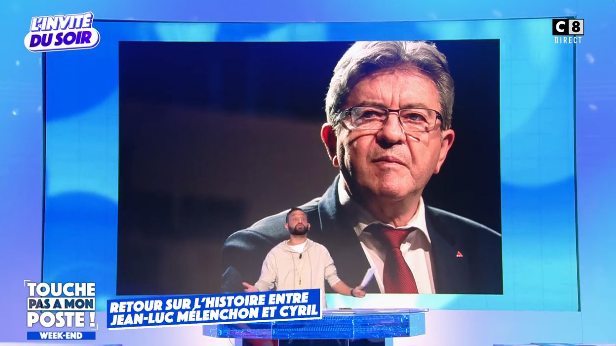 The TV presenter, also nicknamed Baba, did not fail to make his voice heard… borrowed from irony.
"We are not your friends". Jean-Luc Mélenchon clearly reminded the presenter of the "Touche pas à mon poste" program, by video interposed, that they were not friends … Without boycotting the show. Cyril Hanouna did not miss the opportunity to assert his right of reply.
Read alsoWhat is the risk of Cyril Hanouna for having insulted the deputy Louis Boyard in "TPMP"?
"I'm disgusted, he's not my friend anymore"quips the presenter after broadcasting the video in question before adding: "It struck me, I wanted to know what we were doing this weekend together". Cyril Hanouna continues by accusing the politician of changing his version. "I'm not going to throw stones at him like everyone else"announced Jean-Luc Mélenchon during a meeting earlier this week at subject of the Boyard-Hanouna affair. In the meantime, his speech has evolved questioning the integrity and political affiliation of the star presenter.
"We won't be inviting him anytime soon"
"He is the first politician that the show hosted ten years ago.He says I'm far right. He talks about Marine Le Pen but she came twice, came to him five times. It's the one we received the most on the set. I had columnists from his own party"recalls Cyril Hanouna. The presenter also reassured the politician. "We won't be inviting him anytime soon".
Thereafter, he shows several extracts where we see that the relations between the two men are more than cordial, even friendly. "You shouldn't have made this video, Jean-Luc, you shouldn't have made it"quips Cyril Hanouna on several occasions. "I liked you Jean-Luc, I didn't want to do that. You will always stay there", he jokes, feigning sadness. In February 2021, the politician went so far as to thank the presenter on Twitter. The program ends with the editing of a parody combining old excerpts – where the two men get on well – then the end of Jean-Luc Mélenchon's speech.