Cyril Lignac opens shop with "Tous en cuisine" on M6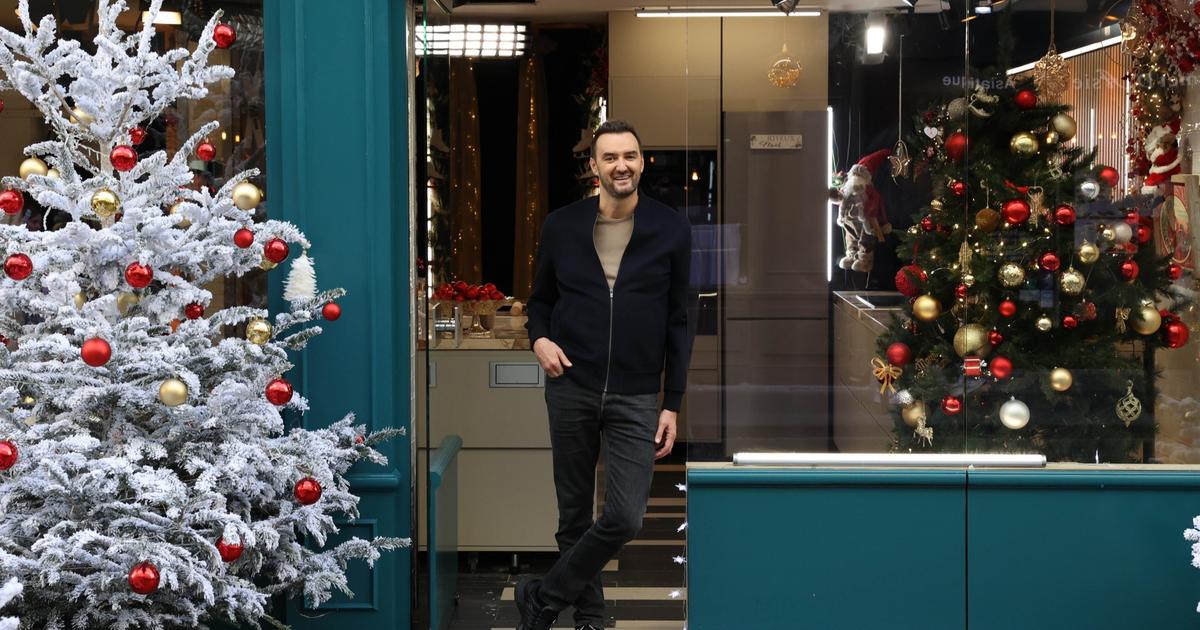 The chef returns live every evening with new party recipes, which he makes in a new place.
It's Christmas before the hour on M6. After a year's absence, the channel is indeed programming unreleased "Everyone in the kitchen". Cyril Lignac therefore resumes its place behind the stoves to deliver, for a month, twenty-five new recipes for celebrations and cook live with viewers.
Cyril Lignac in the showcase
The week is organized by theme with the chef's signature dishes revisited on Monday, festive dishes at smart prices on Tuesday, legendary dishes on Wednesday, regional specialties on Thursday and finally Cyril Lignac's family recipes on Friday. Duck à l'orange, Christmas sauerkraut, marinated scallops, tarte flambée with truffles or chocolate and mint mousse will be on the menu for this first week.
The cathodic chef will not be cooking at home or from the roof of the Bazar de l'Hôtel de Ville in Paris, as has been the case, but will this time be on the street! The program will be filmed in a former butcher's shop, near the Saint-Honoré market, in the heart of Paris, thus offering the possibility for onlookers to follow the filming from the street.
Read alsoCyril Lignac is back in "Tous en cuisine" with Christmas menus
A balancing act
If he is delighted with this return, he does not hide his increase in stress in the face of live.
"I have to find the right rhythm so that everyone can follow, while managing to finish in time to make the antenna on time. It's both a balancing act and an exciting challenge".

Cyril Lignac
"The mechanics of the show are complex, because I make two recipes in fifty minutesexplains Cyril Lignac. I have to find the right rhythm so that everyone can follow (10% of viewers are cooking live), while managing to finish in time to make it on time. It's both a balancing act and an exciting challenge. » To prepare, the chef repeats the recipe under live conditions three hours before going on air.
Read alsoJérôme Anthony: "Daniel Balavoine wanted to write me songs"
Jérôme Anthony in the region
Each evening, Cyril Lignac will be accompanied, remotely, by Jerome Anthony, which will carry out a real tour of France. From Honfleur to Strasbourg via Bourg-en-Bresse, Perpignan, Dijon or Nantes, the troublemaker of the show will change town every day and will make the recipe surrounded by locals in the heart of Christmas markets or traditional regional festivals. He will also try to surprise Cyril Lignac with an unexpected guest or messages from fans.
Read alsoCyril Lignac ("The Best Pastry Chef, the Professionals"): "Being a juror in a pastry competition requires humility"
As always, personalities will be on hand and will prepare the daily specials from their homes, such as Kamel Ouali and its dancers, Michele Bernier and his son, Francis Huster and Michael Leeb, Amandine Small Where Kyan Khojandi. Regulars of the program will also make their return, likeEric Anthony.